Don't get caught up in the hype and terminology surrounding the new generation of
televisions
. David Bayon, Contributing Editor at PC Pro is on hand to demystify these entertainment advances, along with reviewing the best cutting-edge TVs available. He's even provided a handy product comparison table.
---
Sony Bravia KD-65X9005A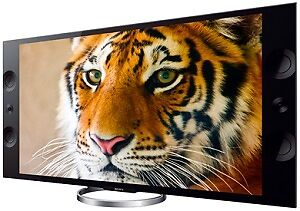 eBay loves: excellent at upscaling HD content into 4K.
Watch out for: as with all 4K TVs, the price will make your eyes water.
RRP: £4299
The Sony Bravia KD-65X9005A was one of the first 4K models to arrive and remains one of the most expensive - but what a TV this is.The built-in speakers to either side of this 65-inch monster make it look even wider.
---
Samsung UE55F9000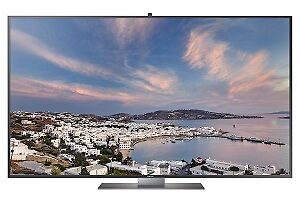 eBay loves: Samsung's Smart TV features are among the best.
Watch out for: the integrated speakers are a bit weak.
RRP: £3000
If the Sony is too big, this 55-inch screen is every bit as beautiful with 4K content and upscaled HD movies. It comes with Samsung's well-respected Smart TV Internet features, and the slim bezel makes it a great choice for living rooms with limited space.
---
Panasonic TX-L65WT600B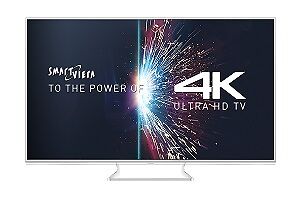 eBay loves: excellent colour reproduction, and a future-proof HDMI input
Watch out for: you'll definitely want a soundbar to replace the in-built audio.
RRP: £5500
This 65-inch TV is one of the first to support HDMI 2.0, which can receive 4K feeds at up to 60 frames per second. Why might that be useful? Gaming. If you have a beast of a PC and want a display to push it to its limits, that cutting-edge HDMI port is essential. If you want to stream there are plenty of ports to attach devices such as Apple TV and Google Chromecast.
---
Toshiba 58L9363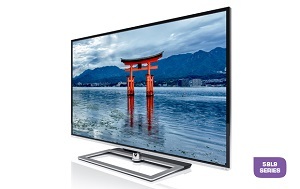 eBay loves: 58 inches for under three grand – 4K is getting cheaper.
Watch out for: its HD upscaling isn't as strong as dearer rivals
RRP: £2999
For many people price is everything, and this 58-inch from Toshiba is one of the cheapest ways into 4K you can get. It has pretty good smart TV functions and supports 3D, and its CEVO 4k engine upscales current HD content well.
---
LG 55EA980W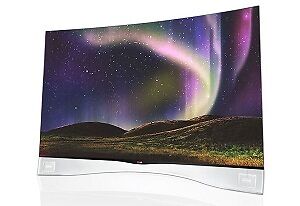 eBay loves: OLED offers incredible black levels and punchy whites.
Watch out for: you pay through the nose for that extra quality
RRP: £4999
It might not be 4K, but it does have a 1080p OLED panel and a curved screen. It's a 55-inch TV, so you can just about appreciate the curve from your sofa, and it comes with two sets of 3D glasses in the box, so you can enjoy your Avatar Blu-ray in all its glory.


---
Product Comparison
Sony Bravia
KD-65X9005A
Samsung
UE55F9000
Panasonic
TX-L65WT600B
Toshiba
58L9363
LG
55EA980W
Screen
65-inch
3,840 x 2,160
55-inch
3,840 x 2,160
65-inch
3,840 x 2,160
58-inch
3,840 x 2,160
55-inch
1,920 x 1,080
HDMI
4
4
4
4
4
3D
Passive
(4 pairs)
3D Active
(2 pairs)
3D Active
(2 pairs)
3D Active
(2 pairs)
3D Passive
(2 pairs)
Price
£4,299
£3,000
£5,500
£2,999
£4,999
Summary
Huge, with fantastic
image quality
Great price to get
your hands on 4K.
The most future-
proof 4K TV around
Great value for a
58-inch 4K screen
Beautiful curved
OLED screen
Glossary of terms

What is 4K?
Just when you've got used to HD, along comes the next big leap forward. A 4K or UHD (Ultra High Definition) TV has a resolution four times higher than Full HD, packing in more than eight million pixels. That extra fine detail on screen gives an astonishingly lifelike picture that can feel more like looking through a window than watching the box.
As with HD when it first arrived, there's not a lot of actual content to watch in 4K right now, but that will change quickly. Netflix and YouTube both have plans for 4K in 2014, while Sony has launched its own 4K download store in the US – don't bet against the PlayStation 4 eventually receiving a firmware update that enables 4K playback either. Until then, the best 4K TVs do a great job of upscaling current HD content to near 4K quality – the same might not be true of lesser-known brands, so be wary of any too-good-to-be-true bargains.
The bigger issue for many early adopters will be space. To really appreciate all those extra pixels from the comfort of your sofa you'll need a big screen, which is why current 4K options are mainly 55-inch or bigger. Time will tell whether we'll see many 4K TVs at smaller sizes in 2014, but for now you'll need a big living room and a bigger budget.

OLED screens
Long before 4K came along, OLED was the next big thing – and it's still one of the next big things today, as it hasn't yet taken off in the way the TV industry promised. OLED stands for organic light-emitting diode, and it's a more advanced type of panel than LCD because instead of a backlight, every individual pixel is its own light source. This makes an OLED TV much more power efficient, with perfect blacks and a contrast ratio current TVs can only dream of. Everyone who sees one in action wants one, but even though the first TVs hit the market a couple of years ago, there's still only a few out there – and the prices remain astronomical. Keep an eye on OLED, but don't expect to combine it with 4K for a while yet.

Curved TVs
The final big idea of 2014 is a strange one. When you watch a flat screen head-on, your eyes are slightly further away from left and right edges than the middle, which can have a small effect on colours and focus. The solution? Curve those edges towards the viewer, obviously. Now, this makes perfect sense on a gigantic IMAX screen where the far edges would otherwise be several metres further away than the middle, but on the average 40-inch telly you'd have to be sitting a few feet away to be in that viewing sweet spot. Best reserved for truly giant screens or close-up computer monitors, for now we'd put curved TVs in the wait-and-see pile.

---