Holidays used to be about unplugging and getting away from technology, but where's the fun in that? These days, mobile phones and tablets make it easy to stay connected when you're on the other side of the planet, and to avoid extra costs you'll want to download the most useful travel apps before you leave for the airport. David Bayon, Contributing Editor at PC Pro, rounds up ten of the best to enhance your trip.
SkyScanner (free on iOS, Android, Windows Phone, Blackberry)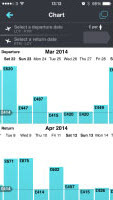 Booking flights is easier than ever thanks to the wide array of price comparison sites, and SkyScanner has the best mobile app.

As well as the usual search functions it makes excellent use of maps and other visuals to help you choose a destination, along with neat graphs that break down ticket price variations by day.

And the Explore button is an easy way to waste a morning when you're bored at work.

Platforms: iOS | Android | Windows Phone | Blackberry
---
TripIt (free on iOS, Android, Windows Phone, Blackberry)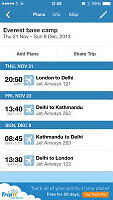 The best apps take a vital task and make it automatic, and when it comes to holidays few do that as smoothly than TripIt. It's like many other travel planners, but its trick is to monitor your email account for confirmation messages – flight and hotel bookings, car rentals, train tickets and so on – then integrate any it finds into an ordered itinerary.

You can pack your case and lock the front door knowing all the information you need is in one place, with almost no effort required on your part.
Platforms:
iOS
|
Android
|
Windows Phone
|
Blackberry
---
TripAdvisor City Guides (free on iOS, Android)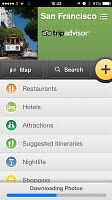 Everybody knows about TripAdvisor and its sometimes mind-blowing and sometimes bemusing hotel, restaurant and attraction recommendations, but the separate City Guides app has its own unique appeal. Here, you download a full guide to your destination city before you go, so the maps and points of interest are ready whether or not you have a GPS lock or a data connection.

On top of that, the guides are full of beautiful photos to help you decide what's worth seeing in the flesh.

Platforms: iOS | Android
---
Wikitude (free on iOS, Android, Windows Phone, Blackberry)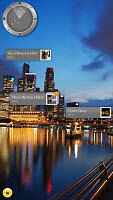 Augmented reality hasn't become as ubiquitous as many predicted, but there are a few apps that use it magnificently. Wikitude is your easy travel guide: just point your phone's camera at the environment and the app will overlay the shot with useful information about the site, alongside any photos or tweets your contacts have previously posted in the same place, and reviews of local attractions from TripAdvisor.

It's a lot less hassle than searching for all that info manually, and it's undeniably cool to play with.

Platforms: iOS | Android | Windows Phone | Blackberry
---
CityMapper (free on iOS, Android)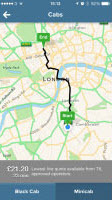 You only need one app for finding your way around. CityMapper adds to the usual features with advanced cycling routes, minicab quotes and journey times, train and bus timetables and prices, and even live disruption alerts.

Add in calorie estimates, weather forecasts and even a light-hearted jetpack journey planner, and CityMapper covers every base in style. It works in London, New York, Paris and Berlin, with more cities on the way.
Platforms:
iOS
|
Android
---
Airbnb (free on iOS, Android)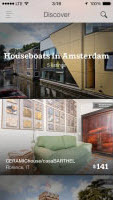 It might seem like a recipe for getting murdered, but more and more people are choosing to rent out a room or even their entire home to strangers via Airbnb.

As with any holiday accommodation, it hosts a mix of overpriced dumps and beautiful bargains, and its greatest strength is its growing user base: you're no longer restricted to a city's hotel district, so it's great for really exploring off the beaten track.

Platforms: iOS | Android
---
Google Translate (free on iOS, Android)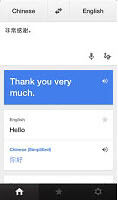 It's free, it has the algorithmic might of Google behind it, and it works – a lot of the time.

No translation app is yet foolproof, but even with the odd mistake it's great fun and at times incredibly useful to be able to tap in a quick sentence and have your phone read it out to a bemused shop assistant.

You might have to hand the phone over so they can type in their response, but it's better than a frustrating round of hand gestures.

Platforms: iOS | Android
---
WeatherPro (£1.99 – £2.59 on iOS, Android, Windows)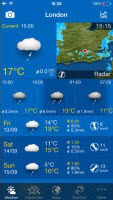 Of all the weather apps to choose from, there's a good reason why WeatherPro continues to lead the way in downloads.

It has up-to-date forecasts for two million locations around the globe, with high-resolution maps and a gorgeous 3D view, animated radar images over several continents, European water temperatures, sunrise and sunset times and much more – basically everything you need to ensure you don't end up getting rain on your sunglasses.
Platforms:
iOS
|
Android
|
Windows Phone
---
XE Currency (free on iOS, Android, Windows Phone, Blackberry)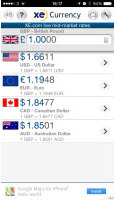 There are lot of currency conversion apps out there, and it's a safe bet they'll all do the basic job of converting currency adequately, but it's hard to look past one of the originals.

XE Currency is a hugely popular website, and its app lets you access live exchange rates, view historical charts and calculate prices, all directly from your phone. It stores the latest updated rates, so as long as you open it once before you leave the UK you won't need Internet access later on to perform a conversion.
Platforms:
iOS
|
Android
|
Windows Phone
|
Blackberry
---
WhatsApp Messenger (free on iOS, Android, Windows Phone, Blackberry)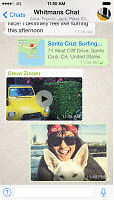 It may seem an odd inclusion, but WhatsApp is actually a very useful tool when leaving the free text zone of your UK contract. Connect to your hotel's Wi-Fi hotspot and you can communicate with family and friends back home without worrying about high message charges.

The same goes for Apple's FaceTime calls if you can find a Wi-Fi connection fast enough to handle them.

Platforms: iOS | Android | Windows Phone | Blackberry