On this page
Obaby Naptime
Phil & Teds Traveller
Koo-Di Sun & Sleep Pop-Up Bubble Cot
Graco Contour Storage
Cosatto Moon Unit
Chicco Easy Sleep
Hauck Babycentre
Baby Dan Travel Cot
BabyBjorn Travel Cot Light
Little Life Arc 3
A travel cot is a very useful addition to your home. It means
traveling with your baby is easy and you'll always have a safe and trusted place for your little one to sleep. Too often when you visit hotels or holiday homes, they either have no crib, or offer one of dubious cleanliness, so taking baby's bed with you makes sense.
The smallest of them are easy to pack, even if you're traveling light, and the larger versions can double as a playpen at home and away. Some even have additional features. These can include a bassinette to allow a tiny baby to sleep in a cosy nest or that can be used for changing nappies on, or opening sides so that your baby can play inside and out.
Our parenting expert is Sally J Hall, Editor of B Baby Magazine and Author of Eco Baby.
Obaby Naptime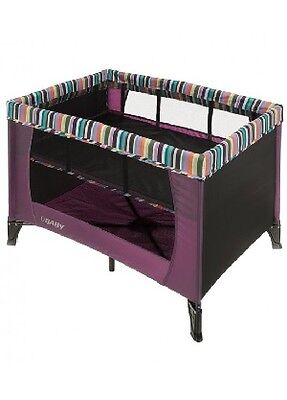 eBay loves:
Bassinette feature makes it suitable from birth.
Watch out for:
A bit on the heavy side.
RRP:
£64.99
A fairly plain and simple travel cot with a central-locking frame for safety and that's easy to assemble. This avoids trapping your fingers or finding the cot collapsing on you or your baby.
Once the frame is up, simply slip the mattress into place – it can be used overnight with the addition of a cotton sheet for your baby to lie on. It comes in its own storage bag that will easily fit in the boot of your car. It doesn't have wheels, so moving it around isn't as easy as it could be. It has mesh sides so your baby can see out – and you can see what he's getting up to!
When your baby is tiny, use the bassinette attachment – essentially a base that sits high in the cot. It means you don't need to bend down inside the cot to put them to bed. Once your baby can pull herself up, remove the bassinette and use the base of the cot for sleeping. The cot can also be used as a playpen.
Tech Spec:
Weighs: 8.5 kg. Size: 104 x 74 x 105 cm
---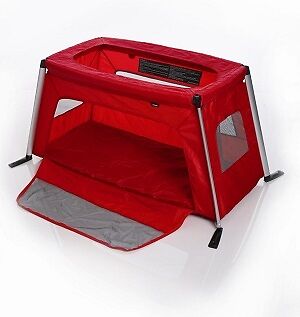 eBay loves:
Great for camping, really light.
Watch out for:
The inflatable mattress isn't as supportive as others and might be cold.
RRP:
£160
For those who love taking the kids on camping holidays or to music festivals, this is a fair sized travel cot that can be used from birth to around 3 years old. It's lightweight and packs down into a very small space.
It comes with its own travelling bag, which will easily fit in the boot of your car, or can be placed in the overhead locker of a plane. It has an ingenious self-inflating mattress, which is thermally insulated – though it might prove to be a bit cold at night, as it sits directly on the ground and it might be a little uncomfortable on bumpy ground. The cot comes with an organic sheet that is soft to your baby's skin – and it's Oeko-tek certified. Use the pegs to secure it to the ground for stability as you would a tent and add a UV-protective mesh cover for sun protection.
It's simple to use and the mesh sides and top are effective at keeping mosquitoes and other biting insects from getting in and annoying your baby. Take the mesh top off to use as a playpen. One side can also be taken off so your baby can enjoy crawling in and out.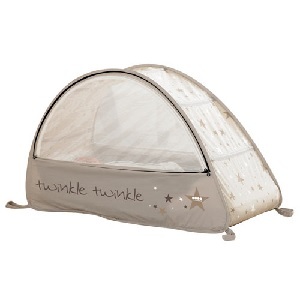 eBay loves:
Great for travelling and camping, very light.
Watch out for:
Can't be used as a playpen, quite small.
RRP:
£74.99
This small, yet perfectly formed, travel pod is a good idea for those who do lots of travelling when their baby is small, or who want a place to put their baby around the house if a Moses basket isn't an option. For short trips to Grandma's house, on holiday, or if you like camping, this pop-up travel cot is easy to carry - you could pop it in a rucksack - and easy to store in the car and at home.
The fabric on all sides is breathable and the mesh sides allow for the easy flow of air, yet keeps insects out. All the fabric on the Koodi offers 93% UVA and UVB protection for your baby's skin, which is good for trips to festivals, the beach or the countryside - and there's even a black-out blind, which can help get your baby to sleep at his usual time, even if you're in a different time zone. The cot comes with a fairly decent machine-washable mattress and a carrying bag.
The all-singing, all-dancing version of a carrycot, this could almost be used as your baby's only bed, though its functions mean it is excellent for travelling, especially if you are going to be away from home for extended periods of time. It combines the comfort of a cot with the flexibility of a travel cot and playpen and boasts plenty of added extras. Taking less than a minute to put up and even less to take down, it has its own carrying case and integral wheels. This means that though the Graco Contour is heavier than some travel cots, it's still easy to transport. Simply move it around the room by raising one end and rolling it on its castors.
It can be used from birth right up to toddler years. Inside you'll find a bassinet with a vibrating mattress, which can be used for very small babies and which will help them drop off to sleep, even if their routine is interrupted by travelling. When your baby is a bit older, the bassinette can be removed and use the base with its soft padded mattress. There is also a small changing table that clips to the top of the frame that will save you from backache. A toy bar with three hanging toys will keep baby amused. Under the mattress is a storage area where you can place all you need and there's even a night light and music to soothe your baby.

Cosatto Moon Unit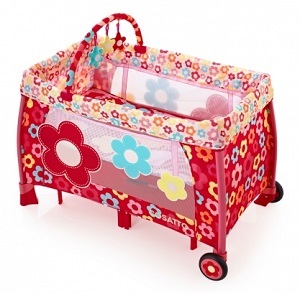 eBay loves:
Can be used from birth, good for sleeping and playing, lots of extras
Watch out for:
Quite heavy
RRP:
£160
In one of two fantastic designs - Little Monster, which has a cheeky character on a grey and green background, or a design called Oh So Pretty with bright flowers, this travel cot is suitable from birth and has an additional high level bassinette in which a tiny baby can sleep. As they grow, you can remove the bassinette and your baby can sleep or play in the generously sized cot – just add bedding for night time.
There is also a cot top changer, which means you can use this for changing nappies when you're away rather than changing on the floor, or on top of a chest of drawers. Inside the cot is a removable, easy to clean mattress. The Cosatto Moon Unit comes in its own carrying bag and has wheels at one end that enable you to move it around when it's assembled or pull it along when folded up inside its travel bag.It's easy to put up and collapse down again and it also has a toy bar with three little toys included, so you can make them dance to keep your baby amused during changes.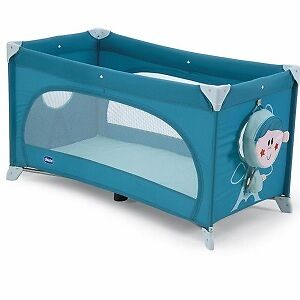 eBay loves:
Generous travel cot that will last into toddler years.
Watch out for:
No extras, quite a basic model.
RRP:
£89.99
With a simple opening system and a dual close system to save it from accidentally folding in on itself, this is a generous sized cot. It can be used from birth to around 3 years, though it might be a bit hard on your back putting a sleeping baby down in it, as it does not have a raised bassinette position for a new-born baby. The cot has mesh sides and is light and airy so you can see your baby. Unzip the side to allow crawling babies the freedom of getting in and out by themselves, which they love.
On one end is a sweet pyjama storage bag in the shape of a character, which also turns into a backpack for your child to carry themselves on trips. Inside is a well-padded mattress, just add a sheet and blankets, or sleeping bag for the perfect night's sleep. It folds up with the mattress base around the cot and has a travelling bag to store it in but unfortunately no wheels for transportation.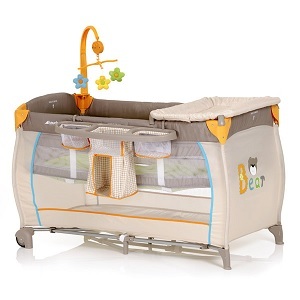 eBay loves:
Comes with lots of extras, good to use on extended trips.
Watch out for:
You may need an additional mattress if using it for long periods.
RRP:
£99.99
With a lightweight curved aluminium frame, this cot is suitable from birth to 3 years and has lots of extras for both you and baby. There's a bassinette mattress that can be used for very small babies and this will help you avoid back strain when placing your baby in the cot at night. When older, your baby will be able to roll and pull himself up so you should remove the bassinette and use the cot's main mattress.
There's a clip-on changing table for quick nappy changes and a clever accessory holder on the side to hold wipes, nappies, lotions and so on. It has a pair of lockable wheels, which when unlocked make it easy to move around. It's easy to assemble and fold down and comes in its own storage bag.
It's on the heavy side compared to some but this is due to all the extras you get. There's a sweet mobile that clips to one corner, which will amuse your baby and soothing music. The mattress is a little thin so although it's fine for one night, you might want to buy a more comfortable mattress if you're going to use it a lot.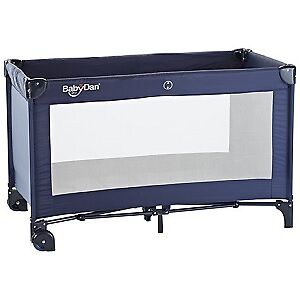 eBay loves:
Plain and simple but does have wheels.
Watch out for:
A bit on the heavy side.
RRP:
£79
If you like to keep things simple, or feel you'll only use a travel cot once in a blue moon, this simple product is fine. Use it as a travel cot for overnight stays and it doubles up as a safe place for your baby to play in during the day as it's quite roomy. Inside you'll find a padded mattress which is fine for occasional naps and overnight sleeping, though you may want to add a thicker mattress if you intend to use it a lot.
When not in use, it folds up neatly into its own matching travel bag and has the addition of two wheels for easy transportation. There's a large storage pouch on the travel cot for toys and other essentials and it has two mesh sides making it easy to see what your baby is doing at all times.
This is one of the lightest cots on review, but is large enough for a baby or toddler to sleep and play. The BabyBjorn Travel Cot weighs just 5 kg and is really easy to put up – it just takes one motion. It packs down into a compact rectangular case with good handles. It's easy to store, easy to carry and the whole thing is very compact.
Inside the cot is a firm and comfortable mattress. The inward sloping sides make it feel cosy and helps discourage your baby from trying to climb out. And as the whole thing is so compact it doesn't take up much room in your home. You can also remove and wash the fabric, so playing and eating in it is no problem.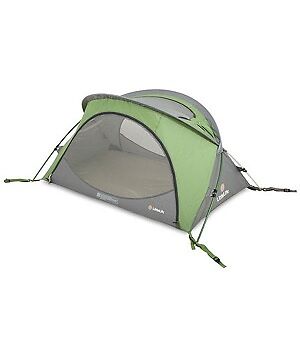 eBay loves:
Tiny, compact and easy to use.
Watch out for:
Can't be used for older children or as a playpen.
RRP:
£99.99
Backpacking with the baby? No problem, as this little travel cot weighs a lightweight 2.5 kg and folds up very small.
Like a tiny tent, it uses a two-pole asymmetric frame which offers good stability. The aluminium poles are flexible yet very strong and have straps to peg down if you're outdoors in a strong wind. Though it's compact, it has a sleeping area inside that is suitable for babies until they get just over 100 cm in length and it's easy to get your baby in and out through large zip-open front panel. You can also zip off the mesh top panel for a more airy bed for your baby, though leaving it in place does mean good protection from flying insects. When removed, this panel can be slipped into a storage pocket. Inside is a comfortable foam mattress which can be removed and washed and which has a cotton cover. It packs away into its own rucksack and you can add a sunshade although this needs to be purchased separately.
Tech Spec:
Size: 85 x 72 x 113 cm. Weighs: 2.5 kg
---
If you're interested in travel cots, check out ...
Bouncers
|
Carriers
|
Monitors
|
Car Seats
|
Changing Units
|
Cot Beds
|
Highchairs
|
Moses Baskets
|
Travel Systems