6 of the best wireless routers to buy
A wireless router might not be the most exciting bit of computer kit you buy, but if you've got a poor one at home, you might be limiting your internet access, slowing down media streaming and probably getting quite frustrated. Upgrading your wireless router can dramatically improve things, provided you choose the right model. David Ludlow, editor of Expert Reviews, takes you through everything that you need to know.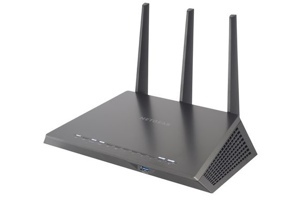 eBay loves:
Super-fast speeds, great range of features
Watch out for:
Very expensive.
RRP:
£180
The
Netgear R7000 Nighthawk
is a router that looks like it means business and it's one of the fastest you can buy. We measured speeds of 158Mbit/s, making it super-fast router and able to compete with wired networks.
The R7000 Nighthawk has an Ethernet WAN port, so can be used with fibre and Virgin Media connections. With two USB ports for sharing printers and external storage, plus four Gigabit Ethernet ports, there's nothing that this router doesn't have.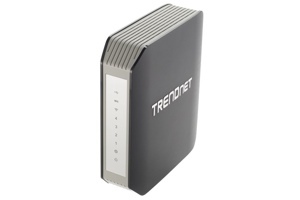 eBay loves:
Small size and low price
Watch out for:
Range could be better
RRP:
£85
The tiny
Trendnet TEW-812DRU
is well-priced for an 802.11ac wireless cable router, particularly one that supports the highest-speeds of 1,300Mbit/s. It's a decent performer, doing well at close range, but the connection is a little unstable when you get a long way away.
Its interface is a little clunky, but all of the options are well-labelled, so it's easy to configure. A USB port lets you share storage and a printer, although this is Windows-only, as they extra software is needed. For a smaller home, this low-priced 802.11ac router is a great deal.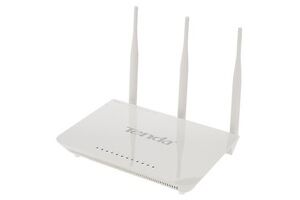 eBay loves:
Great price, great range of features
Watch out for:
Reliable, but not super-fast performance
RRP:
£76
Just about the cheapest 802.11ac wireless router that you can buy, the
Tenda W1800R
is also a great performer. It supports the fastest 1,300Mbit/s speeds that the standard allows. Throughput is decent, although if you spend a lot more you can get better.
With four Gigabit Ethernet ports and two USB ports for printer and storage sharing, the Tenda W1800R is a great cable router for anyone that wants performance on a budget.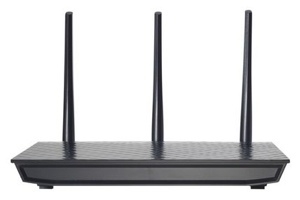 eBay loves:
Tons of features, very fast, great price
Watch out for:
Faster routers around if you spend more
RRP:
£92
Although it supports the slightly slower 866Mbit/s 802.11ac standard, this router is anything but slow. In fact, we've seen speeds of up to 160Mbit/s from it, proving that it can punch above its weight. This router is very easy to use and has lots of extra features, including free Norton ConnectSafe content filtering. With four Gigabit Ethernet ports and a USB port for sharing, the
Buffalo
is a well-rounded and well-priced router.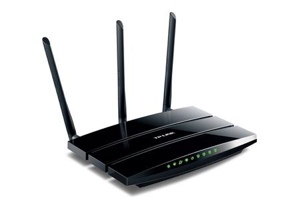 Add a caption
TP-Link 300Mbps Wireless N Gigabit ADSL2+ Modem Router
Click to Edit caption
TP-Link 300Mbps Wireless N Gigabit ADSL2+ Modem Router
eBay loves:
Low price, great range of features
Watch out for:
USB storage sharing is a bit clunky
RRP:
£39
If you're looking for a decent, good-value ADSL router,
this is the model for you
. It's extremely well priced, but has tons of features. It supports the 802.11n standards, but is very reliable and delivers quick speeds. With four Gigabit Ethernet ports and two USB ports for sharing storage and printers, it's got everything you could want.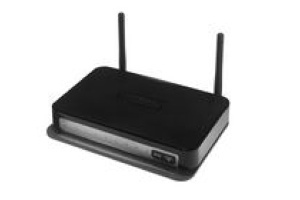 eBay loves:
Great price, stable Wi-Fi connection
Watch out for:
A little light on features
RRP:
£42
In a category where most products are a little dull, the
DGN2200
is even uglier and boxier. Don't let that put you off, as you'll most likely have it hidden out of sight and this low-cost ADSL router is a great performer.
Supporting the 802.11n standard, the router is a decent performer, providing a stable wireless connection. It's a little basic, with standard Ethernet ports and a single USB port for storage and printer sharing, though.
There are two different types of router, built for different types of broadband. If you've got an ADSL connection, where the broadband comes in over the telephone line, you need an ADSL wireless router. This has the necessary modem built in, so you can just swap out your old router for a new one.

If you've got a fibre connection, such as BT Infinity, you've most likely got a VDSL modem tucked away next to your router. This is a small box with an Ethernet port connected to your router. For this type of connection, you need a wireless cable router, which has an Ethernet WAN port for connection to your modem.
If you've got a Virgin Media connection, the router you're provided with has the special cable modem built-in. You can't buy routers that do the same thing, but you can follow the instructions at Virgin Media's website to enable the existing router's modem mode. You then need a router with an Ethernet WAN port, which plugs into your existing router.
If you've got a Sky internet connection, you're out of luck, as you can't easily replace the provided wireless router.

Wireless speed

Your next choice is the type of wireless standard that you want, which defines the maximum speed your Wi-Fi network will run at. Speeds are always quoted as a maximum theoretical throughput and you'll get a lot less in reality.
As well as understanding standards, you also need to understand about channels and frequencies. Wi-Fi networks all use part of the radio spectrum to broadcast data, either 2.4GHz or 5GHz.

2.4GHz networks are most common, but they suffer interference from other radio devices, including baby monitors and nearby wireless routers. To compound things, each router's wireless network is set-up to use a channel, which is a slice of the 2.4GHz bandwidth. Unfortunately, a lot of these channels overlap, causing interference with other networks. If you're suffering from problems, changing your router's channel can help.

Using 5GHz can be better, as this frequency is reserved for Wi-Fi. There are also more channels and none of the overlap. The downsides are that you get less range than with 2.4GHz and fewer devices support the technology. A 'dual-band' router that lets you run both 2.4GHz and 5GHz networks simultaneously can help, but you'll have to pay more for this.
Best-value are 802.11n wireless routers. This standard has a maximum throughput of 300Mbit/s, although in practice, you're only likely to see speeds of around 50Mbit/s. Both 2.4GHz and 5GHz networks can be supported, but few routers will let you do both at the same time — you'll usually have to pick one or the other.

Newer 802.11ac routers use both 5GHz and 2.4GHz bands simultaneously. At 5GHz, these routers have throughputs of up to 1.3Gbit/s, although you're only likely to see throughputs of around 150Mbit/s — but that's still a lot faster than 802.11n. At 2.4GHz, you get an 802.11n signal, although our testing has shown that it's more reliable and faster than through a traditional 802.11n router.

All of the standards are backwardly compatible with older devices, but to get the maximum speed you need a wireless device that supports the same standard. So, for an 802.11ac router, you need a computer that supports 802.11ac. More and more laptops and smartphones do, so these routers can be a good future investment. You can also upgrade any PC to 802.11ac by buying a suitable USB networking adaptor.

There are very few 802.11ac routers with ADSL modems built in because these internet connections aren't fast enough to take advantage of the faster Wi-Fi speeds. As a result, if you have an ADSL internet connection, you'll most likely have to buy an 802.11n router.

Wired

If you've got wired computers and networked hardware, such as storage, don't forget about Ethernet ports. Most routers have four for wired network devices, but buy a router with high-speed Gigabit Ethernet for the best performance.
Finally, look for a router with USB ports if you want a quick way to share the contents of an external USB hard drive with your network; some models even let you share a printer.
Product
Netgear
R7000 Nighthawk
Trendnet TEW-812DRU
Tenda W1800R
Buffalo WZR-1166DHP
TP-Link
300Mbps
Wireless
N Gigabit ADSL2+ Modem Router
Netgear Wireless-N 300
Router type
Cable
Cable
Cable
Cable
ADSL
ADSL
Wireless speed
802.11ac (1,300Mbit/s)
802.11ac (1,300Mbit/s)
802.1ac (1,300Mbit/s)
866Mbit/s
802.11n
(300Mbit/s)
802.11n (300Mbit/s)
Radio frequency
2.4GHz and 5GHz simultaneous
2.4GHz and 5GHz simultaneous
2.4GHz and 5GHz simultaneous
2.4GHz and 5GHz simultaneous
2.4GHz
2.4GHz
Number of Ethernet ports
4x Gigabit Ethernet
4x Gigabit Ethernet
4x Gigabit Ethernet
4x Gigabit Ethernet
4x Gigabit Ethernet
4x 10/100 Ethernet