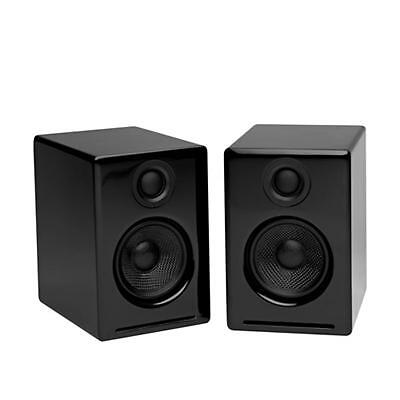 As with any other enterprise, laptop and desktop users who are truly successful at utilising the technology to get a head start on the right foot, are fully equipped with all the tools necessary for the task at hand. Any computer user understands that no matter how well outfitted the setup is there is always room for improvement. Computer accessories provide just the tools that many users need to truly succeed and get ahead, whether that means winning the job, contract, online game, or eBay auction bid.
Laptop and desktop accessories enhance the users experience, providing comfort and pain relief, improving the performance of the computer , and enhancing the overall experience. Because all of these tools can become expensive when added together, and nobody wants to break the bank in an effort to get ahead, a wise consumer looks for bargains and ways to save money on all of the better accessories. eBay shoppers know that finding that bargain does not need to be a difficult task. eBay sellers list a wide assortment of high-quality laptop and desktop accessories, providing value, variety and an enjoyable shopping experience.
In general, people utilise computers for entertainment and education. For many people, though, the main purpose of a computer is to enhance productivity. These users see computers as ways to keep organised, cut paper clutter, stay on task, and basically help them keep all the balls they have in the air at once. A computer on its own is good at helping them to do just that, but a computer user that utilises a setup that is outfitted with all the right accessories tackles these tasks with ease.
This kind of user cannot be successful without having the right printer and scanner connected to the computer. These utilities allow the productive computer user to quickly scan and file important documents, never losing the thing. eBay sellers list many modern scanners that get the job done faster than ever before, and have the capability to file the document away in the appropriate place on the computers files. On many current scanners, these settings can be made directly from the device's menu, allowing the user to skip over many of the steps that were once part of such a system.
With the right printer connected, these important files can be in hand and a moment's notice. A quality printer that uses current technology prints fast, with exceptionally good clarity. Unlike the blotchy pictures produced by printers from other eras, today's printers are optimised for image quality, delivering beautiful printouts, whether from a text or image file.
A current tendency of many users is to transfer all important paper documents and images into digital files and the only thing that stands in the way for many of these users is the availability of enough memory space to store it all. These shoppers will be happy to know that eBay sellers regularly list a wide selection of memory devices designed to suit a variety of needs. These include simple CDs and flash drives, as well as high-capacity external hard drives that can store and organise a terabyte or more of data. It is clear to see how these types of items allow the user to file away thousands of photographs, documents, and even music and video files without ever being concerned about the space being used.
There is no getting around it; the world is now connected and online at all times. A computer user who truly wants to stay on top of things must possess the necessary equipment to stay connected. This includes Internet modems and hotspot devices, as well as equipment that make all of the local connections between devices possible. It can truly be counterproductive to try to stay ahead of the game without the appropriate networking equipment that connects at the fast speeds that are required to keep up with the fast pace that the Internet refreshes that. eBay shoppers know the importance of speed and quality Internet connections. Finding a real bargain often relies on these connection speeds.
For most computer users, it is important to remain productive and connected while on the go. These users are eager to get out of the confines of the corporate or home office and require accessories designed to make that easier. eBay shoppers can find many accessories specifically designed to help the mobile computer do just that.
Laptop cases and bags not only protect the computer while in transit, they also contain all of the other accessories that the user needs to be truly productive regardless of the location. These include privacy filters, wireless keyboards and mouses, extra laptop batteries, and chargers . Many laptop bags even include special pockets for keeping accessories handy. eBay shoppers can find these necessary computer accessories that are made by all of the most popular brands and represent many different styles and colours, allowing the shopper to achieve the ultimate, personalised mobile look.
There are many other accessories that enhance the computer user's experience, including those that focus on speed, comfort, enjoyment, and quality. From USB lights that allow the user to see the keyboard while the ambient lights are dim, to Webcams and headsets that make face-to-face connections possible, eBay sellers regularly list many of these items. The variety of laptop and desktop accessories listed on a regular basis is so vast, in fact, that it is impossible for any brick-and-mortar store to stock a comparatively wide assortment.
Not only does this represent a large number of possible bargains for the average computer user, it also guarantees an incomparable selection. Users who are concerned with finding ways to personalise their computer space can find items available in virtually any colour or style they can imagine. Those concerned with the security of the computer and the information it contains have no problem locating top-of-the-line antitheft devices that can avert any sinister activity.
With such a large selection, it is easy to see that the wise shopper should turn to eBay first. This move does not just represent variety, though. Shopping eBay first also allows the shopper to avoid the hassle of rushing from store to store, standing in line, and wasting precious time that could be used productively. eBay shoppers enjoy the comfort of shopping right where they are and having the items delivered directly to their door. When you combine this with the high likelihood of finding an extreme bargain on many of the desktop and laptop accessories that are necessary to keep up to speed, it is clear that wise shoppers will choose to shop eBay first.
When it comes to purchasing technology, a main goal should be to keep things as current as possible while staying within the budget. Because many of the laptop and desktop accessories that represent the most current technology and trends are also those that are the most expensive, many shoppers have caught on to the concept of buying previously owned merchandise. With the pace that technology advances, used items are quite often less than a year or two old, in perfect condition, and only listed because the previous owner decided to update. While they may not be the most current technology available, used computer accessories are generally current enough to keep the eBay buyer up to speed with the rest of the world.
eBay makes it easy to find all of the great laptop and desktop accessories that the sellers list. In order to see a large list of all the items, which represent the broadest selection of those available, consider the many categories and options that may be available to choose from on eBay's main page. To find a more specific item, enter keywords into the search box, and narrow the search from there, again choosing from categories and options that are listed on the page.
Wise shoppers who purchase computer accessories on eBay should be sure to review the item's description thoroughly before purchasing. Determine the condition of the item, its shipping cost, and all of the items that may be included in the purchase before making a bid. Shop around, and be sure that the item you are considering is the one that satisfies your computing needs now and in the near future. Consider the different sellers, their ratings, and reviews. These can be an indicator of the quality of service and product. Choosing to buy from one of eBay's top-rated sellers is one way to be confident about the purchase.
Conclusion
Wise computer users are concerned with staying on top of current technology and trends, ensuring that their computer setup includes all of the necessary accessories to enhance productivity. eBay shoppers know the importance of keeping up with today's connection speeds, as well as the benefits of owning a top of the line computer and the accessories that make being productive easy. These items represent advances in technology that may be expensive or difficult to find when shopping elsewhere.
eBay shoppers look for bargains on these expensive, hard to find items. By shopping at eBay first, it is easy for computer users to find the necessary items that can allow them to keep pace with today's high-paced world. Doing so ensures that these wise computer owners stay ahead of the game, and do so with a very personalised style. Many of these items may be difficult to locate anywhere else. The real bargains, after all, arrive custom packaged and delivered right to the front door.