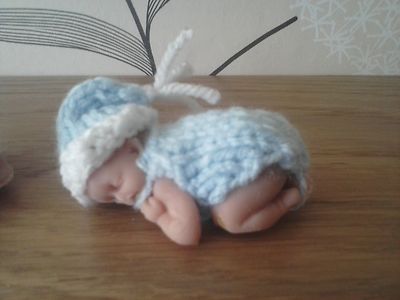 So cute little baby boy with his hand knitted hat and grow suit.
Take a look in my ebay shop (ebay Id cathys987 or search Crafty Knitted Toppers) for more pastel colours and Christmas red and green.
These are also super for card making Toppers / Embellishment, to decorate keepsake boxes and lots of other Baby items.
Decorate your table for a baby shower or for a keepsake card or place card decoration.
I also have more Hand Knitted card Embellishments and Toppers for baby cards and baby showers.
I sell full mini Booties, Nappies, hand bags 2 sizes of Christmas stockings.and of course the hats in pastel and Christmas colours.
Half ( just the fronts to add to your project), dresses, jumpers, jumpers on needles, bibs, Christmas items Trees Puddings, cupcakes and lots more.....
These items can be added to pictures or added to photo frames and plaques as a super cute finishing touch to make you items stand out from the rest.
I also have larger booties for baby shower, naming day decorations. T.hey can be an hanging decoration on as a take home keepsake for your guests to take home with a few sweets in or personal items to remember the day.
Also take a look at my new cute little girl bookmarks they great for the kids and can be used as puppets.