Colours
Bright colours, neutral colours, warm colours, cold colours, pink, blue, green, red, yellow... what is your favourite colour?
Maria Montessori chose and used them consistently throughout her didactic materials. To this date, I have not yet found (I have not actually researched properly -if you know, let me know!) why she chose "red" for one, "green" for two in the short beads, or green for unit, blue for tens... I have read somewhere that the verb is "red" because the colour red represents "energy", and action requires energy=verb is red.
When you see colourful toys, look at them carefully, and ask yourself "what these colours are for" Isolating what a child is supposed to learn is important in Montessori philosophy. Look at the geometric solids. They are ALL in one colour (usually blue, but sometimes natural wood. ) Why? The pink tower is, well, all pink. I do not know why she chose the colour pink. I personally do not think it has to be pink, I would be quite happy to have a powder blue tower. The pink tower is for a child to learn to differentiate sizes and grade them in size. Bright coloured blocks look pretty, but then what are these colours for? So, if you are buying a "colourful rainbow arch blocks", make sure that the order of the colours is Roy G. Biv. Here is what Margaret Homfray said in one of her lectures.
▶ 06 Criteria for Quality Educational Materials - YouTube
(She talks about the colours at 5:17)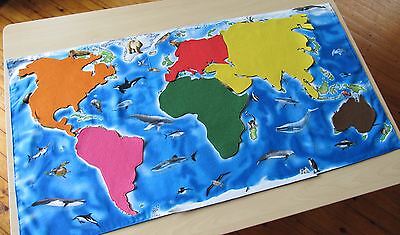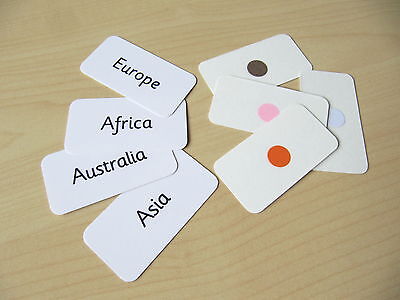 Add a caption
My movable continents on a beautiful map of the word with animals fabric. Available on request.