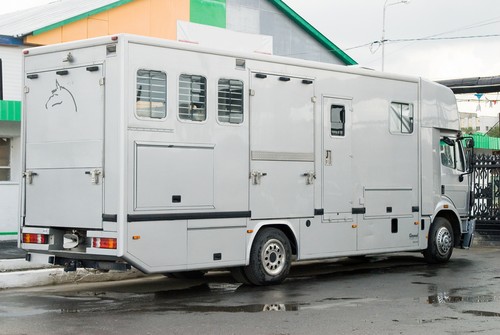 Owning and riding horses can be an extremely enjoyable pastime as well as very effective exercise. For those that choose to show horses, the possible rewards are even greater. But whether the ultimate goal is to show horses or ride them in the wilderness far from where they are stabled, the horses need to be transported.
Most riders find that a horse trailer is a safe and effective way to transport one or even many horses. To transport up to three horses, a three-horse trailer is the minimum size required. Selecting a trailer means making many decisions about what is most comfortable for the horses and for whomever is driving the trailer. Whether a new or used horse trailer is purchased from a private seller, a dealer, or online from eBay, a horse trailer is a big investment. Having a solid understanding of the different trailer features and options that are available goes a long way towards choosing the right one for both horse and rider.
Horse Trailer Loading
One of the more challenging aspects of travelling with horses in a trailer is actually loading the horses into that trailer and then getting them out again once reaching a final destination. When choosing a three-horse trailer, it is important to choose a loading structure that is suitable for the horses travelling in the trailer. This is different for each individual horse. The two main ways in which horses are loaded into trailers is via a step or a ramp.
Step Up Loading
A horse trailer with step up loading requires the horse to take a step up into the trailer. This requires the horse's handler to guide the horse up the step. For many horses, the low level of the step is not an issue. However, older horses can find that the step is uncomfortably high, in which case a step up trailer is not the best choice. Keep in mind that the horse also must step down out of the trailer. In some cases, exiting is more difficult for a horse than entering a step up trailer.
Ramp Loading
The other option for horse trailer loading is a trailer with a ramp. These types of trailers have a ramp that folds down from the rear of the trailer, onto which the horse can step. The gentle incline of the ramp can be easier for some horses. While choosing either a ramp or step up trailer is mainly a matter of the preference of the rider and the horse, keep in mind that there is also the possibility of adding a ramp to a step up trailer as an aftermarket addition, in case a horse becomes unable or unwilling to use the step up load.
Slant Load
Aside from how the horses are physically loaded into the trailer, there is also the direction the horse faces once inside to consider. Three-horse trailers are commonly made in the slant load style. As the name suggests, with a slant load trailer, the horses are loaded into the back door at an angle. This allows space for three horses while not making the trailer too long for an average pickup truck to tow.
In general, slant load trailers are pricier than straight load trailers, but for transporting more than two horses, they are the better option. There is also the consideration that the horses are able to brace themselves more easily when the hauling truck brakes if they are at an angle. This is because pressure is put on stronger leg muscles rather than the weaker shoulder muscles.
Straight Load
With a straight load trailer, the horses are loaded in directly parallel to the trailer itself. It is much less common to find a three-horse trailer that allows for straight loading since there is simply not that much space horizontally to fit three horses and drive on a standard road. However, for small horses, a three-horse straight load trailer can be a viable option.
Three-Horse Trailer Pulling Options
When purchasing a three-horse trailer, it is also important to consider how the trailer attaches to the vehicle that pulls it. The two ways horse trailers attach to pickup trucks are with a bumper pull or with a gooseneck trailer attachment.
Bumper Pull Trailer
Virtually any pickup truck and many multi-purpose vehicles are equipped to pull a trailer with a bumper pull. These trailers attach directly to the vehicle's bumper using a standard trailer hitch. Bumper pull trailers are easier to attach since they use a simple ball hitch. Because the trailer attachment is smaller, a bumper pull trailer also weighs less than the same trailer with a gooseneck attachment.
Finally, a bumper pull trailer is easier to drive for someone who is not used to driving large, commercial vehicles. The trailer turns with the hauling vehicle and does not require any special manipulation. When driving a pickup truck, this type of attachment also means that the bed of the truck is free for hauling other items.
Gooseneck Pull Trailer
A gooseneck pull trailer has a hitch that attaches to the centre of a pickup truck's bed. This means that a pickup truck with a special truck bed attachment is necessary in order to use this type of trailer. There are many advantages to a gooseneck trailer, however. The main advantage is that these trailers are simply more stable than bumper pull trailers. This is because the weight of the trailer is distributed more evenly over the truck rather than sitting mainly on the rear axle as it would with a bumper pull trailer.
Gooseneck pull trailers are heavier overall, meaning that the cost of petrol for hauling this type of trailer is higher. However, for many people the added safety and stability is worth it, particularly for hauling multiple horses.
Three-Horse Trailer Materials
When selecting a three-horse trailer, it is necessary to choose the material that is best suited to an individual's needs. The following table describes the most commonly used horse trailer materials as well as their advantages and drawbacks.
| Material | Used For | Pros | Cons |
| --- | --- | --- | --- |
| Aluminium | Entire trailer | Lightweight, durable, rustproof | More costly than steel |
| Steel | Entire Trailer | Less costly up front; extremely durable | Prone to rust; heavier than aluminium |
| Fibreglass | Roof | Allows better airflow and keeps horses cooler | More costly than a metal roof |
| Rubber | Floor | Keeps metal floors cool; offers traction | Can degrade in sunlight |
The majority of horse trailers are made from either aluminium or steel, with certain features using fibreglass, rubber, or even wood. However, some trailers are made from both aluminium and steel in an effort to take the best from both worlds. Both metals are entirely suitable for a horse trailer; it is truly a matter of personal preference.
Additional Three-Horse Trailer Rooms
The main purpose of a horse trailer is to transport horses. Still, many horse trailers have additional spaces that make the trailer even more useful. For instance, larger horse trailers often have a dressing room area. This can be used for storage during long trips as well as for changing clothes in private. Many people who take their horses to shows need to change for competitions, in which case a dressing room is useful.
Horse Trailer Living Quarters
A dressing room is sufficient for many horse owners, but others take their trailers for long weekend trips or outdoor excursions for multiple days. In this case, having a separate living quarters area that is divided from where the horses stay, can be very useful. This area may be quite small but usually accommodates one or two people. Having living quarters in a trailer can save money on hotel rooms or campsites for long trips and should be considered.
How to Buy a Three-Horse Trailer on eBay
If you are in the market for a three-horse trailer of any type, chances are you can find it on eBay. In order to find a three-horse trailer that suits your exact needs, enter some search terms into the search box on any page of the site or simply start on the home page.
For a narrow search field and limited results, you can enter very specific terms like "back ramp horse trailer." If you would prefer more results, search for "horse trailer" and then use the eBay filters to narrow down the results until you find something to your liking. Shipping a horse trailer can be quite an ordeal, not to mention quite costly. In order to save on these types of charges, you can limit your search using the eBay geography sort feature. If you find a trailer near to you, most sellers are happy to arrange a pick up.
Conclusion
Purchasing and using a horse trailer for the first time can understandably cause anxiety. After all, there is no way to know how a horse responds to any trailer without first putting that horse in the trailer and towing it some distance. Some horses may be fine to step up into a trailer, while others may resist and require a ramp. The majority of horses do get used to riding in a trailer, even if they do not necessarily enjoy it.
The best way to choose a good three-horse trailer is to be educated about the different options that are available including construction, materials, and trailer hitches. Taking the time to study different trailers as well as the needs of the hoses in question is worthwhile in the long run. Armed with the right information and shopping strategy, a three-horse trailer is an exciting purchase that keeps horses safe and comfortable no matter where they need to go.