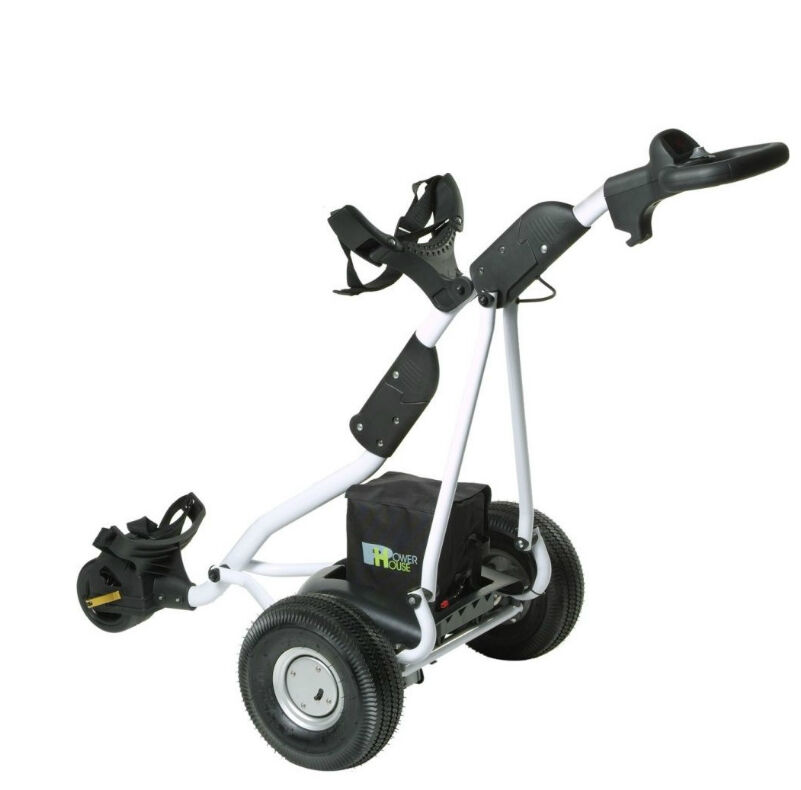 When playing golf, a person does not only need the body but the mind as well. It is a game of strategy and concentration. In this game, there is no room for distraction. For this reason, golfers, when they play, want to take their mind off of other things. In order to fully concentrate on the game, golfers prefer for everything to be as convenient as possible. A golfer needs to fully prepare when coming to the golf course.
A set of golf clubs, which a golfer must have, can also be cumbersome. If a golfer does not have a caddy, the golf bag needs to be carried, and if with wheels, pushed or pulled by the golfer. It can be taxing to a golfer who is trying to free his mind of unnecessary cares to focus on the game. To deal with this kind of problem, a three-wheel electric golf trolley is a great solution. A golfer, or anyone who is interested in an electric golf trolley—probably to give as a gift—benefits from knowing its full function, parts, and popular brands so that buying is easier and a wiser purchase is made.
Three-Wheel Electric Golf Trolley Overview
The golf clubs and balls are the most important equipment in golf, but they can also burden the golfer even if they are neatly packed inside a golf bag. An electric golf trolley is an electronic device that solves such problem. It is fantastically convenient to have one, freeing a golfer from carrying a golf bag complete with clubs and balls without having to hire a caddy.
Golf trolleys can be battery-powered such as an electric trolley. Also, this type of golf trolley can automatically travel the distance it is programmed to cover. A golfer can set an electric golf trolley to travel 50 metres, for instance, and he or she only need to push a button for the trolley to move forward automatically for 50 metres. This means the manual pushing or pulling of a trolley is no longer a golfer's task with the help of the device. The U.K. is a pioneering country that uses an electric golf trolley. The golf-carrying equipment was introduced in 1983 PowaKaddy founder Joe Catford. He sold the company in the 1990s but continued producing electric golf trolleys through his new company, Hill Billy.
A three-wheel electric golf trolley is the latest design in golf trolleys. Compared to its predecessors, the three-wheel variety is more efficient in cruising around a golf course because of the advantage of a third wheel at the front of the equipment. A three-wheel electric golf trolley has a battery pack that gives it power to manoeuvre. There are electric golf trolleys of this type that have a remote control feature to make it easier for golfers to control its movement and direction from a distance.
Features to Look for in a Three-Wheel Electric Golf Trolley
When shopping around for a three-wheel electric golf trolley, there are several parts or features that a buyer should not miss. The more features an electric golf trolley has the better; a multi-purpose electric golf trolley is more valuable.
Trolley Bag
Although a very basic feature, a trolley bag for storing equipment is very important for a golfer. A trolley bag is needed to make it easier to transport an electric golf trolley from the home to the car. It also protects the trolley and covers the trolley so the dirt on the wheels does not scatter on the trunk.
Wheels
A three-wheel electric golf trolley has three wheels: two at the back and one at the front. The back wheels are usually bigger than the front wheel. Some wheels are detachable for easy transport. Such wheels can be removed by pushing a button, which is anywhere near the wheel.
Adjustable Handle Bar
The handlebar of a three-wheel electric trolley should be adjustable to accommodate any height. Some trolleys have a triangular bolt that can be turned to adjust the height of the handlebar. The handlebar also facilitates the set-up and collapse of the electric trolley. With some models, a folded golf trolley clicks to its functional position by pulling the handlebar, and the trolley can be folded again by pushing a button as the handlebar is pulled down.
Brake System
It is important for a three-wheel electric golf trolley to have a brake system, just like with the ProTrolley brand, to keep it in a stationary position. In other models, there is usually a red brake button at one of the back wheels. A user can push the button by foot to lock the electric golf trolley in place.
Console
For advanced models of three-wheel electric golf trolleys, there is a console below the handlebar to hold a number of things. A console has portions that hold golf balls and tees. It can also have a pencil hole, scorecard holder, and a tee holder. A net bag below the console is a useful storage of accessories.
Digital Speed Control and Battery Life Indicator
The yardage in which a three-wheel electric golf trolley is travelling can be programmed. And because an electric golf trolley is powered by a battery pack, there is also a battery life indicator in such equipment. Some three-wheel electric golf trolleys have an LCD screen that shows both the automatic yardage speed and battery life indicator. The LCD screen also tells the time and the speed in which the trolley is travelling.
Battery Pack
A battery pack is an essential part of a three-wheel electric golf trolley. Most battery packs can easily be wired to the golf trolley. There are three-wheel electric golf trolleys, such as PowaKaddy, that provide a lithium battery pack, which is 75 per cent lighter and has a longer lifespan.
Three-Wheel Electric Golf Trolley Brands
There are a number of top brands for three-wheel electric golf trolleys that buyers can find online. Among them are PowaKaddy, Hill Billy, and Pro Trolley.
PowaKaddy
PowaKaddy is the pioneer brand of electric golf trolley. The PowaKaddy Sport is a three-wheel electric golf trolley that is made of durable but lightweight materials. PowaKaddy electric golf trolleys are easy to manoeuvre, stable, and can be folded easily in three steps. It has functions for several speeds, standby mode, and remote controlling.
Buyers can buy opt to have wide wheels for the golf trolley to have a stable movement on hilly courses. The Powakaddy electric golf trolley can be powered by lithium, lithium EBS, and lead acid batteries. Lithium batteries, as mentioned, have a weight that is 75 per cent lighter than normal batteries and last longer. Lithium EBS has the convenience of a lithium battery but with the added braking system that counteracts the pull of gravity as the trolley travels downhill. The lead acid battery functions very much like its lithium counterpart but buyers have the option of an 18-hole or a 36-hole battery.
Hill Billy
Hill Billy was established by Joe Catford, the same person who introduced the first electric golf trolley. Its Terrain model runs on a 200-watt motor. It has a compact but lightweight, three-way folding frame. Additionally, it has a universal handle with a soft touch grip and a speed function that can be controlled effortlessly.
The Hill Billy terrain model can handle the heaviest golf bag, course through rough and hilly surfaces, and has plenty of power for 18 holes. It can easily be handled by a left-handed or right-handed individual, and it can easily be sent toward the next hole. The Hill Billy terrain weighs 19.84 pounds, comes with a black frame, and sport white wheels.
ProTrolley
ProTrolley is another top brand of three-wheel electric golf trolleys. Its SupaCaddy electric golf trolley model is lightweight but made of super-strength materials. It uses a 180-watt motor. It is very stable and easy to manoeuvre. ProTrolley SupaCaddy can be controlled remotely, so a user can easily move the trolley forward, backward, or to the left or right. What is unique about the remote function of ProTrolley is that after being halted, a user resuming the trolley's movement without needing to select a speed level. The trolley remembers the last speed used and automatically engages it. It also has a universal handle fit for left- or right-handed individuals.
Buying a Three-Wheel Electric Golf Trolley on eBay
eBay has a vast amount of sporting goods for sale. It holds a great variety of golf trolleys, both manual and electric. For electric golf trolleys, you can search a two-wheel or a three-wheel type on eBay. The website contains the top brands for a three-wheel electric golf trolley, including PowaKaddy, Hill Billy, ProTrolley, Masters, and MotoCaddy.
Even with a little understanding of how the website works, you can easily search for new or used three-wheel electric golf trolleys. You can even filter your search to a certain kind of sellers, such as those that are top-rated on the site or those with eBay shops, or business or private. You can check for the seller's credibility and professionalism in transactions by reading the comments left by other buyers. The more positive feedbacks the more credible the seller is. When buying a three-wheel electric golf trolley on eBay, find a seller that agrees to the return policy. This way you have an option to return an item if it does not meet the agreed quality.
Conclusion
A golfer needs to dedicate much of his or her concentration on the game so unnecessary tasks must be eliminated. One of most burdensome part of playing golf is having to carry a golf bag packed with golf clubs and balls. Doing so wears down the golfer, and even with a manual golf trolley, a golfer can find the task irksome. One solution is to hire a caddy. A better solution is to buy a three-wheel electric golf trolley that can be manually controlled to move in every direction. Such a golf trolley can be programmed to travel automatically over a preferred distance.
Most models of such golf trolleys are compact but lightweight, and can be folded away easily. A three-wheel electric golf trolley can have a lead acid battery or a lithium battery has a weight that is 75 per cent lighter and longer lasting. Some golf trolleys of this type have a console that can hold golf balls, tees, beverage, and a scorecard. Others still have an inbuilt device that shows the time, speed, and battery indicator. There are different brands and models of a three-wheel electric golf trolley, and buyers should buy the one with features that they most likely need. A three-wheel electric golf trolley has become a necessity for golfers who take their game seriously.