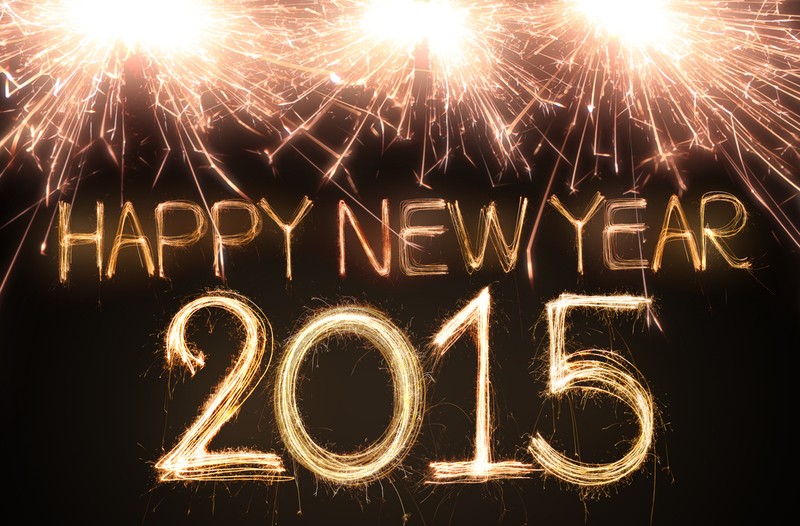 We'll soon be saying goodbye to the old year and welcoming in the new, so why not use this as the perfect excuse to decorate your home up to the nines and plan the party of the year?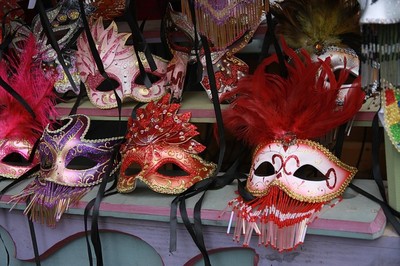 Picking a theme
All good parties have a theme. Maybe you would like your guests to arrive in
fancy dress
or you simply want a dress code – whichever it is, make sure you are clear on your invites.
Colours
You don't have to have a colour scheme of course, but it does look very effective and there are so many great coloured decorations out there that it seems a waste not to take advantage. This year's hot colours are black, gold and silver – lavish, rich and stylish.
All sorted
For people who just want it all delivered in the same box ready to decorate on New Year's Eve afternoon, buy a ready-made decoration pack – they come in different colours and include everything you'll need to turn your home into a sparkly spectacular. If you want to be more bespoke however, then read on for ideas...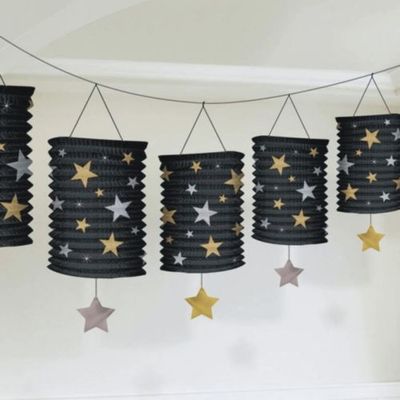 Oriental style
Adorn the inside and outside of your home with gorgeous
Chinese paper lanterns
. For safety reasons we suggest you opt for the electric type rather than ones requiring a candle... However, if you have are having a sophisticated soiree sans children then by all means use candles!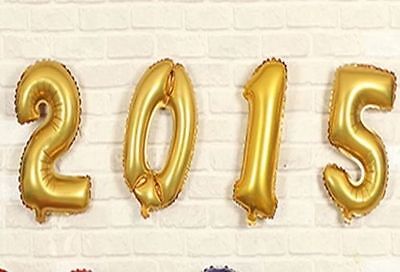 Shout it out
Incase people forget which year they are moving into, give them a nudge. If you haven't seen the giant blow up numbers then you are missing a real treat! Place them outside your front door to welcome your guests, then some in the hallway, some in the lounge then maybe the kitchen... even the bathroom lest they forget (you get the idea of how much we love them?). Don't forget to decorate with some traditional
balloons
too, in matching or toning colours. If thats not enough to remind them, throw some 2015 table confetti about.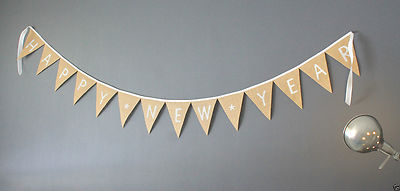 Hanging out
There is a vast array of wall and ceiling hangings to chose from, some spiral down the wall, some from the ceiling and some from the door frame, or you may prefer a bunting style. Buy a good selection of all of them to ensure nobody forgets why they are there.

Garlands
Brightly coloured paper garlands look beautiful hanging from the ceiling. If you've got a gazebo or marquee outside then hang them from the centre of the frame. Why not dangle a few in the bathroom too to keep up the theme.
Happy New Year 1979 style
Ham up your home with a retro look by hanging some bright paper streamers from way back when... in fact use them as your inspiration for a 1970s fancy dress party.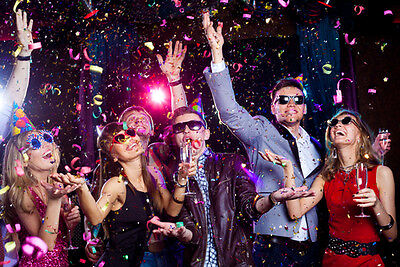 Streamers, poppers and more
Make sure you see in the New Year with a bang and arm guests with plenty of celebration gear. Be organised and make sure everything is to hand before the dongs strike. If you have children around, supervise them closely with the poppers – nobody wants a visit to casualty on quite possibly the busiest night of their year. In fact a brilliant alternative is biodegradable confetti, fill up bowls with the pretty paper cut outs and place them around the house, ready to be thrown in celebration by everyone who can get their hands on it.
Other stuff
So, thats the decorations sorted. Here's some top tips on making sure the rest of your party goes off with a bang.
Compile a party song list in advance on your iPod – there are lots of iconic New Year's Eve songs to include – not forgetting Auld Lang Syne!
Be prepared and research some good games to entertain your guests. You can buy drinking games or you can make up your own with only a little imagination, and there's always charades to get everyone going.
Providing food for a huge gang of people can be an expensive and laborious task, so either ask everyone to bring a plate of something (liaise otherwise you'll end up with 20 plates of sausage rolls) or keep it simple with various pizzas and nibbles.
Depending on your clientele, you can consider disposable crockery and glasses, although the Champagne will not taste so good!
Don't fill up your recycle bin with hundreds of beer cans and wine bottles, instead use boxes of wine and buy barrels of beer – available from local breweries.
If you have hoards of children at the party, set up a designated kids zone, provide them with some entertainment, a TV with some DVDs, maybe a console, some crafts and board games. Take turns supervising so there's not just one poor mum subjected to a night of babysitting. Pinatas are great for kids and you can even get special New Year's Eve versions.
Finally, once all the preparation and organisation is done, take a sip of fizz, welcome your guests and, most importantly, enjoy yourself!