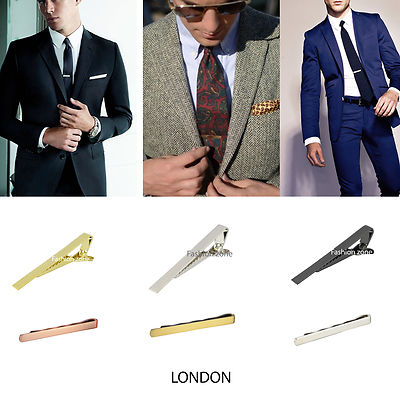 Why a tie bar or clip...
These days, the suited man looks naked without a tie bar - and amateurish if he doesn't observe these five rules to looking as dapper as DavidGetty Images1. Always the bar, never the pin. Unless you want a perforated tie collection.

2. It should not only clip together the two ends of the tie, but also secure them to the shirt's placket.

3. Position the tie bar between the third and fourth buttons of the shirt. Any lower will obscure it behind your jacket; any higher looks peculiar.

4. The bar should never extend across more than three quarters of the tie's breadth. If you've acquired a super-skinny tie you need to downsize your clip. No excuses.

5. Avoid bling. The bar should enhance not distract (and if it's vintage, even better).

Some observers credit the resurgence in neck-centric jewelry to the influence of shows like "Mad Men" and "Boardwalk Empire." Others point to the reinvigorated men's "dress-up" business.

It's a fail-safe way for a guy to accessorize with jewelry. "It's decidedly masculine, it's very clean, very modern, and no one's going to make fun of you," he said. "No one is going to snicker at you for wearing a tie bar."

Is the tie bar part of your style arsenal?