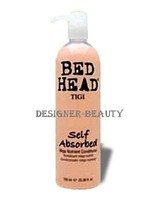 As a Authorized stockist of TIGI we just wanted to let you know of some of there current offers and new products
At the moment Tigi are offering Tween size shampoo and conditioners for a great price of only £10 and £14, you do not have to buy the shampoo and conditioners together either so you can mix and match, some of our customers love the oatmeal and honey conditioner but find it a little to much when used in conjuction with the shampoo, so some people like to go for the superstar shampoo and self absorbed shampoo.
We have also had some really good reviews on the foxy curls range which was launched a little while back especially the mousse which works really well on naturally curly hair.
Tigi have also just launched 2 new products called shiny happy people and one curl at a time, both from the S factor range,
Shiny happy people is a shine spray and if you like Headrush you will love this one!
One curl at a time is a light weight curl serum, which is applied to damp hair and either left to dry naturally or can be used with a diffuser.
We aim to bring you up to date information on new deals and new products from the fantastic TIGI range.