There exists now a trend for home owners to move away from traditional ceramic
tiles and invest in larger (and of course heavier) porcelain or granite tiles.
A fashion spurred on by the contemporary look and feel that we are exposed to
either via hotels, shops or on those DIY programs telling you how not to, or how
to decorate.
Of course we import some influence from those exotic holidays abroad
and the constant magazine coverage of the "In Look". Same applies to kitchens
and hallways. Gone are the smaller tiles and in come great slabs of polished marble,
porcelain and granite. These things have always been the preserve of the rich
or "top end" market but there is a definite trend to the install of these materials.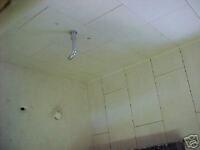 And its no bad thing. The fashion for wet rooms and for floor to ceiling is not
only luxurious but practical! Of course cost can be an issue because these things
aint cheap. For example a 30 square meter typical bathroom will set you back about
£1500 for a decent tile on the wall. Another £500 should cover the floor and then
you can count on an extra £1000 to fit it all. So think of £3000 just to tile
the thing! Add to that a shower at £1000, a bath, £500, toilet and sink £500 then
you are just about at £5000. Ouch.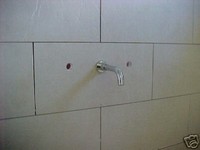 We found this out ourselves when going the
DIY route. I had a budget of £5000 and was shocked to be given a fixed price of
£8000 for someone to come and do the lot. Start to finish. I managed to do it
myself for £6000 but at least I saved £2000. The question is on an investment
layout of £6000, is the saving of £2000 value for money? Or just risky when compared
against the cost of mucking it up and the cost of floods or future unforeseen
problems. Yes I saved £2k but it took me 6 months to do it vs 6weeks for a pro.
However some good did come out of it. I got a tremendous send of achievement,
it went the way I wanted it to. I learnt a lot about hard porcelain tiles. And
dare I say It I had fun!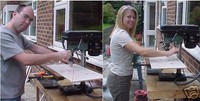 I also invested in a cheap bench drill (Less than £30)
from screwfix and both me and the wife drilled our own holes, Something I want
to pass on to anyone considering these rock hard tiles is that they might seem
daunting to cut. I was told each tile had to be specially cut by a diamond saw
and each hole had to be predrilled at an offsite factory. Total rubbish. So annoyed
was I about the myths of tiling in hard material that I now advertise on ebay
a high quality and low cost diamond kit. To cut these tiles you need a cheap £40
tile saw but with a reasonable quality diamond blade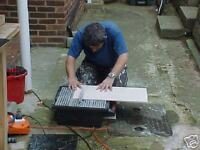 If you have a big bathroom
(above 25 square meters) invest as much on the blade as the saw. It might all
sound like the price is stacking up but you should budget £40 saw, £40 blade,
£30 drill press, £25 diamond drills: £135 in total. If you sell the saw and drill
after for say £50 on ebay then its cost you £85 for your project!
Seems I cant
be the only DIYer out there who is not afraid to give it a go. The future is definitely
luxury tiles not ceramics for a growing number of people. And with the right tools
then I say welcome to the club!
Dont be afraid just make sure you invest in the
above.