Transporting personal possessions is never easier when you own a duffle bag to keep items safely tucked away. Everything is copasetic until, for instance, you open your designer Ralph Lauren duffle bag and it needs a refresher course on how to smell better. Follow a few practical tips so your gym bag stays fresh year-round.
Remove Wet Clothing from the Bag

Get in the habit of putting soiled and wet clothing in a sealable plastic bag, place the plastic bag inside your duffle bag, and carry it home to launder the contents the same day. The plastic bag prevents contact with the inside of the gym bag which is where smells begin after continually throwing sweaty clothing into the bag. If you prefer, purchase plastic carrier bags with handles to tote wet clothing separately. Keep a supply of tumble dryer sheets on hand and place one or more in the bottom of the gym duffle bag, and replace them routinely. Always start with clean clothing before your next workout instead of wearing the same smelly clothing repeatedly. Other odour-causing culprits are shoes and dirty socks. Remove footwear, expose them to fresh air, and spray them with Febreze to rid the insoles of germs.
Air Out the Bag Between Uses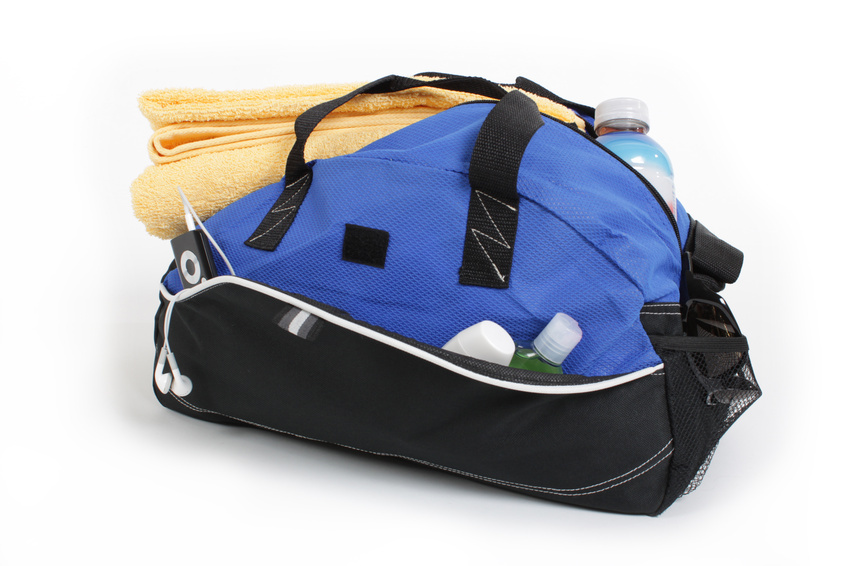 Regular exercise is important so do not opt for stopping cold turkey just because your leather duffle bag has an unpleasant aroma. Stale air, dirty clothes, and excessive moisture contribute to bacterial growth that left unchecked, creates odour. Once your bag is empty, make sure to open up the bag so fresh air circulates to eliminate moisture build-up. Sitting the bag in direct sunlight helps dehydrate the bag thoroughly. Routinely wipe the inside and outside of the travel bag with antiseptic wipes to ward off any bacteria or mould. Purchase wipes in individuals packages in quantities of tens, hundreds, or thousands.
Use a Deodoriser
Use a deodoriser, such as Smelleze, available in a granular or powder form, to sprinkle in the bag since a larger pouch eliminates odours in an entire room. The product removes rather than covers up unwanted smells, removes mould and mildew, and is non-toxic, odourless, and safe for the environment and pets. Also available is a Smelleze laundry pouch that you can place directly in a gym bag, and it lasts for years. You simply place the pouch in the microwave for two to four minutes to revive its contents which are free of harmful chemicals and volatile organic compounds.