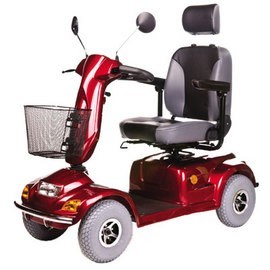 There are many different things to consider when making a mobility scooter purchase.
How far will I need to travel?
Will it need to fit easily into a car?
Will you need to travel on the road or pavement?
Will you be using your scooter for shopping trips or for off road?
Can the scooter be stored inside the house or in a shed?

There are three main types of mobility scooter available.


The first is the Lightweight or boot scooter.

This type is great for easy transportation on pubic transport or the boot of a car. They will normally separate into multiple sections allowing for easy lifting into the boot of a cars. They are mainly suitable for smooth ground and with a range of 10-15 miles and a top speed of around 4mph, are great for shopping trips or popping to a friends house. They are for designed for pavement use only.

The second option is the Medium 4mph scooter.

This type of scooter is designed for travelling further a field and will normally have a range of up to 20 miles. They are bigger in size than the boot scooters and offer a higher level of comfort for longer trips. They will generally split down in to sections, but the component parts are heavier and will not fit in to a car so easily. They are for pavement use only but will cope with a level of off roading.

The third option is the Class 3, 4-8mph scooter.

Class 3 scooters are designed to allow you to travel safely on the road and have lights and indicators fitted. They will have better suspension and good ground clearance allowing for a much wider range of terrain to be accessed. The range will be from 25-30 miles and with extra comfort and captains chairs, they are much better suited for longer excursions. Again these are bigger heavier items so they are not so great for the boot and will normally have to live outside in a garage, shed or under a scooter cover.

Please note. Class 3 scooters need to display a 'nil value' tax disc and be registered with the DVLA for road use. You must be 14 or over to drive a Class 3 scooter.

For more information, please visit our website or call today on Freephone 0800 999 2778.