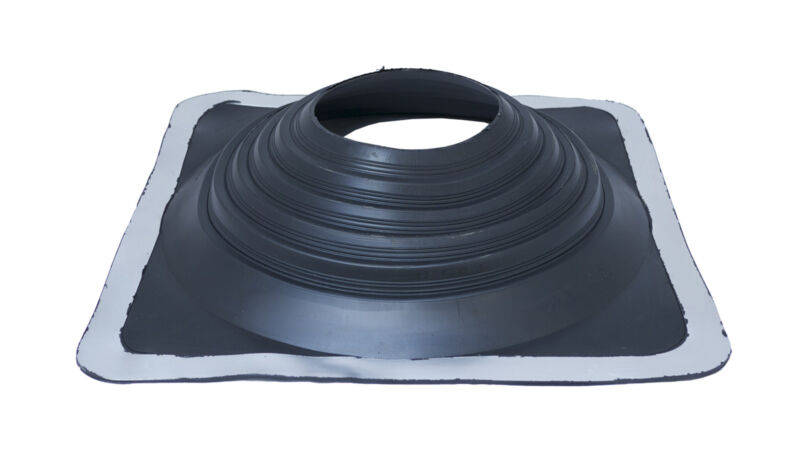 The Master Flash roof flashing has a flexible design that meets nearly all roofing needs. The flashings are made for maximum resistance to weathering from ozone and ultraviolet light. The flexible soft aluminum base is designed to form a seal on most panel configurations and roof pitches regardless of pipe location. Follow these ten tips to ensure proper installation and avoid some common mistakes

Master Flash are recommended for use on deck profile type roofing or corrugated profiled roof surfaces, they are not designed to be used on tiles or slate roofs.
Ensure the roof is clean, dry and dust free prior to installation.
Each flashing needs fixing kits, (ordered separately), and these fixings should not exceed 38mm apart.

Always aim the that flue outside the diameter is at the smallest size of the flashing. As an example, for a 200mm o.d. flue system use a No. 8 flashing.

If possible fit the flashing in a diamond shape in the direction of the roof fall, this will avoid a hard shoulder for water to pool against if fitted as a square.

Apply a liberal amount of sealant to the underside of the flashing, which will create the waterproof seal. Once secured to the roof, apply a further bead of silicone around the edge of the flashing to seal to the roof.

Cut the rubber upstand to be tight to the pipe outside diameter, hole cut should be 20% smaller than the required diameter, to then stretch the flashing opening.

A storm collar will assist in preventing water ingress into the building, with a bead of silicone to seal to the pipe - especially on pipes with a folded seam.

When picking the flashing size, always look towards the smaller size of the upstand. For example, a 180mm diameter pipe would fit the No. 5 (102-178mm), No. 6 (127-228mm), No. 7 (152-280mm) & No. 8 (178-330mm). However it would be preferable to pick the No. 8 option, so that you are not cutting all of the flashing away and leaving nothing of the flashing upstand. This also gives you greater flexibility on steeper angled roofs.

Black EPDM Master Flash are for lower temperatures up to 100oC continuous, 135oC intermittent, red silicone Master Flash are for higher temperatures up to 225oC continuous, 260oC intermittent.

Master Flash can be formed into the contours of a corrugated roof.