The top ten tips for entertaining the kids on a long car journey
Thousands of British families take their car to the Continent every summer, but by planning carefully, packing smartly and thinking ahead, the journey can be part of the holiday fun. Stuart Morton from Auto Express magazine shares our top 10 top tips for travelling abroad.
The key is pack the car like you're going on a flight. So view the essentials for the journey as hand luggage and all the stuff you won't need until you arrive at your destination as hold luggage. That means everything from passports and driving licences to snacks and drinks, plus toys and kit to entertain the kids, should be stored in the cabin, easily to hand. Everything else should be packed in the boot, out of the way.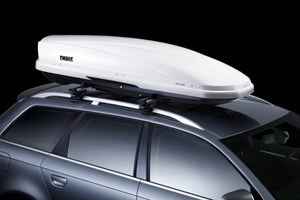 You can have the best intentions to travel light, but the boot will soon be overflowing with luggage. So consider investing in a roof box to get a load of extra capacity.
You'll need a set of roof bars as well, but the best roof boxes — like the
Kamei 510
(RRP: £475) — offer around 500 litres of extra space. They take minutes to fit, plus open on either side for easy loading. The slight impact on fuel economy is a small price to pay for the luggage they'll swallow. Fit a narrower
roof box
and you can squeeze a bike or two on the roof bars, too.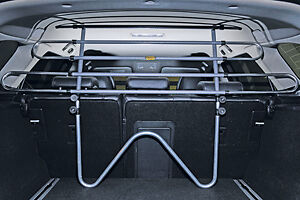 Whatever you store in the boot for your holiday road trip, you want it to be well organised. There's nothing worse than having luggage moving around in corners, or bags falling onto rear passengers when you brake.
A
dog guard
can prevent the latter from happening and you don't need a dog to fit one. The best currently on the market is the tubular design from VC Saunders, which comes in a range of sizes to suit different cars.
Suitcases and square, sealed, bags will naturally make the best use of the space in your boot, but if you have to carry loose items, get a boot tidy. The
Sumex Boot Organiser
(RRP: £16.99) has neat dividers that allow you to switch it between one, two and three sections, while pockets around the outside take smaller items. And Velcro on the bottom secures it to the boot carpet.
Kids' essentials
All this should help you minimise the amount of luggage you need to carry inside the car. But if you're taking youngsters on holiday, there's obviously a certain amount of kit you'll have to keep close at hand — from toys and food and drink, to nappies and wipes.
Modern cars have plenty of cubbyholes and drinks holders to help, although Diono offers storage solutions like its
Stow 'n Go
(RRP: £11.99), which attaches to the seat back and has seven large pockets, plus two cup-holders. It's finished in waterproof fabric, too.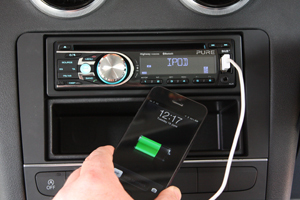 A screaming baby can make a long journey stressful, so if mum and dad can calm them down with their favourite songs, all the better.
Plan ahead by loading a variety of your little one's favourite tracks on to your smartphone and playing them through the stereo. Most modern cars have auxiliary or USB sockets to make this easy. If yours doesn't, consider upgrading. A DAB head-unit will also future-proof your car for the imminent analogue radio switch-off. One of the best on the market is the
Pure Highway H260DBI
, which also has a front-mounted USB port.
Older children may be embarrassed by their parents' taste in music, but smartphones and tablets can keep them quiet on a long journey.

Just keep in mind that data charges can rise sharply when you're abroad. So rather than just letting them play games on 3G and rack up a huge bill, download hours worth of TV shows and movies from a service like BBC iPlayer, ITV Player or Sky+ on home Wi-Fi before you set off.

If you have a portable DVD player or games consoles, bring them too — anything to help the hours in the car fly by.

Traditional games
Many parents will be horrified by the thought of their children being glued to a screen for hours on end, though. Traditional travelling games can still pass the time, whether it's I Spy or licence plate lingo, where you have to come up with a word using the letters on a car's registration plate. This can be even more of a challenge for kids on unfamiliar foreign plates.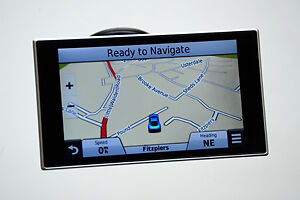 Happy, relaxed children obviously make for hassle-free driving abroad, but it goes out of the window if the driver gets lost. So be prepared.
Route planners on websites like Google Maps make it easy to plot the best way to your destination and you can pick out the best places to stop along the way. A sat-nav can be a great help, too. The best dedicated portable sat-navs like the
Garmin 3598
(RRP: £289.99) come pre-loaded with European maps, plus comprehensive points of interest databases, to help you find things like restaurants, toilets and filling stations. Or download a sat-nav app for your smartphone. CoPilot Premium Europe is the best on the market, and lets you roam abroad without data.
Whichever you use, you can even switch the language to that of the country you're visiting so the whole family gets some practice. We've written a guide specifically on
choosing the best sat nav
.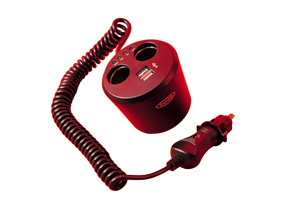 Add a caption
Keep kit charged with the Ring RMS10
Click to edit caption
Of course, smartphones, tablets and sat-navs are no use without power. So keep all the leads in the car and invest in a 12V adapter.
The
Ring RMS10
(RRP: £16.99) fits in a cup-holder, and simply plugs into your car's cigar lighter socket.
It has two 12V and two USB outlets to keep everyone happy with fully-charged gadgets.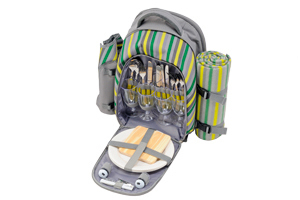 Eating out all the way to your holiday destination can be expensive, but plan ahead for a supermarket stop near a pretty beauty spot and you can enjoy a picnic en route.
Even better, invest in a picnic set like the Next
Four-Person Backpack
(RRP: £35).
This has plates, glasses and cutlery for four, plus an insulated section for cooling.