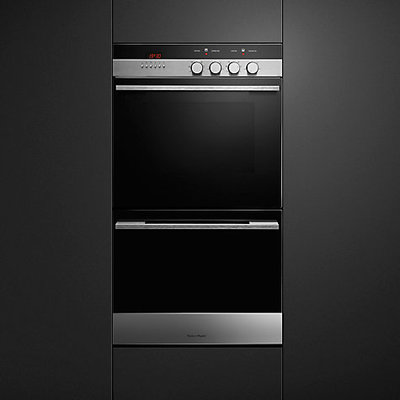 Built-in Vs Built-Under Double Ovens
When it comes to Double Ovens, you can only get 2 general types - Built-in Double Ovens and Built-Under Double Ovens.
Those little words are extremely important when it comes to buying an Oven online as it could result in a rather expensive mistake.
Put simply:
A Built-In Double Oven, goes into a wall unit or column at Eye-Level.
A Built-Under Double Oven, gets installed underneath your kitchen counter.
Each type has its advantages and disadvantages. A built-in Double Oven is not restricted by the height of your work top and can therefore be larger. Typically they are about 90cm Tall and this usually allows for 2 same size ovens or a very large capacity oven and a smaller one. Being installed at eye-level is also a great advantage as you can easily keep an eye on your food and it makes it easier to take hot and heavy dishes in and out without needing to bend down.
A Built-Under Double Oven is great for those short of space and will fit practically any kitchen as practically any kitchen has a work top but not necessarily a column or wall cavity. They also look great in combination with a matching hob directly above the oven - giving you that complete cooker look - finished off nicely with a complementing cooker hood. With a built-under double oven you tend to get a standard sized oven and another smaller cavity which will either be a simple oven or a dedicated grill (hence why some listings are called "Double Cavity" instead of "Double Oven").
If however you want to install a double oven underneath an Induction Hob - you need to make sure you carefully measure the required space underneath the Hob as Induction Motors need plenty of ventilation and a 70cm Tall Double Oven might not be suitable.
Another important note worth mentioning is that Electric Double Ovens, have much more power combined than a standard single Oven and therefore cannot be plugged in - they will need to be Hardwired by a professional Electrician.
Single Ovens on the other hand are altogether simpler to buy for as they are generally built to a standard cavity size being 60cm wide and around 60cm high. Most can simply be plugged in (although a plug might not come with the unit) and you can build them in at eye-level or install them under your worktop.
Conclusion
So there you are, when it comes to double ovens, make sure you know whether you're buying a built-in or built-under unit as they are completely different sizes designed to either go into a wall unit or under your counter.