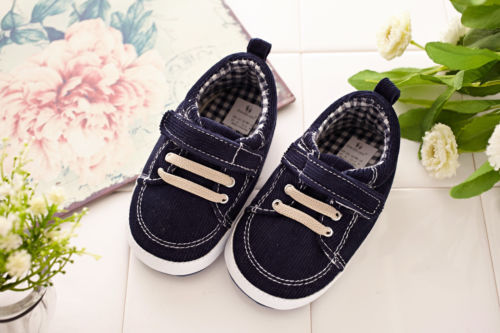 Toddlers are young children who are just starting to walk and are not used to wearing any footwear. In order to ensure that the shoes offer sufficient support for a toddler's growing feet, footwear should be selected carefully. The best toddler shoes are comfortable to wear and allow some room to grow. The material, as well as other features, should be studied and considered when shopping for toddler shoes. Toddler shoes can be bought from high street shoe shops and large supermarkets. Large online auction sites, such as eBay, also offer a wide variety of toddler shoes to choose from.
First toddler shoes should be bought when the child has been walking on his or her own for a minimum of six weeks. Toddlers require shoes when they start to walk a lot and also when they go outside. Before this stage, it is advisable to let them walk barefoot. It is important to consider the different types and features of toddler shoes available, as well as making sure to choose the correct size. Footwear should be chosen according to the season, boots for winter and sandals for summer. It is best to wait until the season arrives to buy shoes for a toddler. If toddler shoes are purchased too early, the toddler's feet might outgrow them quickly or not fit at all.
Types of Toddler Shoes
Toddler shoes, like any other shoes, should focus around the activities the wearers undertake. The season and weather outside are also important factors to consider when it comes to choosing proper toddler shoes.
Trainers
Trainers are soft sports shoes that are designed for casual wear. Toddlers can wear them when playing outside, but trainers do not provide sufficient support to be worn at all times.
Boots
Boots cover the foot, the ankle, and sometimes also a part of the lower leg, depending on their height. They are worn during winter to keep toddlers' feet warm and dry. Boots should fit snugly around the heel. They should be put on with care, because toddlers can pull up their socks with the boots, and this may restrict the toes.
Ankle boots are a popular variety of boots. As the name implies, ankle boots reach up to the ankle. They are favoured by many women, and toddlers can also wear them. Models designed for toddlers do not have heels. Toddler ankle boots should allow the joints to flex naturally.
Booties
Booties are soft, woollen shoes that are used indoors, especially when the rooms are cold. Toddler booties should be soft, and should offer enough room for the toes to wriggle. Sheepskin is a popular material for booties, but it distorts with wear and does not offer support for developing feet.
Plimsolls
Plimsolls are lightweight shoes that are made of canvas and have rubber soles. They do not usually offer much support and should not be worn for long walks. However, plimsolls are suitable for play, especially because of their lightness.
Wellies
Wellies, or wellington boots, usually reach to the knee or a bit below. They are made of waterproof materials, such as plastic or rubber, and are suitable to be worn in wet weather. Wellies for toddlers come in many colours and can be rather fun to wear. However, they do not always offer the proper support toddlers require on a daily basis.
Sandals
Sandals are lightweight shoes featuring straps or openwork uppers that attach to the soles. For toddlers, adjustable straps are the best, because they are easier to handle than buckles. Sandals can be either open or closed at the toe. Sandals are a common choice for summer. It is advisable for the child to wear socks with the sandals, in order to avoid rubbing. However, if the weather is extremely warm, the socks can be removed.
Shoes
Proper shoes for toddlers are the recommended footwear option for everyday wear, and they are perfect for the outdoors. Shoes are also worn for formal occasions. Shoes generally come with additional support and work well for toddlers. Shoes should have fastenings, so that they can be adjusted according to the child's needs.
Features of Toddler Shoes
Once the type of toddler shoes is chosen, there are some additional features to be considered before making the final purchase. Material and fastenings, as well as comfort, are the main concerns when it comes to toddler shoes, while the suitability of the shoe should also be considered.
Material
Natural materials are recommended for toddler shoes, because they can provide the best breathability and flexibility. Natural leather is commonly considered a preferred material for toddler shoes. According to some statistics, the average child's feet perspire 100 litres a year, so finding a material that absorbs and disperses sweat is essential. The leather is used for the upper part of the shoe, while the outsole may be made of durable latex rubber that also has a natural grip. Cotton is another breathable material that is suitable for toddlers. Winter boots should also have a thermal lining that keeps the feet dry and warm. A toddler should have at least one pair of waterproof shoes for use in wet weather.
Suitability
The way toddlers walk is significantly different from the way adults do, because children are still learning. In fact, there are six discernible stages of walking, and these include crawling, cruising, wobbly walking, confident walking, stomping, and the heel-to-toe walking that adults commonly engage in. Shoes for toddlers should be bought in accordance with the stages of development. The best shoes, designed according to the shape of the foot, are wide at the front and slim at the heel.
Fastenings
Fastenings keep the shoes in place on the feet. If the toddler has to adjust the fastenings himself or herself, they should be simple enough to operate. Straps, especially Velcro straps , are usually the easiest fastenings, although toddlers can be taught to handle buckles and laces as well.
Comfort and Support
A person's feet continue to develop and grow until the individual is about 18 years of age. Toddlers' feet are formed of cartilage and gristle rather than actual bone. The structure hardens over time and then turns into bone. Because of this, it is extremely important to buy toddler shoes that support healthy development of the feet. Wrongly fitted shoes not only affect the feet, but the entire physiology. If toddler's feet do not develop naturally, it can affect the way the toddler walks. This, in turn, can have a negative effect on the neck, back, hips, knees, and legs.
Proper toddler shoes should offer enough support for developing feet, and they must be comfortable. The shoes should not rub, and the toddler's toenails should be kept clipped and clean. The shoes should be flexible, durable, and breathable. For best support, the shoes should always be bought new, because if they have already been worn, they may have taken on the shape of the previous wearer's feet.
Choosing the Correct Size for Toddler Shoes
It is very important to find the correct shoe size for toddlers, because their feet are still growing. As a rule of thumb, the shoes should have at least 1.5 cm of space from the tip of the toe to the end of the shoe. These extra centimetres have three purposes. About 0.25 cm is used by the toe-box, about 0.8 cm is left as a growing area for the foot, and about 0.5 cm is used as extension room when walking.
The following chart presents shoe sizes based on the length of the foot. When taking the measurements, both feet should be measured, and if there is a difference in size, the larger number should be used. The feet should be re-measured every four to six weeks for children up to three years, every six to eight weeks for children who are three to four years old, and every 10 to 12 weeks after that. The feet grow all the time and therefore the size changes constantly.
| | | | |
| --- | --- | --- | --- |
| Foot Length (cm) | UK | EU | US |
| 11.1 | 2/2.5 | 18 | 3.5 |
| 11.7 | 3 | 19 | 4 |
| 12.3 | 3.5/4 | 20 | 4.5 |
| 12.9 | 4.5 | 21 | 5.5 |
| 13.5 | 5.5 | 22 | 6.5 |
| 14.1 | 6 | 23 | 7 |
| 14.7 | 7 | 24 | 8 |
| 15.3 | 7.5 | 25 | 8.5 |
| 16 | 8.5 | 26 | 9.5 |
| 16.6 | 9/9.5 | 27 | 10.5 |
| 17.2 | 10 | 28 | 11 |
| 17.9 | 11 | 29 | 12 |
| 18.5 | 11.5 | 30 | 12.5 |
| 19.2 | 12.5 | 31 | 13.5 |
| 19.8 | 13 | 32 | 14 |
Although the UK and US sizes look similar, they differ by one size. UK size 10 is US size 11, for instance. In order to find the perfect fit, one should consider the country of the manufacturer. Moreover, some shoe brands also have a variety of widths to choose from.
Buying Toddler Shoes on eBay
If you want to buy toddler shoes on eBay, you can start your search with the generic keywords, " toddler shoes", or opt for more specific keywords if you already know what kind of shoes you want. After the initial search, you will also be presented related searches, so you can get some more inspiration in order to find what you need. As there may be hundreds or thousands of results, it is advisable to sort the results. You can do this either by auction time or price. Moreover, you can choose toddler shoes according to the brand, colour, condition, and material.
When reading through the item listing, pay special attention to the shoe size and the country of the manufacturer, because different countries use different sizes. If you are in any doubt about the shoe's features or size, feel free to contact the seller. You can also ask the seller about delivery, payment methods, packaging, postage, and refunds. As you can try the shoes on only after they arrive, questions about refunds are probably some of the most important ones to ask.
Conclusion
Toddlers are just beginning to walk, and their feet are still developing. In fact, hard bones may not be completely formed before the age of 18. In the toddler years, the feet mostly consist of cartilage and gristle rather than hard bones. Therefore, proper toddler shoes should offer comfort and support for the developing feet. Good toddler shoes are flexible, durable, and breathable, and thus the best materials are natural leather and cotton. The shoes should preferably be new, so that they are not moulded to fit the shape of someone else's feet. Toddler shoes should always fit well, but should have some extra space that allows the toes to wriggle and the feet to grow. When choosing the size, the country of the manufacturer should be noted, because size standards are different in different countries.
Toddler shoes should also fit the occasion and place where they are to be worn. For example, plimsolls and trainers are suitable for play, but do not offer the support that normal shoes do, and are thus not suitable for long walks. For weather that is wet and cold, waterproof, warm shoes are appropriate.