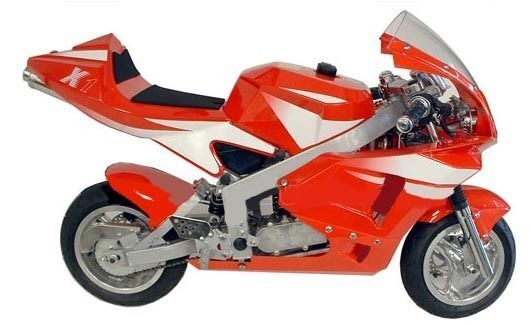 A widely popular type of vehicle, the pocket bike is a miniaturised version of a full sized motorbike, and features many of the parts and features that a full sized motorbike would have. These bikes were originally built by enthusiasts in the United States in the late 1950's out of spare parts, and have since come to be produced by a number of different manufacturers. Today, many pocket bikes are based upon the designs of popular types of motorbike.
There are many different types of pocket bike available, including the largermidi moto and even four wheeled, all terrain quad bikes. Pocket bikes typically make use of either a powerful petrol engine, or an electric motor which can be recharged at a mains electricity point. Pocket bikes for all types of rider can be found, along with a variety of useful accessories, such as helmets and gloves, on eBay.
Helmets
* One of the most important pieces of safety equipment to wear when riding pocket bikes as well as any other type of vehicle is the helmet.
* Helmets can be found in a wide range of sizes, and ensuring that a helmet fits properly is a key step to improving the safety of the rider.
* Helmets are available in a range of different types. Some of the most popular include the full face helmet, which covers the whole head and offers a great deal of protection, and the off road helmet which is designed specifically for use with bikes such as motocross bikes, and are very suited to many pocket bikes.
* It is also possible to choose between a wide array of different colours, styles and features that different helmets offer.
Fuel
* Many of the more powerful pocket bikes make use of either two or four stroke petrol engines, and these require a set of additional accessories and equipment for proper use.
* The petrol itself is the most important item needed for keeping a petrol powered pocket bike running, and a supply of this should be maintained.
* Petrol cans can be a highly useful, and safer, way to store any extra petrol, while a wide variety of replacement petrol tanks are available which can be fitted onto a pocket bike.
* A variety of other accessories may also be available, which can help to easily and cleanly fill a petrol tank with petrol.
Batteries and Chargers
* Electric pocket bikes, meanwhile, make use of a motor which takes its power from a battery.
* These electric pocket bikes do not reach as high speeds as petrol powered bikes, and some electric pocket bikes are designed for children.
* It may be possible to purchase an additional or spare battery for a pocket bike.
* Most electric pocket bikes come with their charger, though a spare one can be useful, either to keep as a replacement or to leave at different locations so the bike can be charged there.
Gloves
* A simple but highly useful accessory is a pair of gloves. A pair of motorbike gloves can offer a number of different benefits to the rider.
* The traditional material for motorbike gloves is leather, which is a thick and durable material. Many modern gloves use a variety of synthetic materials.
* Some motorbike gloves are designed as gauntlets, which feature a great deal of armoured protection to the riders wrists and hangs, which can help to improve safety.
* Additional features of motorbike gloves include additional protection from wind and weather, and waterproofing.
* Gloves can also help with additional grip on the handle bar.
Riding Suit
* Riding suits are widely available, and popularly used when riding both full sized motorbikes and pocket bikes.
* Many riding suits are made out of leather, which provide a great deal of warmth but can be heavy and restrictive. Many riders prefer lighter riding suits made of synthetic materials, as they can be more comfortable for the smaller pocket bikes, and can offer a great deal of movement.
* Riding suits often include padding, and some may feature armour for additional protection during the ride.
* An additional benefit of the riding suit is that it covers up the riders clothes, protecting them and preventing them from catching the wind and creating drag.
Indicators
* In some jurisdictions, some types of pocket bikes may require the addition of elements such as indicator lights.
* These turning signals can enhance the safety of riding a pocket bike, alerting other riders as to the drivers intended direction, helping to prevent any accidental collisions.
* Indicators are available in a variety of different shapes and sizes.
Mirrors
* The addition of mirrors can also be highly useful, and can enhance the safety of the rider when using a pocket bike.
* Mirrors increase the visual range of the rider, meaning they can be more aware of their surroundings and react more effectively.
* With mirrors, a pocket bike rider can also see any other riders that are taking part in a race or other event.
* Mirrors are available in different sizes, and larger ones will offer greater visibility, a smaller set of mirrors may fit better onto a pocket bike.
* Many pocket bikes may include mirrors, and due to their wide availability, it is easy to purchase additional replacements, should the originals get lost or damaged.
Goggles
* Goggles are a popular choice of safety wear for riders of both full sized motor bikes and pocket bikes.
* Goggles can help to greatly improve the visibility, and therefore the safety, of a pocket bike rider by helping to keep wind, dust and debris out of their eyes.
* Typically made out of high strength polymer plastic, motorbike goggles are designed to fit securely onto the face of the wearer, minimising the risk of them becoming loose or falling off.
* Some helmets may include visors or goggles built in, particularly those which are designed to offer full head and face protection.
* Goggles are available in a wide range of colours, styles and designs.
Wheels and Tyres
* Sometimes it may be necessary to replace a damaged wheel or tyre , and a wide range are available for the different types of pocket bike.
* Wheels and tyres can withstand a great deal of wear and tear over the course of a pocket bikes use, and it may eventually become necessary for them to be replaced.
* Wheels are available in different sizes, which can be suitable for different sizes and types of pocket bike.
* Tyres, as well as parts such as inner tubes are also available, and can be highly useful for replacing punctured and damaged tyres. Tyres are available which can be suitable for different riding, such as on or off road riding.
Maintenance Tools
* There are a number of tools available which can be useful for the routine upkeep and maintenance of a pocket bike.
* Tools such as screwdriver and spanners can be useful for all manner of bike maintenance tasks, as well as a variety of other useful purposes.
* Petrol engines, for example, can be cleaned out with the use of an old toothbrush and a rag.
How to Buy Accessories for a Pocket Bike on eBay
A wide variety of pocket bikes and pocket bike accessories such as helmets, goggles and gloves, can be found on eBay. Accessories & Parts can be found under Pocket Bikes in theScooters section of the Sporting Goods portal. Items can be arranged by categories such as item type, price, condition and the distance to the seller. Also available to choose from are the Auction and Buy it Now buying options, which offer flexibility in how pocket bike accessories can be purchased.
Key specifications about a pocket bike accessory or part, such as the type of bike it is designed for, will often feature prominently in the item listing, making it easy to quickly see if an accessory meets any specific requirements. Further information, often including pictures of the item, can be accessed on the item page. This also includes information about the seller such as feedback ratings and item reviews, which helps to ensure that a purchase can be made in confidence. If any further or more detailed information is required about an item, it is also possible on this page to ask the seller a question about the item.
If a specific part of accessory is required, it may be easier or more effective to make use of the search function which can be found at the top of every page. Searches can be made to search for a keyword within a specified category, or to return results from across the site. More detailed information about the search function can be found on the Search Tips page.
Conclusion
There are many different kinds of pocket bike, and accessories and parts can be found for use with all of them. This includes safety wear such as helmets, gloves and goggles which can help to provide the user with protection, as well as spare parts such as wheels and tyres. All kinds of different pocket bikes, as well as parts and accessories, can be found on eBay.