Bundling accessories for an
Apple iPod
is typically the most inexpensive way to get many necessary items for iPod use. Items included in an accessory bundle vary, such as headphones, a home charger, cases, or a car charger. Each accessory bundle or kit is compatible with a specific model of iPod, such as the Touch, and a particular generation of iPod, such as 4th or 5th generation. Listings make note of the specifications to make it easy for consumers to purchase the right accessories for their existing iPods. Consumers weigh factors such as price of the bundles, how many accessories are included, and what types of items are included in bundles by browsing the items included on the top ten list of accessory bundles.
| | |
| --- | --- |
| 1 | iPod Shuffle Accessories Kit |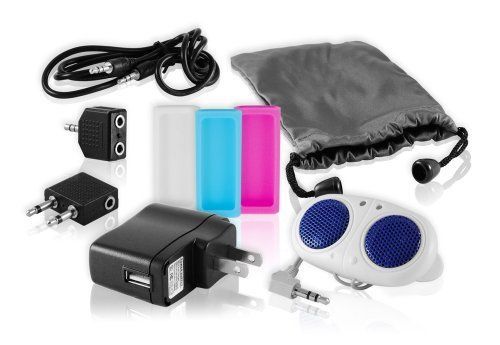 Packed with many useful accessories for an affordable price, the iPod Shuffle Accessories Kit works in tandem with the 2nd generation iPod Shuffle. The kit includes six items, featuring three different coloured cases, a holder for keeping the iPod off a hard surface when it is charging, a lanyard, and a hard shell case for maximum protection on the go. Consumers secure the Shuffle to the lanyard for easy access while exercising or running errands and keep it safe at the same time.
---
| | |
| --- | --- |
| 2 | Logic3 Travel Kit for iPod Nano |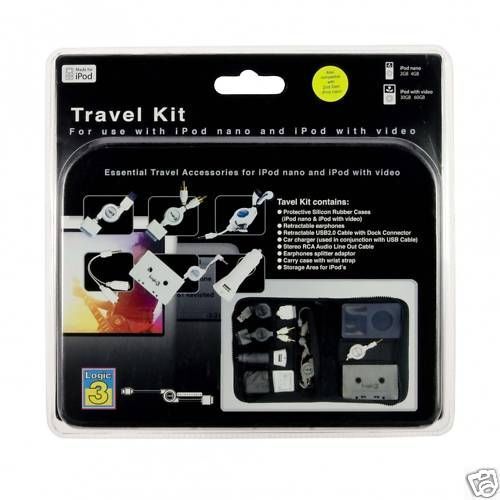 Consumers easily grab and go with the iPod Nano and not worry about leaving important accessories behind when they bring the Logic3 Travel Kit for iPod Nano along with them. The Logic3 kit contains everything needed for a Nano 5th generation or video iPod. This versatile accessories kit includes a protective case, earbud headphones, a charger for the car, and even a cassette adaptor for the iPod. Purchasers also receive an earphone splitter so two people can listen to the same iPod, as well as an audio/phone cable.
---
| | |
| --- | --- |
| 3 | Belkin iPod Charger Kit |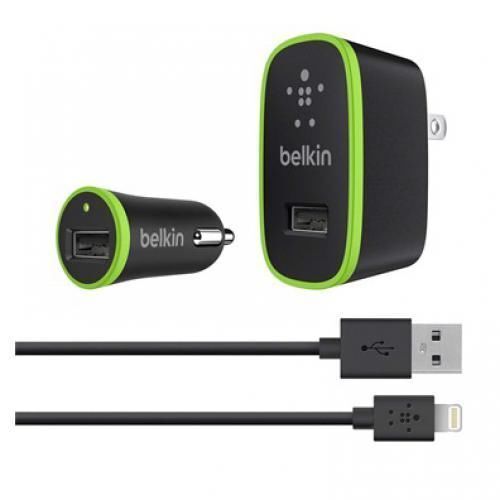 Perfect for many uses, the Belkin iPod Charger Kit comes in different varieties, including versions for the iPod 4G and 5G and the iPod Nano. The Belkin kit contains a cable which connects the car's cigarette lighter to the iPod for easy charging. The kit also includes an AUX cable so consumers can enjoy listening to the iPod in the car. The Belkin kit is also compatible with other Belkin iPod accessories, such as the TuneCast mobile FM transmitter. The kit also has an inbuilt amplifier.
---
| | |
| --- | --- |
| 4 | iLuv Accessory Pack for iPod Touch |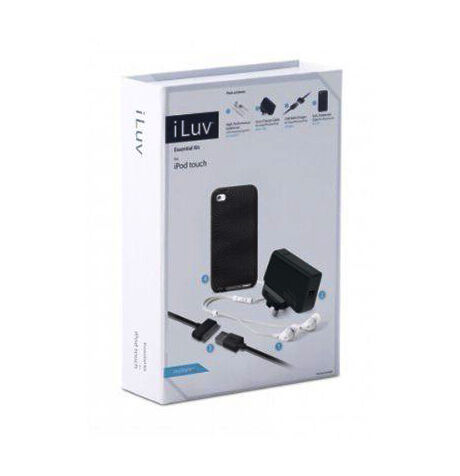 Full of accessories for the iPod Touch, the iLuv Accessory Pack for iPod Touch includes a range of high-quality accessories such as earphones, a USB cable for easy charging, and an additional AC charger for other devices such as the iPad or the iPhone. The iPod accessory bundle kit is compatible with many Apple devices, including the Nano. The bundle includes a durable silicone case, and the earphones are compatible with an in-line remote control.
---
| | |
| --- | --- |
| 5 | iPod Touch Starter Pack |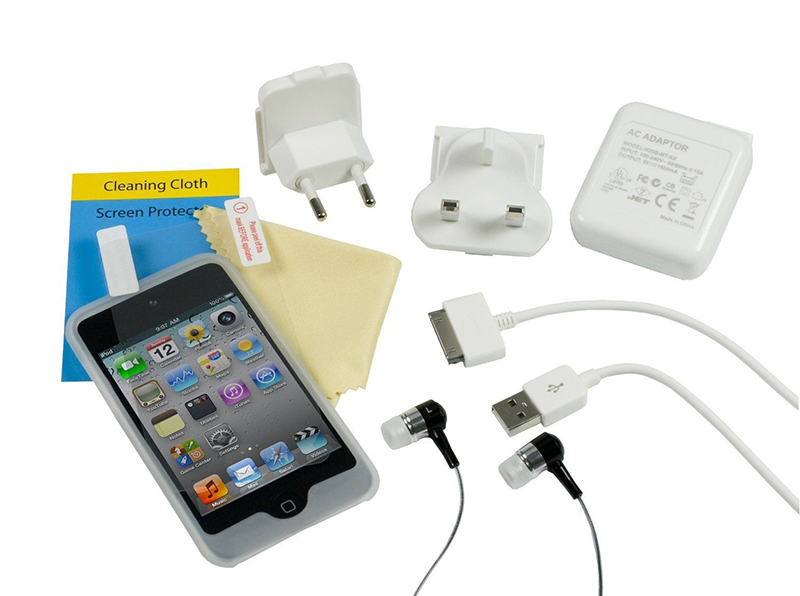 For consumers who have recently purchased an iPod Touch and have yet to load up on accessories, the iPod Touch Starter Pack is the perfect purchase. The starter pack includes a stylish leather case to hold the iPod, as well as a clear screen protector to keep the iPod free from scratches. The kit also includes a stylus and cleaning wipes. The iPod Touch Starter Pack is compatible with the iPod Touch 4th generation.
---
| | |
| --- | --- |
| 6 | Logic3 Starter Pack for iPod 5G |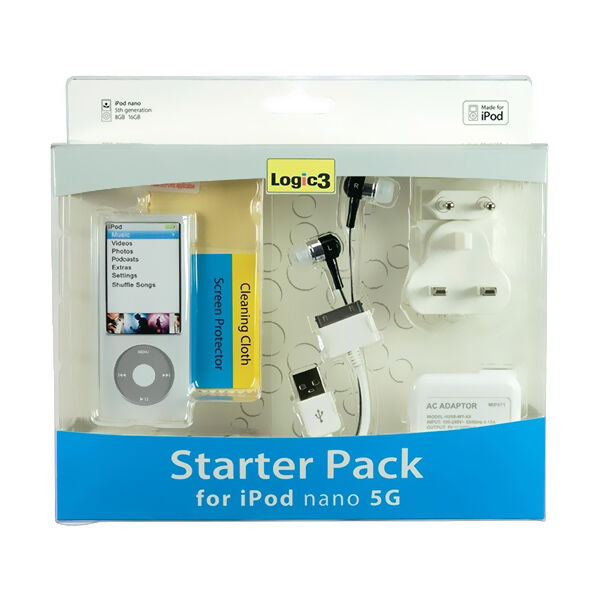 Premium accessories brand Logic3 brings consumers everything necessary for using the iPod 5G. The Logic3 Starter Pack for iPod 5G offers an array of accessories, including a protective silicone case, an AC adapter cable and a USB 2.0 cable, a set of quality earphones, cleaning cloths, and a clear screen protector to keep the device from damage. The Logic3 Starter Pack is inexpensive but packs everything in to get consumers started with the iPod 5G.
---
| | |
| --- | --- |
| 7 | iSound 11-in-1 iPod Accessory Bundle |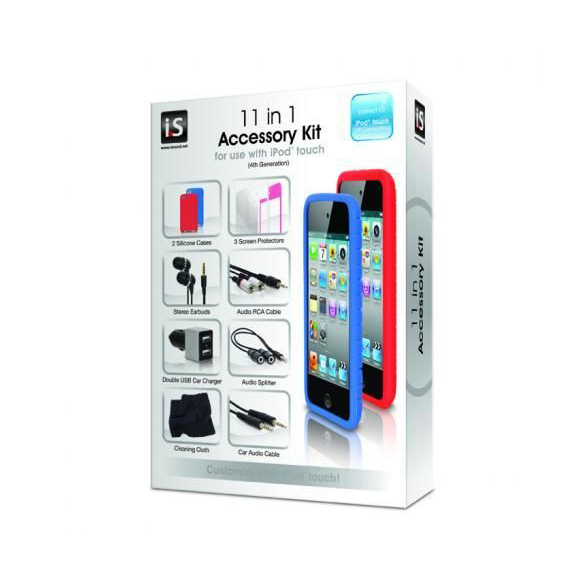 Created for the iPod Touch 4th generation, the iSound 11-in-1 Accessory Bundle offers 11 accessories for a complete accessory kit. The iSound bundle has two different coloured cases for the iPod, earbud style earphones, an audio splitter and a USB car charger, as well as an AC adapter. The iSound pack also contains three screen protectors and a car cable for charging on the go.
---
Compatible with the iPod Nano, the Cygnett iPod PodPack includes nine accessories for easy on-the-go use. The Cygnett kit includes an array of car audio options, featuring an AC adapter as well as four travel-sized adapters, a car adapter, a cassette adapter, and a USB cable, and an audio cable. The pack also offers users a durable leather case with a magnetic closure, a docking station, and a convenient headphone splitter.
---
A bundle that includes five accessories for the iPod, the iSound 5-in-1 iPod Kit contains five useful iPod gadgets. The iSound bundle is affordable, and includes accessories compatible with every type of iPod for versatility. The bundle offers a USB charger, a syncing cable, a car charger, and an added feature that other kits do not generally include: an FM transmitter.
---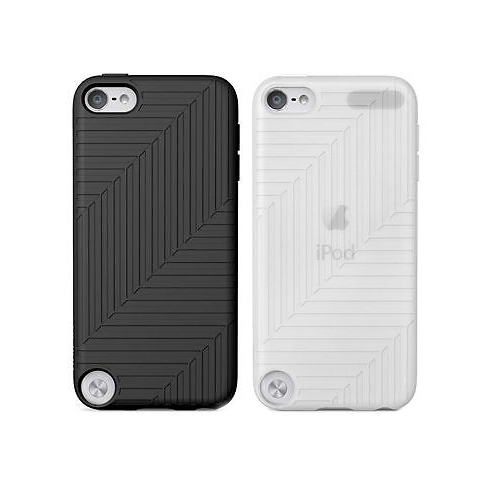 For buyers who cannot decide on one case, an iPod Touch Cases Pack fits every mood and every occasion. Cases come in many designs, including patterned hard cases, soft leather cases, or flexible silicone cases. A bundle of iPod cases offers many options for protecting the iPod and keeping it fashionable.
---
How to Buy Accessory Bundles for iPods on eBay
Check eBay for the best prices on iPod accessory bundles, which include a variety of gadgets, cables, chargers, and headphones suited for all styles and types of iPods. Some accessories work on iPads and iPhones, making them even more useful. Search with keywords like "iPod Touch Starter Pack" or cast a wider net by searching for "iPod accessory bundles". Search for sellers offering more than one type of bundle to get even more for your money. iPod accessory bundles are the cheapest way to get many accessories. Purchasing accessories separately and paying shipping on each item costs more. Bundles offer variety, including car accessories and accessories for home use too.