Every parent worries about having the best for his or her child, and parents are always looking for something that is both fun and good for their child's health. Parents of babies and toddlers should consider
| | |
| --- | --- |
| 1 | Fisher-Price Brilliant Basics Musical Activity Walker |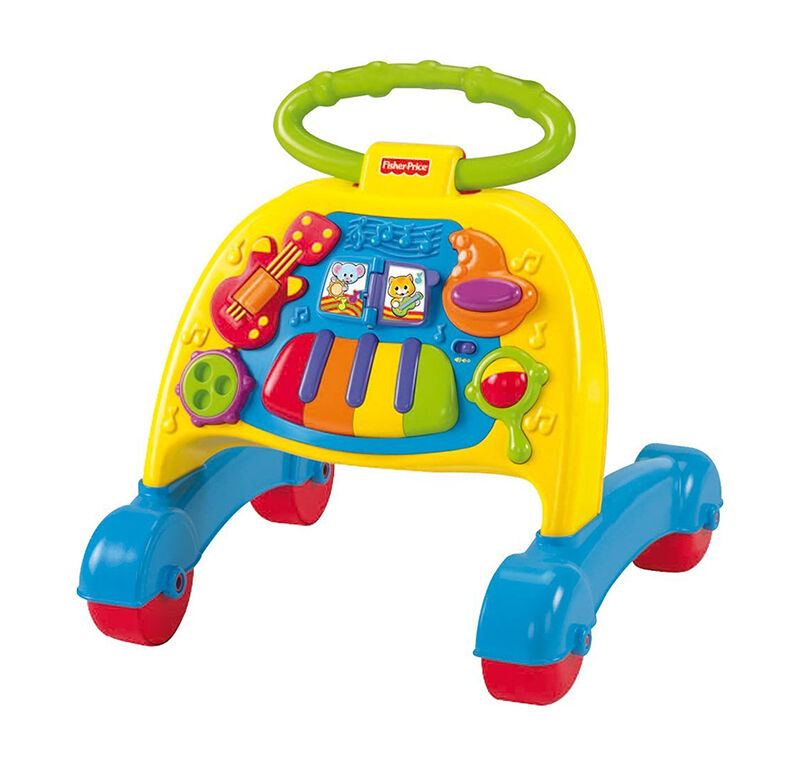 This Fisher-Price walker is suitable for babies who are not quite old enough to walk yet as well as toddlers. Those who cannot walk yet can have fun playing with the keys and musical buttons. When they get slightly older, children can practise walking while the toy plays sounds.
---
| | |
| --- | --- |
| 2 | Evenflo ExerSaucer Triple Fun Active Learning Centre |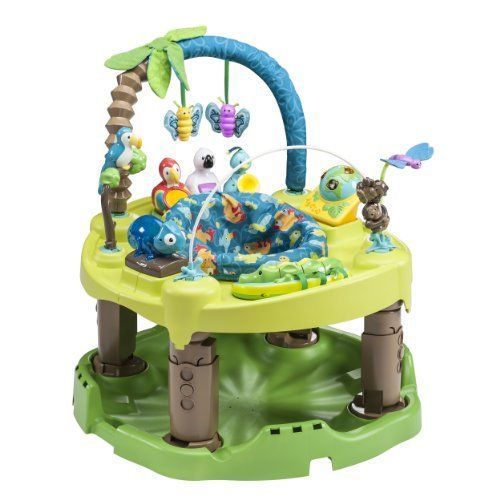 Even though the Evenflo ExerSaucer is a traditional centre, it can adjust to different heights as a baby grows. It also has 11 toys for a child to play with, including bright animals to grab and buttons to push. Although this is a stationary toy, it does have springs, so a baby can jump in the Evenflo ExerSaucer and strengthen his or her legs.
---
| | |
| --- | --- |
| 3 | Monkey Moves Smart Seat |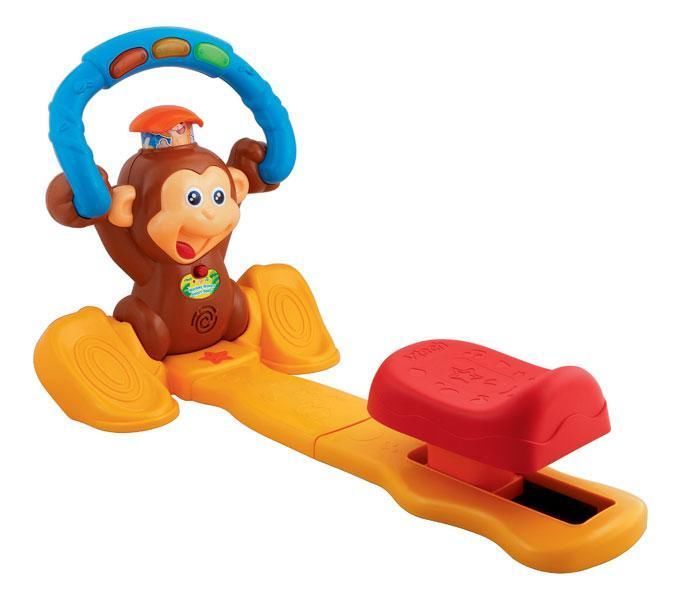 This is a kind of bouncy seat for children who are 18 months and up. The toy lets a child bounce up and down to strengthen his or her legs. Children very much enjoy the Monkey Moves Smart Seat, as it has a monkey head on one side and plays animal sounds and cheerful songs.
---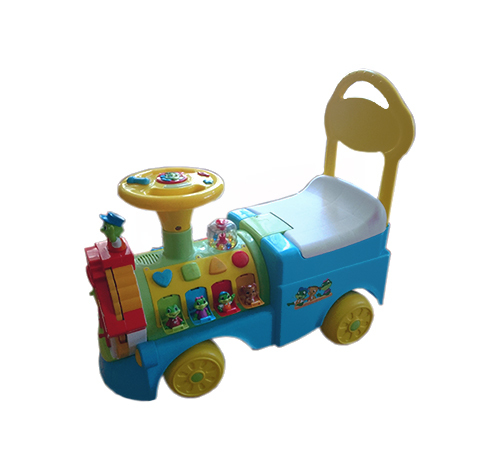 The Leapfrog Ride on Train acts as a walker that a toddler can push along or ride on. The train is also an educational toy because it sings the alphabet as well as children's songs and realistic train songs. It is for children from 12 months to three years of age.
---
| | |
| --- | --- |
| 5 | Kolcraft Tiny Steps 2-in-1 Activity Walker |
---
---
| | |
| --- | --- |
| 7 | Manhattan Toy Stow and Go Activity Cart |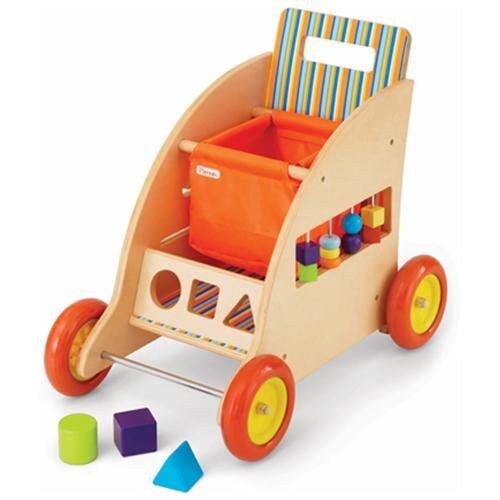 The Manhattan Toy Stow and Go Activity Cart is made of wood, so it is very durable. The toy resembles a grocery cart, and a young child can push it around and store toys in the basket. The cart also has some beads to play with on the side as well as wooden blocks in different shapes.
---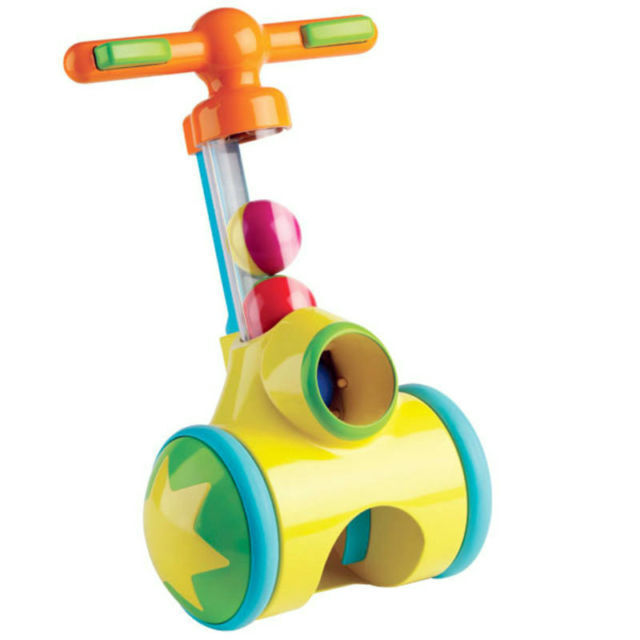 The Tomy Pic 'n' Pop shoots colourful balls from a kind of cannon to entertain children and encourage them to crawl, walk, or run to pick up the balls around the room, so they can shoot them again. Parents can use this toy to entertain one child or they can invent various games with groups of children.
---
| | |
| --- | --- |
| 9 | VTech Sit-to-Stand Learning Walker |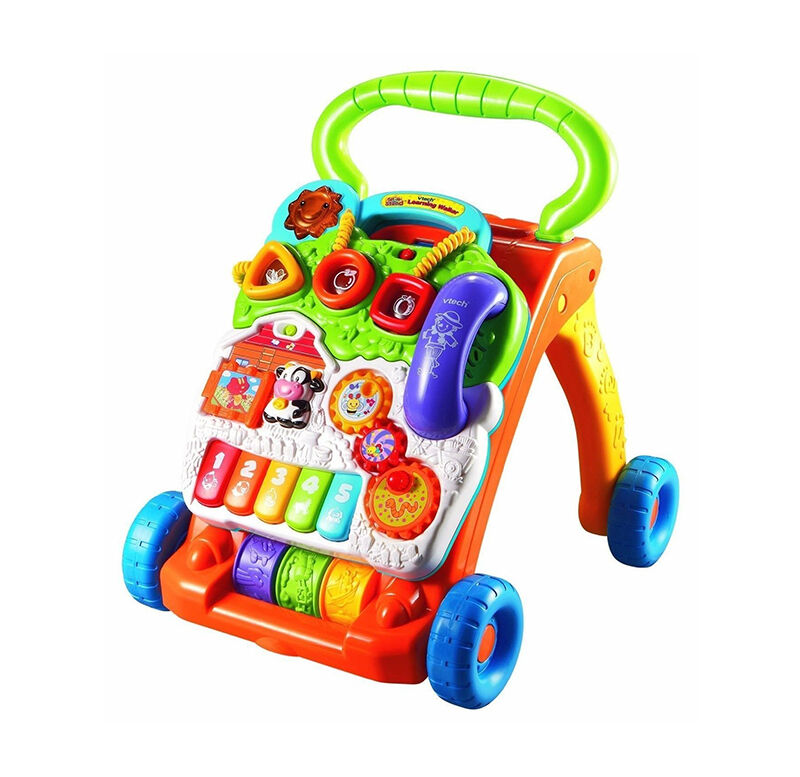 The VTech Sit-to-Stand Learning Walker is a pretty standard walker, but it comes with tons of toys on the front that can occupy a child for hours. The front panel comes with piano keys, flowers that make sounds, and a phone.
---
| | |
| --- | --- |
| 10 | Fisher Price Ocean Wonders Jumperoo |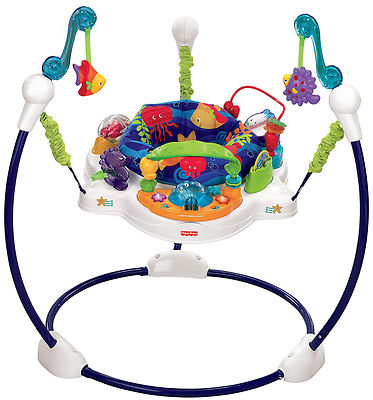 The Fisher Price Ocean Wonders Jumperoo is a stationary toy for children with plenty to occupy them. Although it is stationary, the toy can rotate. There are a lot of ocean themed toys surrounding the baby too. A parent can adjust the walker to different heights, so a child can use it as he or she grows.
---
How to Buy Baby Exercise Toys on eBay
Exercise toys
are a great way to develop a baby's motor skills and increase strength, and they are for sale on A. When checking out toys, it is a good idea to use the feedback tool to see what other buyers have said about a toy or a seller. You can also leave feedback to help other parents after you make your purchase. When looking for the perfect exercise toy, you can use search terms, such as "baby walker" and then browse the results to find what you want.