Bustiers
include a number of different styles and types of tops including outerwear and lingerie. Some buyers choose a bustier to wear as a top or camisole similar to a corset while others purchase a lingerie bustier to wear under clothing. In either case, a bustier typically features stiff fabric or boning that pushes up the bust and accents or shapes the waist to create a more feminine silhouette. Buyers can find and purchase a bustier on eBay where sellers stock thousands of bustiers regardless of the season. Learning about ten of the top bustiers available can help women make an informed purchase.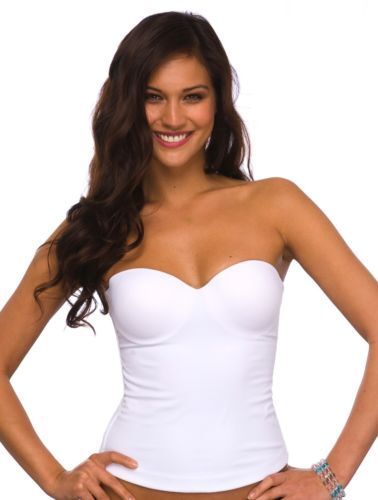 The strapless bustier is an option for anyone in search of summer or formal wear. These bustiers are available in materials ranging from cotton to leather and most fabrics in between. Strapless bustiers feature details like underwire support, padded cups, boning, or a shaped bust, and commonly have a sweetheart or plunge neckline.
---
---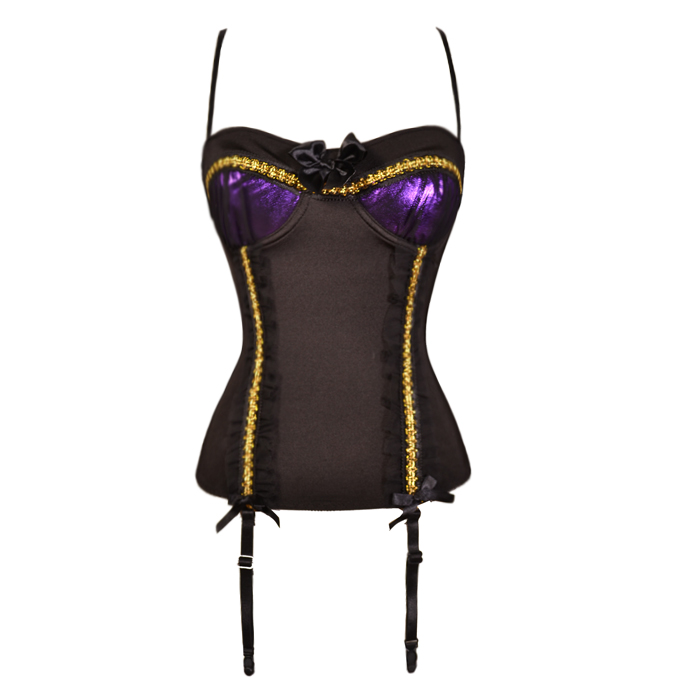 A corset bustier is any bustier with boning in the sides and front of the garment. Some corset bustiers feature a lace-up back or hook-and-eye closure on the front. Corset bustiers feature stiff materials including leather, denim, as well as traditional clothing fabrics. The bustier typically ends at the bottom of the rib cage and offers less support and compression than corsets do.
---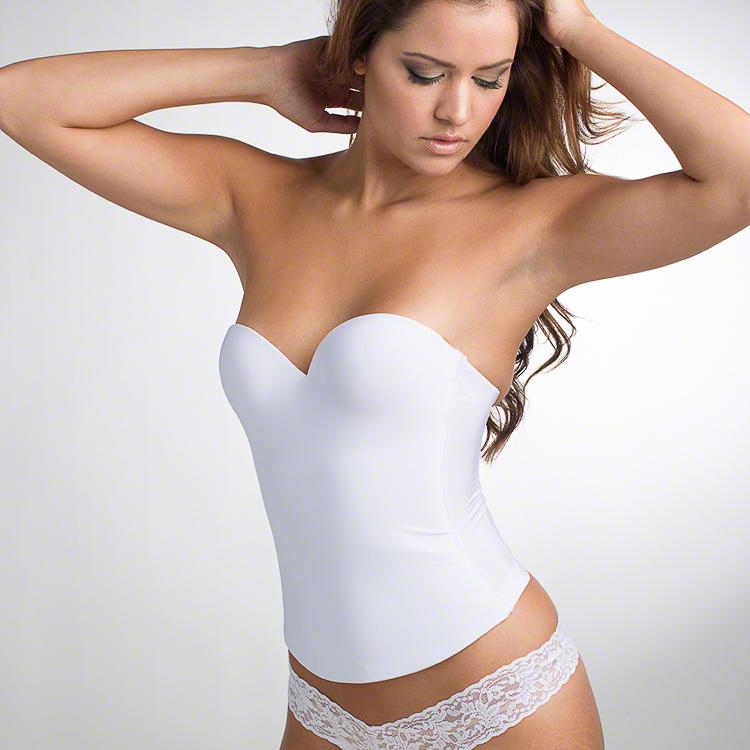 A seamless bustier features an outer layer of fabric that smooths away any boning or seams so that the garment fits better under clothing. Seamless bustiers are lingerie, and usually complement formal garments, such as wedding dresses. Seamless bustiers come in all shapes, sizes, and colours, but commonly in neutral shades like black, white, or beige in order to appear as invisible as possible under a dress.
---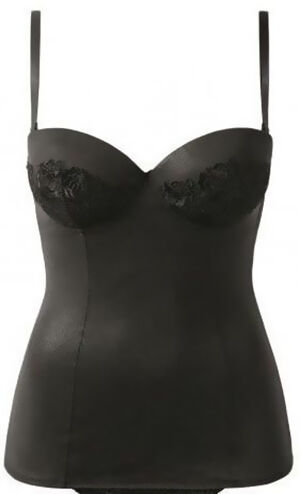 Anyone who wants to give their bust a little boost or wear their bustier without a bra can choose a push-up model. Push-up bustiers feature padded cups to accent and push the breasts up. Usually, necklines include sweetheart or square cut styles that show off cleavage, but some necklines are more modest.
---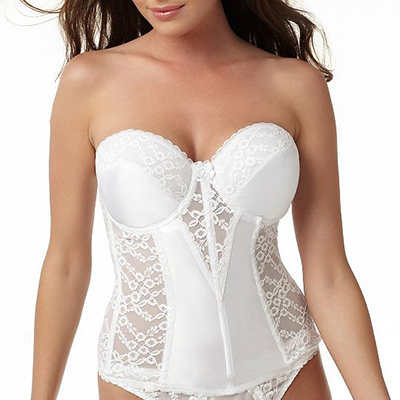 A heavily boned bustier compresses a woman's waistline to shape her figure. Heavy boning is typically steel or spring steel rather than plastic, allowing it to offer more support and shaping. Even a heavily boned bustier does not shape as much as a corset does.
---
An embellished bustier is a good choice for special events. Embellishments on bustiers include sequins, faux flowers, embroidery, beading, and even feathers. The type of embellishment depends on the manufacturer and style of the bustier.
---
| | |
| --- | --- |
| 8 | Defined Underwire Bustier |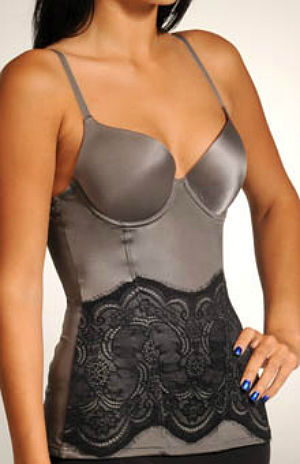 While not as acceptable in casual fashion as many of the other options on this list, a defined underwire bustier is a great option for women who want to accent their bust as much as possible. The garment features underwire cups built into the bustier like a bra.
---
| | |
| --- | --- |
| 9 | Bustier with Garter Connectors |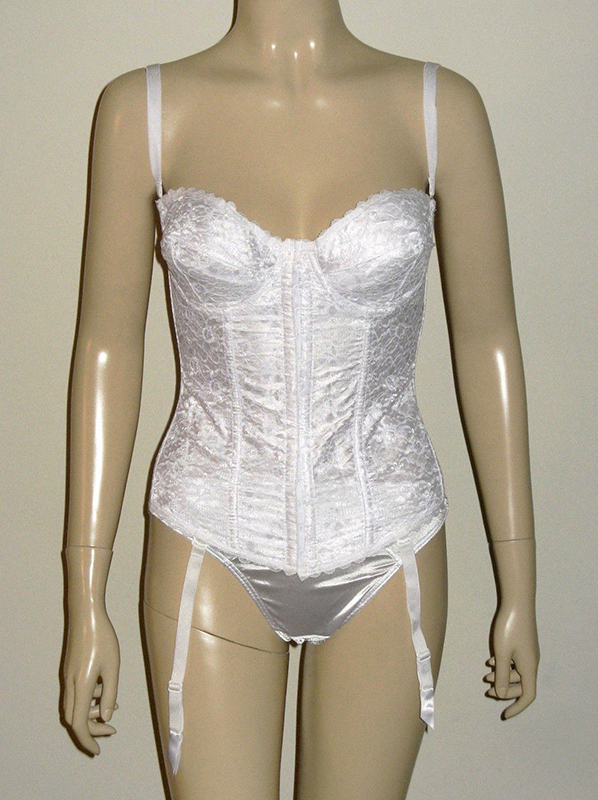 A bustier with garter connectors is a lingerie bustier. These bustiers are typically slightly longer than traditional garment bustiers and usually feature push-up cups and decorative details. The garter itself is often removable so that wearers can swap out the straps for longer, shorter, or different colours, as they desire.
---
| | |
| --- | --- |
| 10 | See-Through Lace Bustier |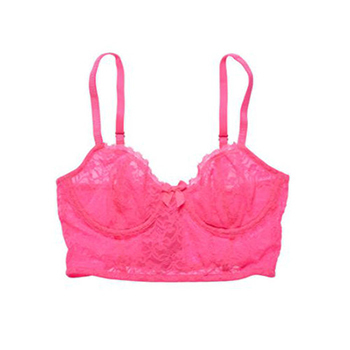 A see-through lace bustier is another great lingerie option that many women choose to wear for special occasions or under their clothing. Lace bustiers are most often strapless with a sweetheart neckline and feature underwire support but no moulded cups. The quality and material of the lace varies from brand to brand, but cotton and polyester are common options.
---
How to Buy a Women's Bustier
Buyers can easily choose a bustier based on personal preference for style and fit. While there are many types of bustiers, the most important purchase consideration is that the bustier fit the wearer. Some bustiers feature the same sizing as bras, while others come in clothing sizes. Sizing is especially important when buying on eBay where there are thousands of options including vintage bustiers to choose from. In addition, most women can find deals on bustiers to save money on popular brands and styles. There are hundreds of different brands with bustiers so buyers can choose a favourite, or just choose a style.