Fashion waits for no one, including baby girls. With babies growing quickly, keeping track of the latest
clothing
trends is difficult. Not only do quickly growing children demand attention, the changing seasons and practical demands of fitting children with trendy indoor and outdoor wear is increasingly challenging. Knowing which designer is in and what clothing piece is most popular no longer means purchasing the latest fashion magazine. Using this shortlist of Top 10 Clothes for Baby Girls in 2013 makes shopping even easier.
| | |
| --- | --- |
| 1 | Ted Baker 'Baker Baby' Budgie Top and Trousers |
Ted Baker's latest addition to his baby range is fresh and functional. The Baker Budgie top is a white smock with a screen print of 16 budgies in a variety of pastel colours. Cute frilled cap sleeves combined with a scalloped bottom edge made of cotton are a lovely addition to a spring or summer wardrobe. Match the top with Ted Baker baby trousers,, and parents have a functional, stylish outfit suitable for both indoor and outdoor wear.
---
| | |
| --- | --- |
| 2 | Oshkosh Floral Dungarees and Oshkosh B'gosh Tee |
A new ensemble from Oshkosh puts baby girls in the spotlight in 2013. Available for baby girls from 6 months to 12 months, floral dungarees come in a variety of colours and floral patterns. Made from cotton, the dungarees are hardwearing and fashionable. An Oshkosh B'gosh tee is the perfect match for the dungarees. The tee comes in a variety of colours for newborns through to 1-year-olds.
---
| | |
| --- | --- |
| 3 | Ralph Lauren Polo Dress |
No baby girl's wardrobe is complete without a dress from the Ralph Lauren baby collection.. Available in short and long sleeve versions, the polo dress is a simple and versatile outfit. With the classic polo collar and three-button front, the polo dress is easy to put on and easy to clean. The soft cotton is smooth on baby's skin, the colour range is extensive, and sizes range from newborn to 18 months.
---
The ever-popular Ralph Lauren romper is back for 2013, the perfect one-piece clothing item for an active baby. Made from 100 per cent machine-washable cotton, the romper comes in a selection of girl-friendly colours and is suitable for babies 9 months to 24 months.
---
| | |
| --- | --- |
| 5 | Marks and Spencer Peppa Pig Dress |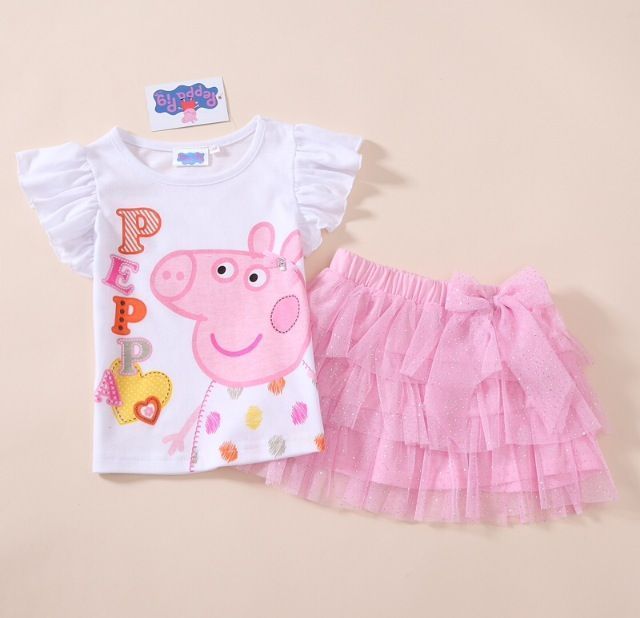 Marks and Spencer has delivered the 2013 version of its <Peppa Pig dress. This year, the dress is a shirtdress with a belt differentiating the tee-shirt top from the swing skirt. The flare bottom skirt accentuates the stencilled Peppa and friend on the metallic top. The outfit is available for girls 12 months to 7 years.
---
| | |
| --- | --- |
| 6 | Marks and Spencer Tunic Top |
One item always in style is a tunic top. The tunic and tights from Marks and Spencer are hardwearing, comfortable, and in fashion regardless of season. Suitable for girls aged 1 to 7 years, a tunic is one fashion item that never goes out of style.
---
| | |
| --- | --- |
| 7 | Burberry Pinafore Dress |
---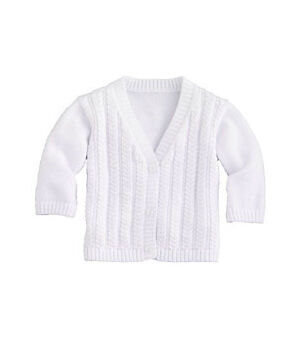 A Baby Gap cardigan is perfect for all seasons. The cardigans come in a large variety of colours and styles, suitable for most any taste and style. Cream is a popular colour, but cable cardigans and striped designs are increasing their appearances in playgroup. Baby Gap cardigans come in functional 100 per cent machine-washable cotton, making baby fashion more manageable.
---
| | |
| --- | --- |
| 9 | Old Navy Graphic Bodysuits |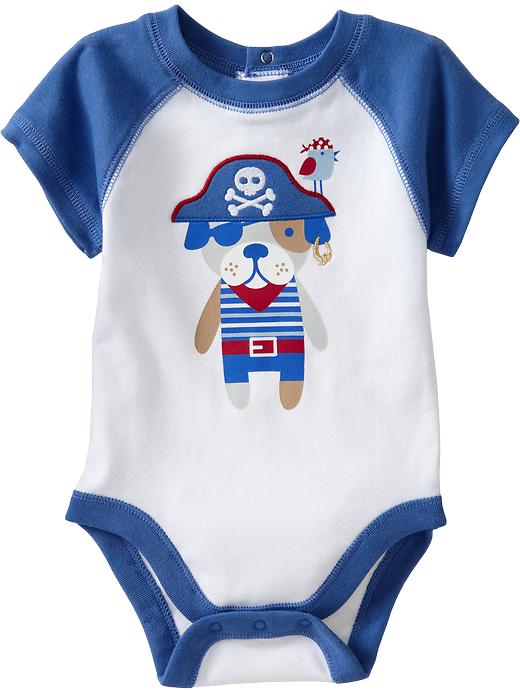 An Old Navy bodysuit keeps baby warm, dry, and comfortable. Made from soft lightweight cotton, babies from newborn to 2 years enjoy wearing Old Navy bodysuits. Graphic designs vary, as do bodysuit colours.
---
| | |
| --- | --- |
| 10 | Ralph Lauren Navy Skirt |
A few classic items in the baby wardrobe never go astray. Parents can dress a navy blue Ralph Lauren skirt up or down, and it is suitable for wear in any season. Available in sizes 9 months to 24 months, Ralph Lauren navy skirts come in a variety of styles and fabrics, suitable for a baby party or everyday wear.
---
How to Buy Top Baby Fashions
Using eBay helps make baby clothing shopping easier. New or used quality designer labels are available at the site for competitive prices. Take time to check care instructions prior to purchase, as materials such as cashmere and wool require special care. Searching for items on eBay is simple. Navigate to any eBay page and enter the item you want in the search bar. From baby suits to dressy skirts, floral dungarees to tunic tops, keeping your baby up-to-date in the fashion cycle is easy with eBay.