Downhill mountain
biking is an extreme sport that is not for those who are faint of heart. It involves cycling on rough terrain full of obstacles, such as rocks and tree roots. The races are timed, so speed is of utmost importance. Bikes that can handle such steep terrain are strong and heavy, featuring both rear and front suspensions. Choosing the right mountain bike is essential, and any of the top ten bikes can be a great choice. The bikes are available in many sports stores, especially in those that specialise in extreme sports, as well as on sites such as eBay.
| | |
| --- | --- |
| 1 | Cannondale SuperSix EVO Hi-Mod Red Racing |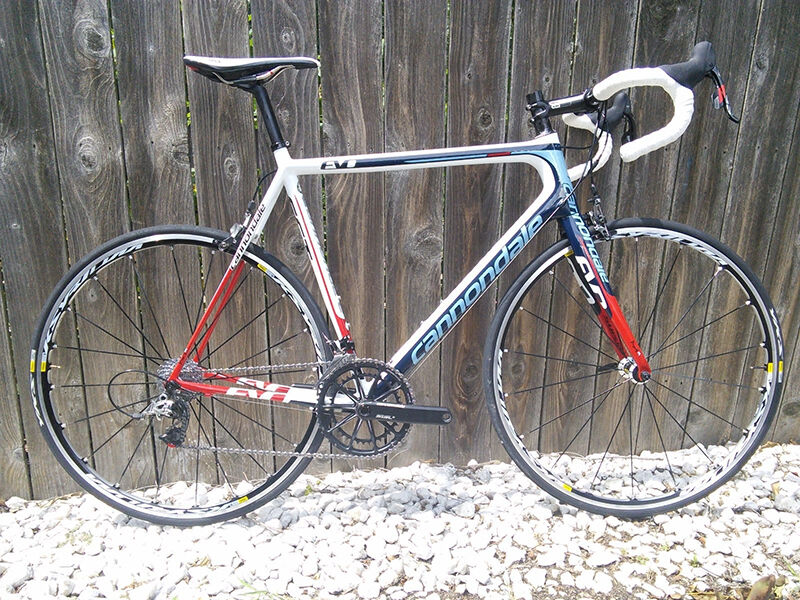 The Evo Hi-Mod is a version of the Cannondale SuperSix.. It is notable mainly as a result of its lightweight carbon frame as well as its light wheels, due to which the bike is very powerful and rides on effortlessly. The bike is suitable for all weather conditions. It comes with stiffened SRAM brakes and Swiss stop pads, as well as diagonal internal cable routing, all of which help to provide excellent handling and stability.
---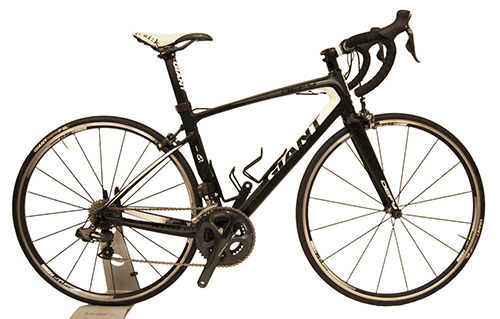 The Giant Defy Advanced 2 is the 2013 Cycling Plus Bike of the Year. The bike has a sporty look, with a long wheelbase and upright position. This mountain bike combines comfort with excitement thanks to its carbon frame, all-round handling, powerful brakes, and Shimano gearing. It rides smoothly on any surface.
---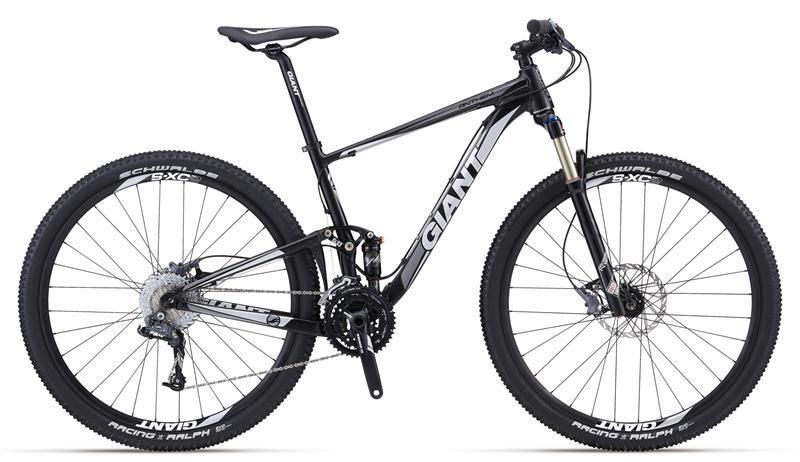 The Giant Anthem X 29er 1 is a trail bike for shorter rides. The wheels are tubeless and the bike is light thanks to its carbon frame, so it accelerates easily. The wheels are quite large, making it is easy to ride over tree roots, rocks, and other obstacles encountered on rough terrain.
---
---
The Cannondale SSynapse Hi-Mod 2 SRAM boasts a cutting edge design and is light in weight, thanks to its carbon frame. The ride is smooth and the handling comfortable, with quick-response steering and ceramic bearings. The fork moves actively, reducing the impact while riding over rough ground.
---
The Scott Scale 710 is a responsive and lightweight bike featuring Scott's premium quality carbon. Thus, this bike accelerates exceptionally well. Climbing hills is easy, thanks to the fork, which has an angle of 69 degrees, and to the low bottom bracket, which uses Climb Trail Descend damping control. This bike is a hardtail bike with no rear suspension, but it glides over rocks effortlessly, even so.
---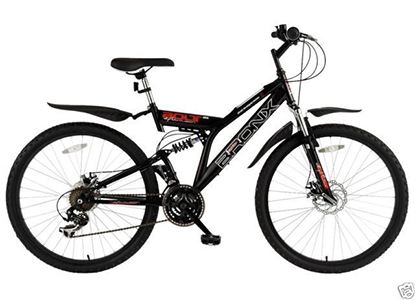 The Bronx Bolt 26 is a dual suspension mountain bike that has 21 Shimano gears, rear and front disc brakes, and rotational shifters that provide control in any situation. The seat and front wheel are quickly removable, allowing for greater security. The sure-grip tyres keep the bike safely on the road.
---
The Vertigo Mont Blanc 26 is a simple and inexpensive mountain bike. The bike has 21 Shimano gears, adjustable for any terrain, while the dual suspension and disc brakes at both rear and front provide good control over the bike.
---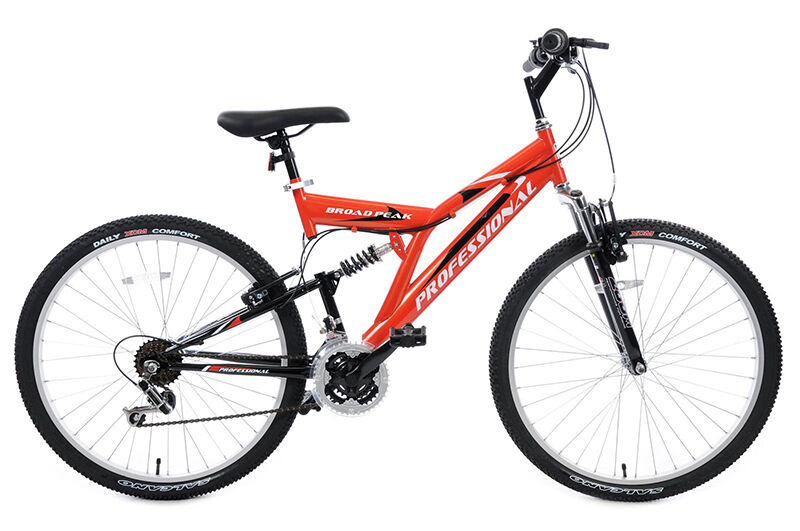 The Broadpeak Professional is a great mountain bike for the hobbyist rider. It has a Y-shaped frame and rear suspension, as well as a zoom front suspension fork. The V-type brakes at the front and rear bring the bike quickly to a halt, and the rider can further maintain control with the 21 Sunrace gears.
---
| | |
| --- | --- |
| 10 | Specialised S-Works Epic |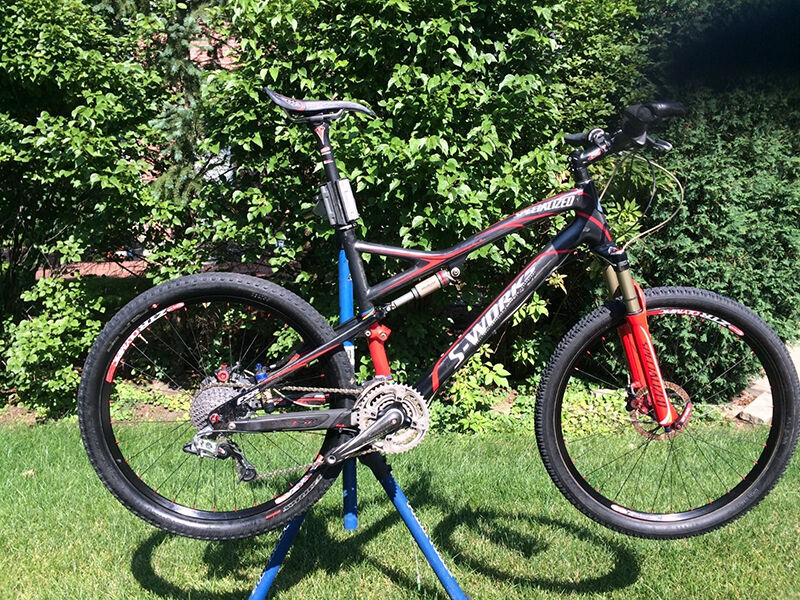 The Specialised S-Works Epic is a high-performance carbon bike with full suspension and hydraulic disc brakes. The bike comes with speed shifting, integrated chainrings for great power transfer, and a supple fork. Mountain Bike Action Magazine considered this bike to be one of the best bikes to ride.
---
How to Buy Downhill Mountain Bike on eBay
On eBay, you can find the top ten downhill mountain bikes by using the search box on any eBay page. After receiving the initial results, try sorting them by price, condition, or location, or click on similar searches if the results are not satisfactory. You can buy these lightweight, powerful bikes in both used and new condition. As many of them boast top-notch materials and features, they can be expensive, so looking into a used bike is reasonable. Always read the detailed item listing for more information and specifications. If these details do not answer your questions, feel free to contact the seller.