With so many
electric guitars
on the market, making a decision can seem quite overwhelming. Consumers looking to buy an electric guitar must consider several factors in order to make an intelligent purchasing choice. Prices vary considerably from one brand and model to another, so budget is an important factor. Another important consideration is the musician's preferred music genre. Many manufacturers make guitars with a specific genre in mind, be it heavy metal, jazz, country, or anything in between. Finally, beginners should choose electric guitar models that are basic and more versatile.
| | |
| --- | --- |
| 1 | EVH Wolfgang USA Stealth |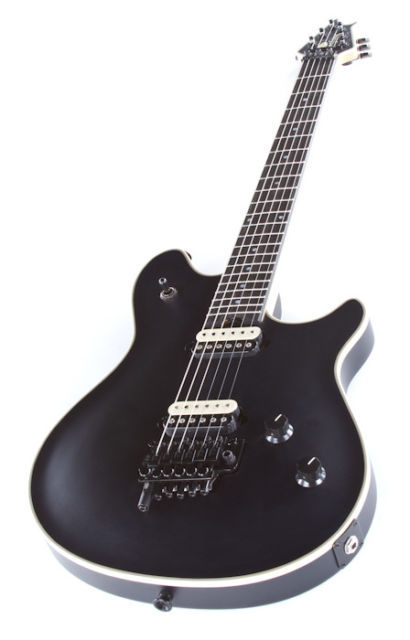 The EVH Wolfgang USA Stealth is the same custom guitar Eddie Van Halen plays. It is pricey, but it features EVH D-Tuna, which allows players to drop their low E string from an E note to a D note and back again without requiring a retune. Furthermore, it has EVH humbuckers screwed directly into the wood. The guitar also features stainless steel frets. This guitar is best for hard-core rockers.
---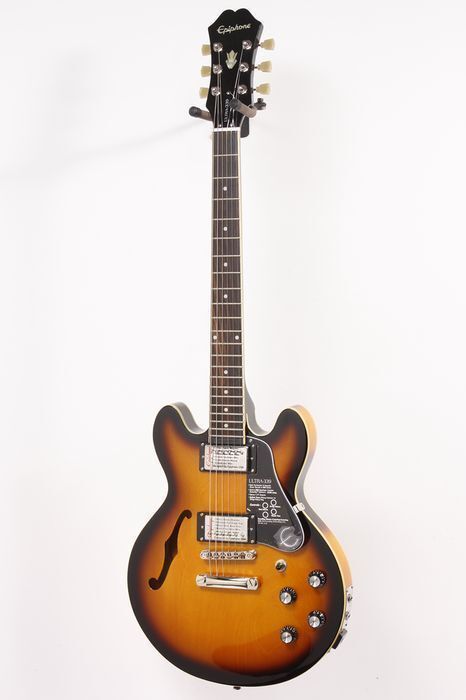 The Epiphone Ultra 339 has a compact body shape, a semi-hollow design, and a double cutaway. These features make this guitar ideal for jazz and blues players. The guitar also offers USB output, making it capable of direct computer recording. It is among the top five best electric guitars, according to a popular guitar magazine.
---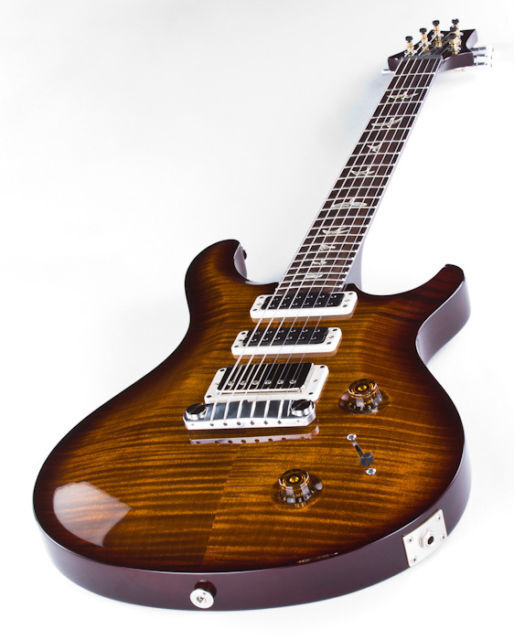 Chosen by one popular online site as a best pick, the Paul Reed Smith Studio Electric Guitar is a versatile electric guitar. It is capable of an incredibly wide range of tones, thanks to the bridge humbucker and two narrowfield pickups. This makes it a good fit for just about any genre of music.
---
| | |
| --- | --- |
| 4 | Epiphone Les Paul Standard |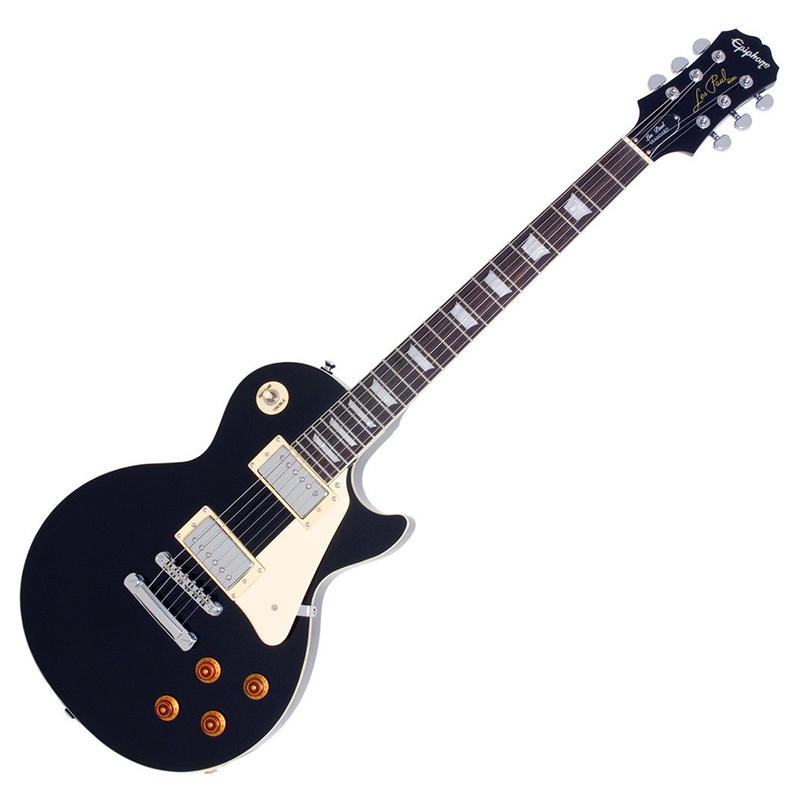 The Epiphone Les Paul Standard is one of the best electric guitars for beginners. It offers Alnico Classic humbuckers and 22 frets. While it may not have all of the features other higher quality guitars have, this versatile electric guitar is an ideal choice for beginners.
---
| | |
| --- | --- |
| 5 | Fender 2012 American Standard Stratocaster |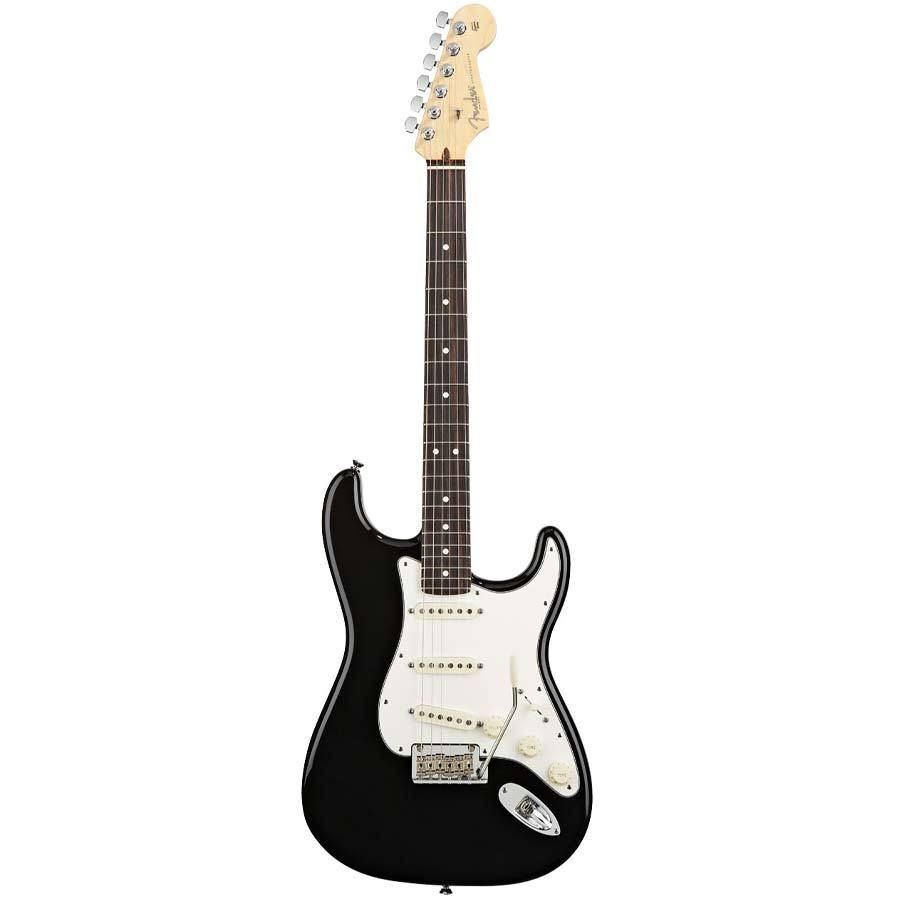 The Fender 2012 American Standard Stratocaster features the same classic design electric guitar players have sought after for over 50 years. This model has a few small modifications to fit the needs of modern players. For example, this model includes three Fender Custom Shop Fat 50s pickups..
---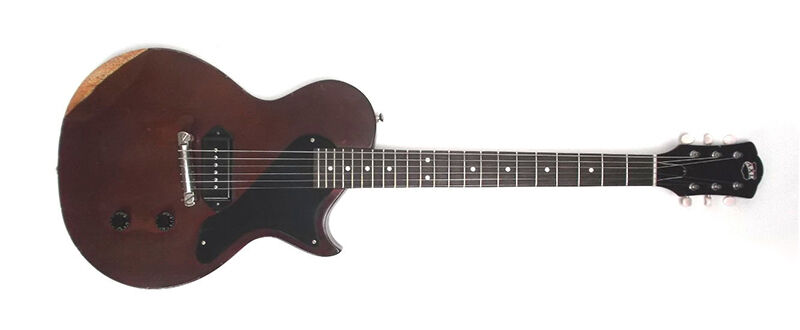 The shape of the AXL USA Bulldog is similar to the classic Les Paul. The manufacturer designs this model for rockers with its TonePros wraparound bridge, Graph Tech nut, CTS pots, and Kluson-style tuners. Its premium components also include a Lindy Fralin P90 pickup and Orange Sprague drop capacitors.
---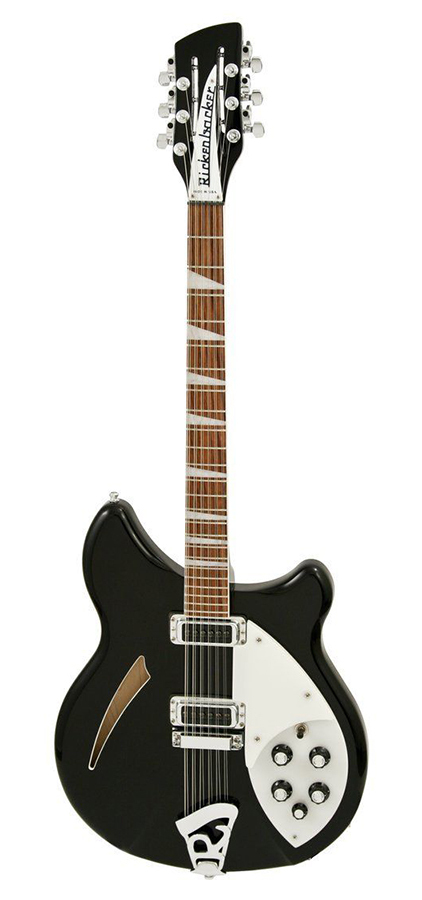 The Rickenbaker 360-12 is the same guitar famous musicians George Harrison and Roger McGuinn of The Byrds relied on for its classic folk-rock sound. Its melodic sound has been a popular choice of musicians for over 30 years. Furthermore, the 360-12 features a slimmed neck than makes playing this 12-string guitar with 24 frets even easier.
---
| | |
| --- | --- |
| 8 | Gretsch G5120 Electromatic Hollowbody |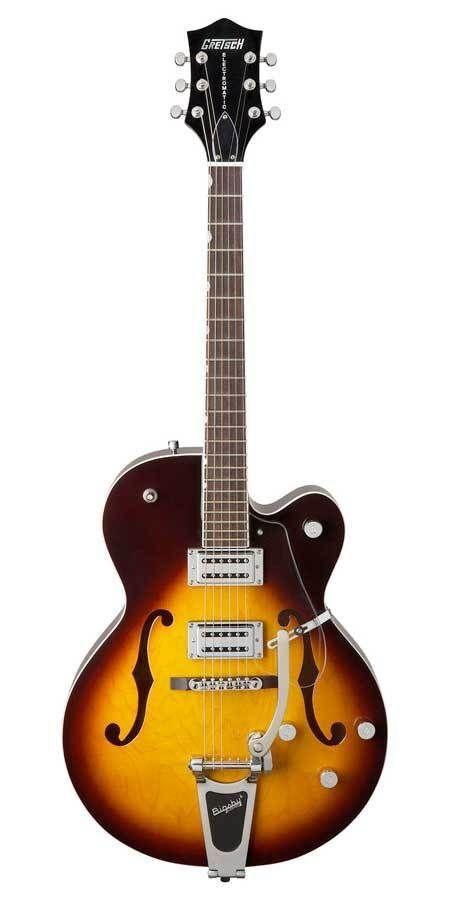 The Gretsch G5120 Electromatic Hollowbody is an excellent choice for jazz and blues players. It has several important hollow body features, like a Bigsby vibrato tailpiece and an oversize body and headstock. Gretsch Dual-Coil humbuckers give this guitar a smooth twang at the bridge and clean jazz notes at the neck.
---
---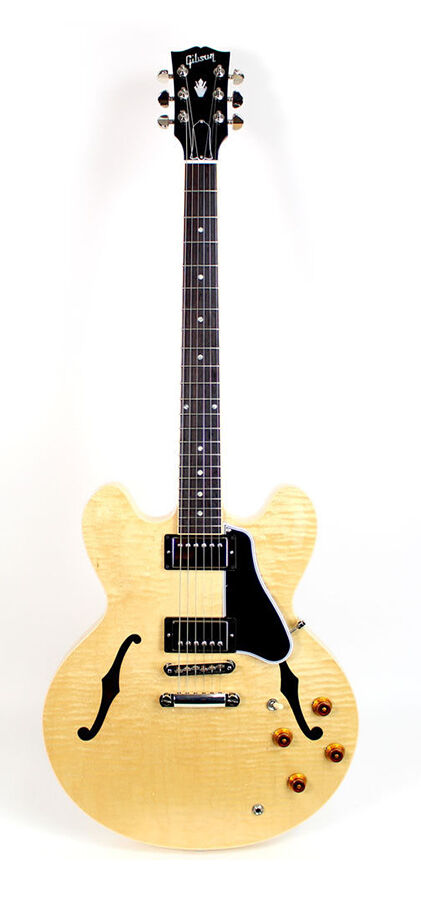 The Gibson Dot 335 is neither a hollow body nor a solid. It features a solid maple wood block that runs through the length of its body. It creates an interesting sound combining the resonance of a hollow body with the sustain of a solid. This versatile guitar easily produces jazz, blues, or rock music.
---
How to Buy Electric Guitars on eBay
Buying an electric guitar on eBay can save consumers both time and money. Simply type " electric guitars" into the eBay search bar and thousands of search results appear. You can thereafter filter results by brand, number of strings, and free shipping. Alternatively, shoppers can type in a specific model and brand of electric guitar for more specific results. You can determine if the seller is trustworthy by examining their feedback score. Whether you are looking for a beginner electric guitar or one to add to your collection, there are many quality electric guitars available for purchase on eBay.