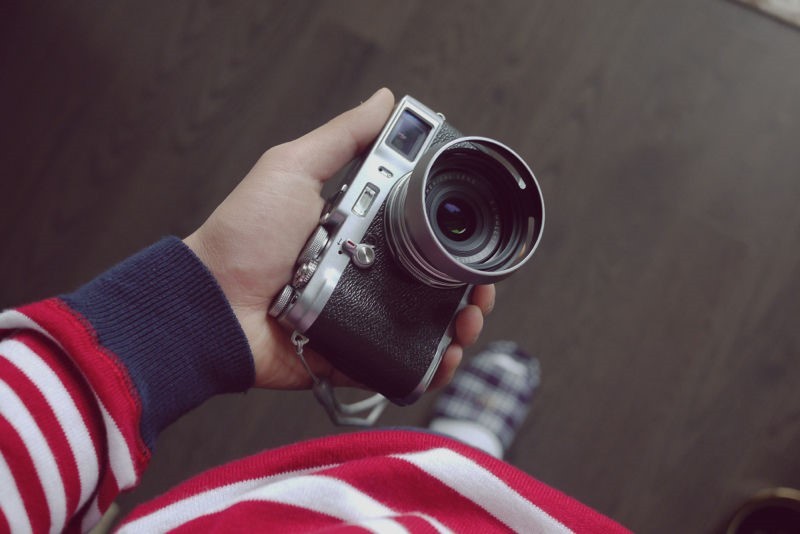 Fujifilm continues to push boundaries with their series of mirrorless digital cameras. What sets them apart from other brands is not only their ability to consistently deliver impressive images using innovative systems, they also make some of the most striking cameras by adopting classic, retro designs. I absolutely love that they all look like modern vintage cameras. Fujifilm recently celebrated their five year anniversary of the X Series digital camera system with a few new product launches, like the X-Pro2, which I can't wait to test out. Here are the best Fujifilm digital cameras available now, plus a few film cameras to round out the top 10.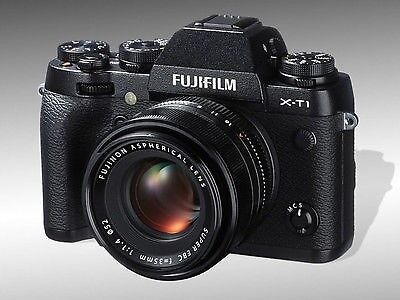 Fujifilm X-T1
The
Fujifilm X-T1
mirrorless digital camera features a 16.3 megapixel APS-C X-Trans CMOS II sensor and an EXR Processor II to produce high-resolution imagery with an expandable sensitivity range from ISO 100-51200 as well as a top continuous shooting rate of 8 fps. Featuring a body design reminiscent of vintage SLR film cameras, the X-T1 exhibits a meshing of both analog exposure controls along with intelligent automated technologies. Furthermore, the magnesium alloy body also features approximately 80 points of weather sealing to protect itself from dust and moisture, as well as temperatures as low as 14°F, for confident use in trying conditions.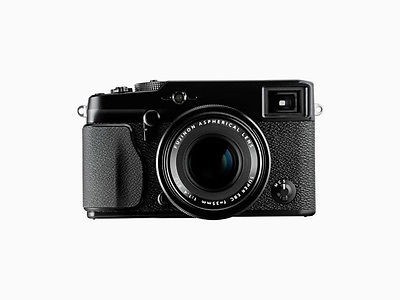 Fujifilm X-Pro1
The
Fujifilm X-Pro1
is a digital camera that makes use of image editing features to help the user take the best picture. This 16.3 MP digital camera is made with three modes of focus and has auto red-eye removal. Designed especially for the X-Pro1, the Fujinon XF lens series promises enhanced resolution and light volume in image edge areas as well as reduced chromatic aberration for exceptional image quality. For photographers who seek the peak of photographic excellence, Fujifilm raises the curtain on an era of interchangeable lenses and unveils a premium line up of three single-focal length lenses.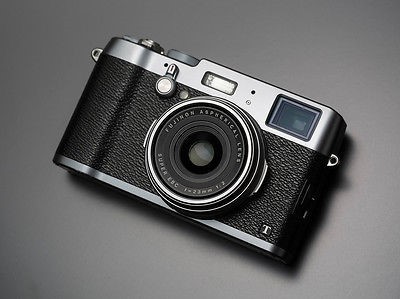 Fujifilm X100T
The
Fujifilm X100T
digital camera is packed with new features such as the world's first electronic rangefinder -- a high-quality fusion of optics and electronics — and the Classic Chrome mode, offering the simulation of a classic film style, photographers can combine their passion for shooting with the thrill of fully controlling their camera.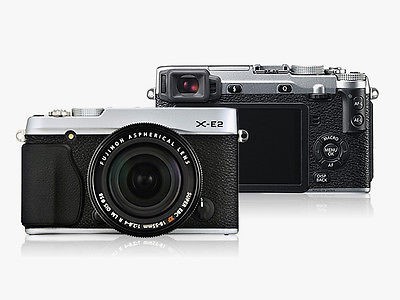 Fujifilm X-E2
I was blown away by the
Fujifilm X-E2
mirrorless digital camera. I used it to shoot my living room makeover and it produced some gorgeous photos (see below). The Fujifilm X-E2 delivers picture quality that rivals full-frame cameras with high definition image capture. It features a 16.3-megapixel APS-C X-Trans CMOS II sensor and the segment's fastest autofocus for a truly remarkable photographic experience. With the X-E2, photographers will immediately be amazed by its high-speed hybrid AF with phase detection, pin-sharp image quality, and improved HD movie capture for endless photographic possibilities.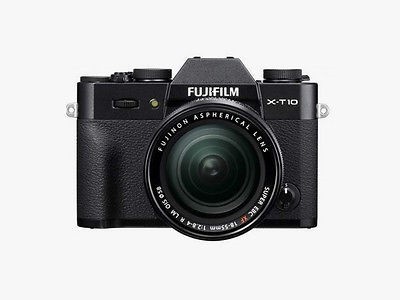 Fujifilm X-T10
Characterized by its sleek, retro styling, the
Fujifilm X-T10
is a mirrorless digital camera featuring Fujifilm's unique sensor technology, versatile autofocus modes, and a high-resolution electronic viewfinder. Revolving around the 16.3 MP APS-C-sized X-Trans CMOS II sensor and EXR Processor II, the X-T10 is capable of up to 8 fps continuous shooting and full HD 1080p/60 video recording. For the aspiring photo hobbyist, weekend shooter or photography student, the X-T10 builds on the X Series foundation of simplicity and elegance. Plus, you can easily transfer your images wirelessly to any smart device for quick and easy sharing – and bragging!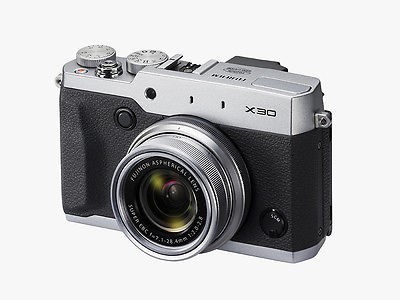 Fujifilm X30
The
Fujifilm X30
digital camera adds a high-resolution electronic viewfinder, a larger 3" tilting rear LCD screen, a second control ring to adjust aperture and shutter speed settings, and a Classic Chrome film simulation mode. It features a 12 megapixel 2/3" X-Trans CMOS II sensor and an EXR Processor II to provide high quality imagery at up to 12 fps, and a sensitivity range to ISO 12800. As any serious photographer would expect, its array of manual functions make it a joy to handle, making every shot a pleasure. The Fujifilm X30 has undergone a radical redesign with an updated body that's solid. The camera's footprint is compact and sturdy thanks to its magnesium body, metal dials and lens barrel.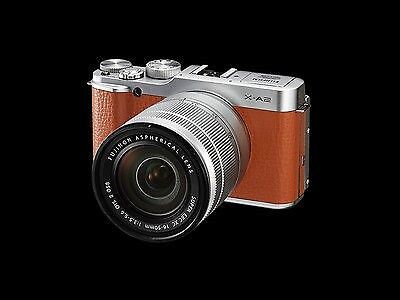 Fujifilm X-A2
Compact, connected, and selfie-ready, the
Fujifilm X-A2
mirrorless digital camera is a versatile camera featuring a 16.3MP APS-C CMOS sensor and EXR Processor II to deliver high-resolution stills and full HD 1080p video. A high performance compact system camera, the Fujifilm X-A2 will let you capture pictures in your own style. The X-A2 allows you to capture important moments perfectly with the superb image quality Fujifilm's X-Series is famous for. For self-portraits, landscapes, macro shots, low-light or flash photography, the X-A2 will provide you with all the creative settings you need to develop your own creative style. It truly is a camera you will grow into.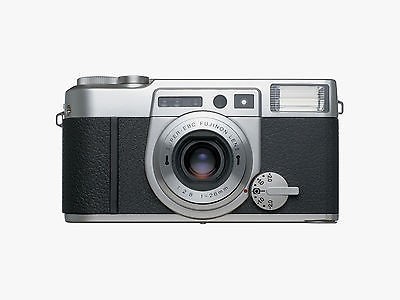 Fujifilm Klasse
The
Fujifilm Klasse
is a professional quality point-and-shoot film camera with a superb 28mm f/2.8 lens. The Klasse can be used in Program auto mode, or aperture priority, and it has manual or auto focus. The Klasse is a beautifully made camera which can be carried in a pocket. If you want a really nice compact film camera, they don't come better than the Fuji Klasse.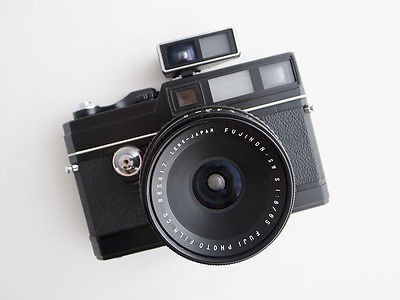 Fujica GL690
The
Fujica GL690
is a medium format rangefinder film camera that allows you to capture clear photos with ease. A host of useful features makes this Fujifilm film camera suitable for studio use as well as professional digital imaging applications. Furthermore, with a shutter speed of 1/500 seconds, the Fujifilm GL690 film camera is capable of capturing even fast-moving objects, without blur. The Fujifilm GW690 film camera is a medium format camera that offers sharper images at larger apertures. Get this classic Fujifilm film camera and boost your photographic passion.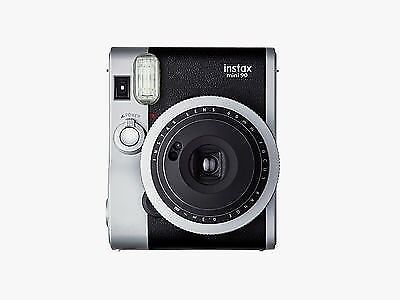 Fujifilm Instax Mini 90
Designed with a classic look, the
Fujifilm Instax Mini 90
is a compact camera that supports the use of Fujifilm Instax mini-type film to produce instant credit card sized prints. It features a 60mm lens that is capable of focusing as close as 11.8" away. A built-in flash provides additional illumination for exposures when working in low-light conditions and automatic exposure control helps to ensure consistently accurate exposures in a variety of lighting conditions.