No matter what time of year a baby is born, newborns must wear hats to keep their head warm. Newborns have trouble regulating their body temperature and need hats to prevent them from losing too much body heat. Fortunately, newborn hats are readily available and come in a wide range of styles. Shoppers can find
custom handmade hats
or cute hats that resemble their favourite animals. No matter which type parents choose for their babies, they should be sure to have several on hand to account for varying temperatures and occasion. Before buying hats for newborns, shoppers should take the time to learn about the top styles available to them.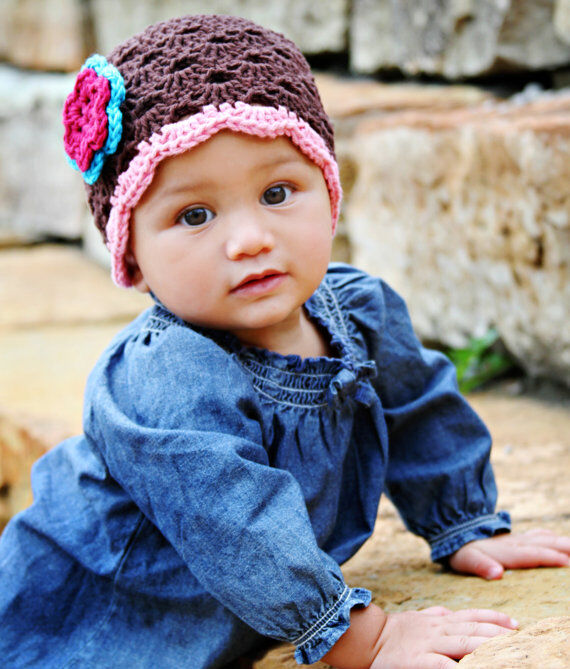 A crochet hat is a traditional choice for newborn babies. Hand-knitted with yarn, crochet hats come in a variety of styles, fibres, and colours. The material is flexible and breathable, making it a good choice for all seasons. Crochet hats come in several sizes, and many people knit them for a specific baby to ensure a custom fit and design.
---

A newborn baby bonnet is another classic look, especially for baby girls. These hats typically use thin cotton material that fits snugly over the head and ties under the chin with two large ribbons. This ensures a secure fit so that the hat does not fall off even the wiggliest baby. The outer edge of the bonnet typically has ruffles or other decorations.
---
A flower hat is another popular choice for a baby girl. These hats keep the head warm while playing up the baby's girliness. Flower hats can be typical beanies decorated with large flowers or a hat designed to make the baby's head look like a flower. Available in all colours and styles, a flower hat works for a baby girl for any occasion.
---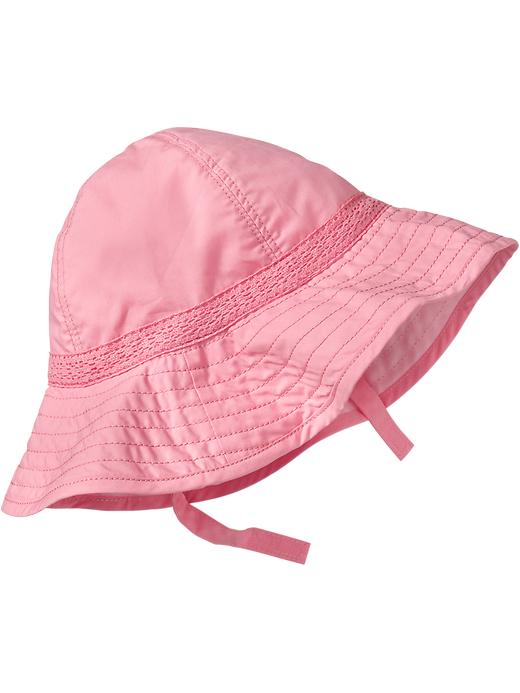 A sun hat is a must-have item for newborn babies when they spend time outdoors, particularly in the warm and sunny months. These hats have a large brim to protect the baby's face and shoulders from the sun. For windy days, sun hats with chin straps are available. Sun hats are suitable for boys and girls.
---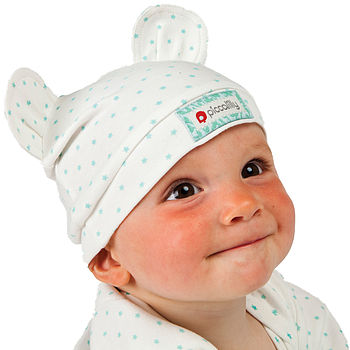 An animal ear hat works for everyday wear or as a costume. These hats have various animal ears and faces on them to make the baby look like the animal. Popular animal ear hats for babies include cats, dogs, elephants, bears, monkeys, and owls. These hats keep the baby's head warm while providing a cute photo opportunity.
---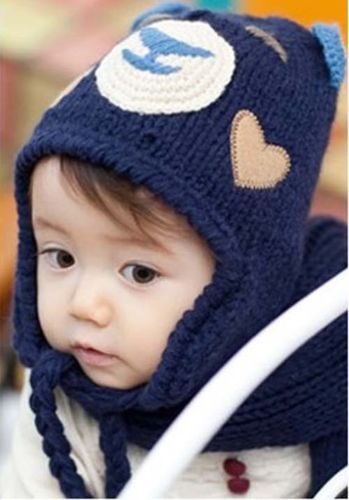 For babies born in cold months or live in cooler climates, the ear flap hat helps keep them a bit warmer. These hats have long sides the fully cover the baby's ears and sometimes come all the way down to the chin. They come in a variety of thicknesses, and shoppers can even find fur-lined hats for added warmth.
---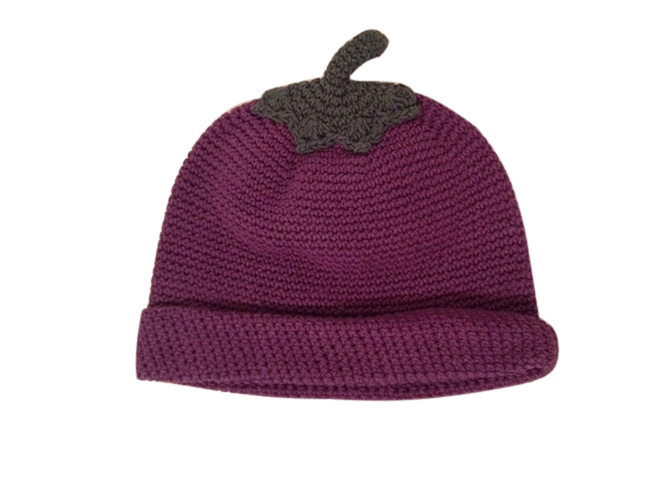 Much like the animal ear hat,, the fruit beanie's design makes the newborn baby look like a certain fruit. Popular fruits include strawberries, apples, and bananas. These also come in a variety of styles with the crochet hat being the most popular.
---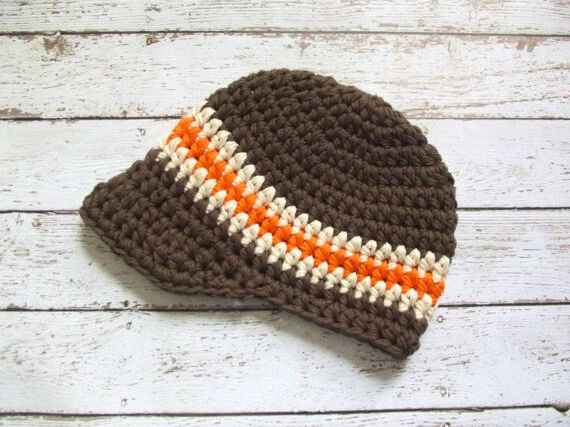 A visor beanie is a knit or crochet hat with a small brim on the front. The brim is not nearly as long as a baseball hat, but does offer some protection from the sun. Boys most commonly wear this style, but colours and designs for girls are available as well. These work best for being outdoors in cooler weather to provide protection from the sun and the low temperatures.
---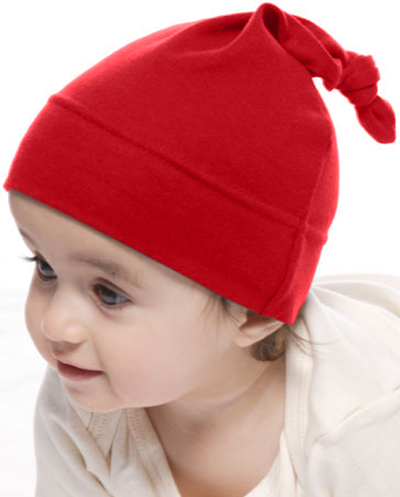 An elf hat fits snugly on the baby's head, but rather than having a rounded top, it has a long end that hangs down from the top. If often has a knot or tassel at the end. Elf hats are common around Christmas time, but with a wide range of fabrics and colours available, they work for any occasion.
---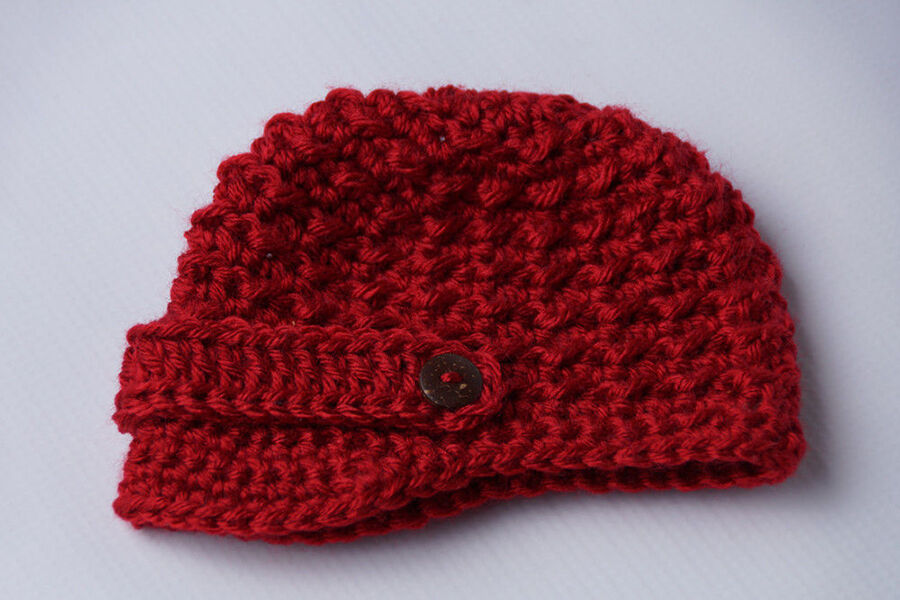 While the other hats function to keep the baby's head warm, the purpose of a visor is solely to keep the sun out of baby's eyes. This hat has a wide brim on the front and secures around the baby's head with elastic or Velcro. It offers no protection on the top of the head, preventing baby from overheating in hot temperatures.
---
How to Buy Hats for Newborns on eBay
eBay offers a large selection of new and used hats for newborns. You can browse the large selection of items available or perform a keyword search for "hats for newborns" to find specific listings. From there, narrow the results by selecting the style, colour, condition, or other options that apply to the hat you want. Carefully read the description of the hat and look at photos before making a purchase to ensure it matches what you want. Hats for newborns keep their little heads warm and keep the sun out of their eyes. They are also cute accessories that coordinate with their outfits. Babies need several hats in their wardrobe, and with so many styles available, shoppers can find hats for any occasion.