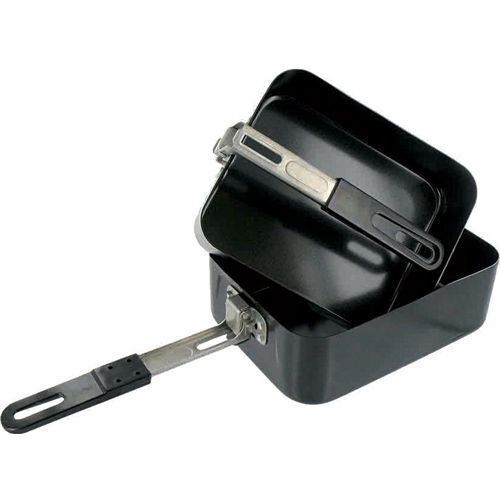 When going on a long camping trip, there are a number of pieces of equipment which are vital to take along. One of the most important is cooking equipment. Being able to eat hot foot while out camping can not only help to keep the campers strong and healthy, but can help to maintain morale as well. As with all types of camping equipment, a balance needs to be struck between taking needed equipment, and the weight that will then have to be carried.
There are numerous different types of cooking equipment which are useful. Items for cooking food are important, as are containers which can safely store food. Utensils for eating are another element to consider, as are items for properly preparing it. Going camping with a well chosen set of cooking equipment can greatly improve the experience, and a wide range can be found on eBay.
Stove
* An essential piece of cooking equipment, the stove is needed to properly heat up food before it is served and eaten.
* Stoves are available which offer a variety of features, which can make them suitable for different needs.
* Many stoves will include legs , which can provide additional stability while cooking.
* Lids are also often included, which can help to reduce the amount of heat lost, making them more efficient, and leading to more thoroughly cooked food.
* Some stoves may have useful extras which can increase their versatility, such as a built in toast rack .
* Larger camping stoves, which can have numerous features and multiple burners, are generally designed for camping trips that will not involve walking. Much smaller stoves are available for backpacking trips which will involve walking long distances.
Stove Fuel
* Stoves require fuel to operate, and this should be taken into account, bearing in mind how much fuel will be needed for the length of the trip, and how much space and weight they will take up.
* Most stoves are fuelled by gas , which can be compressed into small, easily transported and relatively light weight canisters.
* Butane and propane are among the most commonly used types of fuel. Both liquid and solid fuels are also sometimes used, often for smaller sized stoves.
* Solid fuel stoves are recommended for family trips, and are among the safest types of fuel available, while liquid fuel can be suitable for very long trips.
Eating Utensils
* Eating utensils are an essential piece of cooking equipment for camping, and a wide array of cutlery is available.
* Folding cutlery is a popular type of camping utensil. These knives, spoons and forks fold away into small, easily stored and transported packages. They are often designed to help keep the ends of the items clean while folded.
* Plastic utensils are available which are strong, durable and inexpensive. Another affordable option is the very long lasting stainless steel, which is resistant to corrosion.
Cups and Plates
* For serving prepared and cooked food, as well as hot drinks, cups and plates are highly useful.
* Plastic cups and plates are the most affordable and widely available, and can often be purchased in complete sets. Plastic plates and cups are available in a wide range of styles and colours.
* Mess tins can offer a light and space effective way of serving and eating food. These tins often have handles which fold in for easy storage, and often come in sets which nest into one another.
* Aluminium mess tins are the most affordable and widely available, and can also often be used to cook food on a stove, as well as eat it.
Pots and Pans
* Food needs to be placed into a pot or pan so that it can be effectively and easily cooked.
* Pots and pans designed for use in camping will often be designed to be as space effective and light as possible.
* Planning out the food that is intended to be eaten on a trip can make it easier to plan what types of pan will be needed.
* Frying pans, for example, are useful for cooking any meat or eggs which have been brought, while deeper pots are useful for heating up water, and could be used to cook pasta.
* Many campers prefer to take a dedicated kettle, which can be useful for heating up water for hot drinks over a stove or fire.
Can Opener
* One of the most effective ways to bring food on a camping trip is to take tinned food, and a can opener is an essential item for getting into cans.
* Can openers are a small and easily carried tool, and are available as standalone items, or as part of other cooking utensils.
* A useful tool for camping is a penknife, which will often include a can opening attachment.
Chopping Board
* If food required cutting up and preparation, for example, fish, meat or even vegetables, than a chopping board offers a clean and stable place to do this.
* Chopping boards help to keep the food that is being prepared in one place, and many chopping boards may include a range of features, such as a built in bowl or straining area.
* Most chopping boards made for camping are made out of affordable, durable plastic, and can often also be designed to fold away for more efficient use of space.
Grill Pan
* A useful additional cooking utensil to take on a camping trip is a grill pan.
* Grill pans designed for use on camping trips often bear a similarity to those used in a kitchen, though often feature folding handles and are generally built out of light weight materials.
* Grill pans can be useful for cooking many different types of food, such as meat, and can be useful for preparing toast.
* Some stoves may include a toasting rack or grill built in.
Folding Table
* A folding table can be a highly useful and convenient piece of camping cooking equipment to bring on a trip, particularly for families, or those who are taking a trip that will not require a great deal of walking.
* Smaller folding tables can be useful if it will have to be frequently packed away, and can provide a convenient space for preparing food, while larger tables can serve as a place to eat.
* Some large kitchen tables are also available, which are designed for use in preparing food, and can often even include space for storing food.
* Folding tables are available in a variety of light materials, such as plastic or aluminium.
Cooler
* When on a camping trip, coolers can be a great way to keep food and drink cold or hot, and a number of different types are available.
* Simple and light weight cool bags are a good choice for camping. These can be easily carried, and folded away for easy storage when not in use. Cooler backpacks are also available, which can be easily carried.
* Larger and heavier electric coolers are also available, and function in a similar manner to a full sized fridge. These are generally designed for use with caravans, or in a camp ground with electricity. Some are also available which can draw power from a car.
* Some coolers designed for specific uses are also available, such as the wine cooler.
How to Buy Cooking Equipment for Camping on eBay
A wide variety of cooking equipment can be found for camping on eBay, including stoves, fuel and utensils. The full listing of available cooking equipment can be found under Camping, through theSporting Goods portal. Cooking equipment can be found under Cooking Supplies. Items can be arranged by categories such as brand, types, features, price and condition. It is also possible to sort between the Auction and Buy it Now buying options, offering flexibility in how cooking equipment can be purchased.
Important specifications about an item, such as the material of a mess tin or features of a stove, are often prominently displayed in the item listing, making it easy to quickly see if an item meets any specific requirements. Further information about an item can be found on the item page, where information about the seller such as item reviews and feedback ratings. This helps to ensure that a purchase can be made with confidence. It is also possible to ask the seller a question on this page.
If a specific piece of cooking equipment is required, it may be more effective to use the search function, which can be found on the top of every page. Searches can be made to return results from within a specified category, or from across the whole site. Further information on getting the most out of the search function can be found on the Search Tips page.
Conclusion
Equipment and supplies for cooking can take up a significant part of a camper's supplies, and choosing the right equipment for the trip is important. Being able to comfortably and efficiently prepare, serve and eat a hot meal can greatly improve the camping experience. Cooking equipment can range from simple mess tins and lightweight stoves to larger cookers and even electric cools. A wide range of cooking and camping equipment can be found on eBay.