Slippers
are soft-soled shoes, typically worn indoors, that are easy to slip on and off. Made from many different, comfortable materials such as foam, silk, and plush fabrics, slippers provide the feet with both warmth and comfort. Made from leathers such as lambskin, suede, and pigskin, leather slippers are comfortable shoes to wear both indoors and at casual outdoor functions. The many styles of leather slippers include slip ons, loafers, moccasins, slipper boots, and sandals or thongs. Shoppers looking for leather slippers can start by considering the top leather slippers, which they can find at local shoe stores or online at eBay.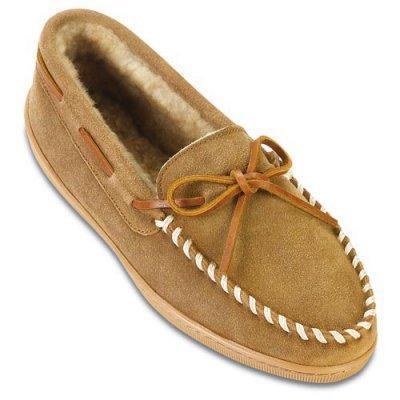 Minnetonka make hand crafted moccasins out of various soft leathers such as deerskin, sheepskin, cowhide, and suede. Minnetonka moccasins are meant for use as slippers or driving shoes. Minnetonka moccasins are available in many styles, including boot moccasins and pile-lined footwear for cooler climates.
---
| | |
| --- | --- |
| 2 | Clark's Kite Vasa Leather Slippers |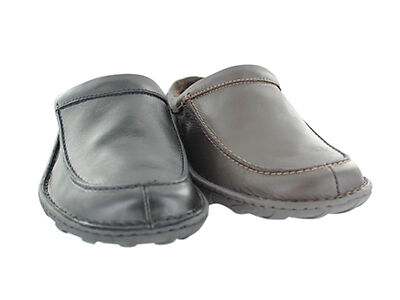 slippers">Clark's Kite Vasa leather slippers are clog style slippers that are easy to slip on and off. Lined with synthetic fur, these slippers are comfortable and warm. With soles made from Ethylene-vinyl acetate (EVA), these slippers are both flexible and durable. Available in either black or brown, and designed as men's footwear, these leather slippers are also a comfortable choice for women.
---
| | |
| --- | --- |
| 3 | L.B. Evans Leather Slippers |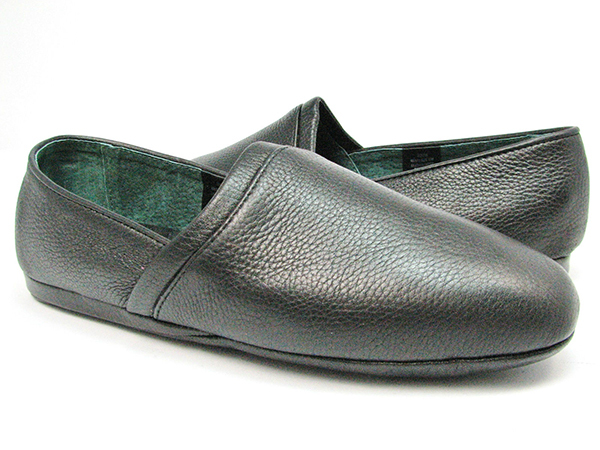 Made from a selection of leathers and suedes, L.B. Evans leather slippers are stylish and comfortable. Choose from a wide selection of styles, available in wide and narrow width sizes and various colours with soles that are durable enough for outdoor wear, and cushioned insoles that are cosy and comfortable. Many styles are available with faux-fur lining to keep feet warm in cold temperatures.
---
| | |
| --- | --- |
| 4 | Reef Leather Flip-Flops |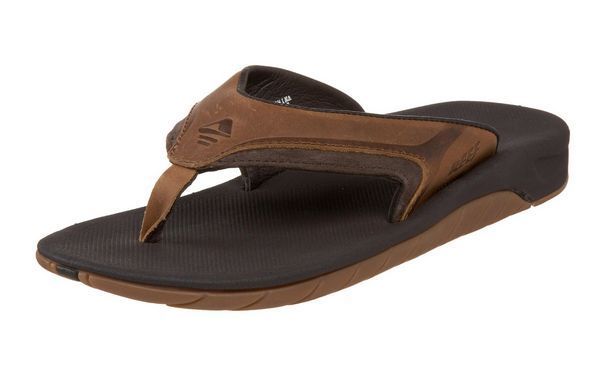 Reef makes thong-style sandals for both men and women. With a contoured footbed for comfort, and texturing for better traction, Reef leather flip-flops can be worn both indoors and out. With leather straps lined with a softer material, and the compression footbed topped with leather, these shoes are comfortable. With rubberised soles, these shoes are strong and durable.
---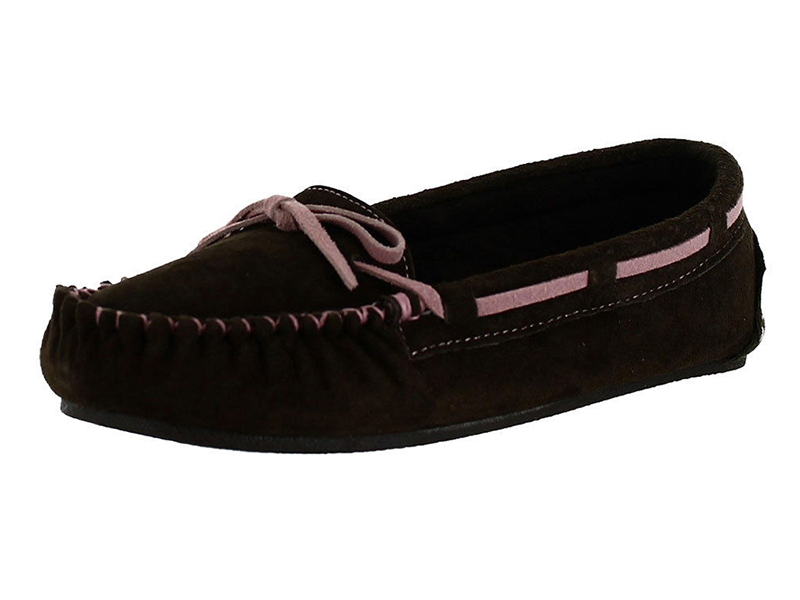 The Lamo Sabrina moccasin is a warm, comfortable suede slipper with a soft, fleece lining and rubber sole. These slipper shoes are suitable for both indoor and outdoor use. Made with durable rubber soles, the Lamo Sabrina moccasins are also sturdy enough for use as driving or walking shoes. The Lamo Sabrina moc is available in a variety of different colours.
---
| | |
| --- | --- |
| 6 | Old Friend Adjustable Closure Bootee |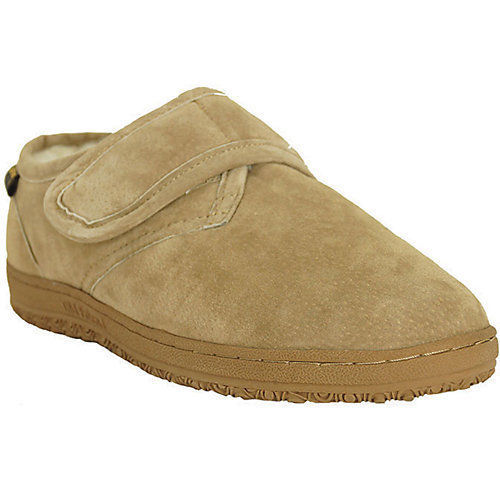 The Old Friend adjustable closure bootees feature a micro adjustable strap and tongue to ensure that the slipper stay securely in place. The soft sheepskin insole and EVA midsole ensure comfort, warmth, and durability. This slipper is equipped with a removable insole for cleaning and wearing in warmer climates.
---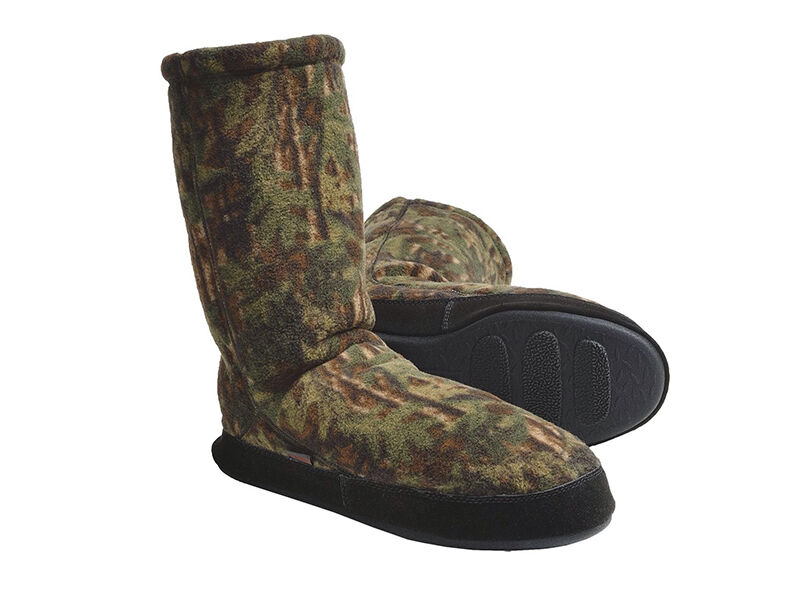 Used to keep astronauts' feet warm and made with a full-grain leather sidewall, suede leather outsoles as well as memory foam midsole over a layer of EVA, Acorn slipper socks are both strong and durable. Made from either a ragg wool blend or hypoallergenic cotton, the uppers keep the feet, ankles, and calves cosy and warm.
---
| | |
| --- | --- |
| 8 | L.B. Evans Leather Scuffs |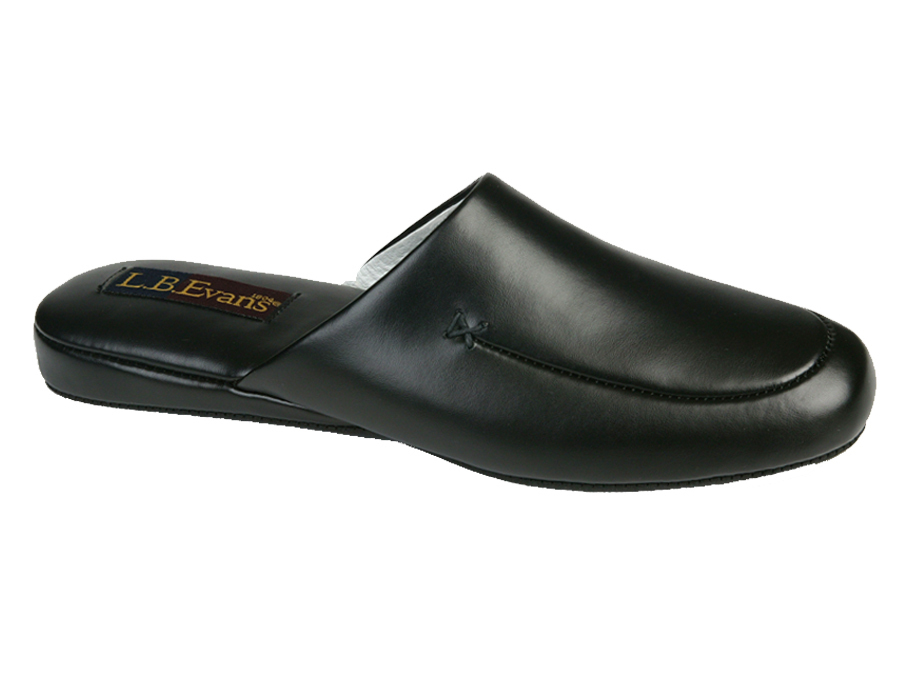 L.B. Evans have a reputation for making classic slippers using traditional styles. Made from soft leather uppers and leather lined, the L.B. Evans leather scuffs feature cushioned insoles for comfort and man-made outsoles for durability for indoor use. L.B. Evans also make a leather Opera version of their leather scuffs that closely resembles smoking slippers.
---
| | |
| --- | --- |
| 9 | Woolrich Suede Slippers |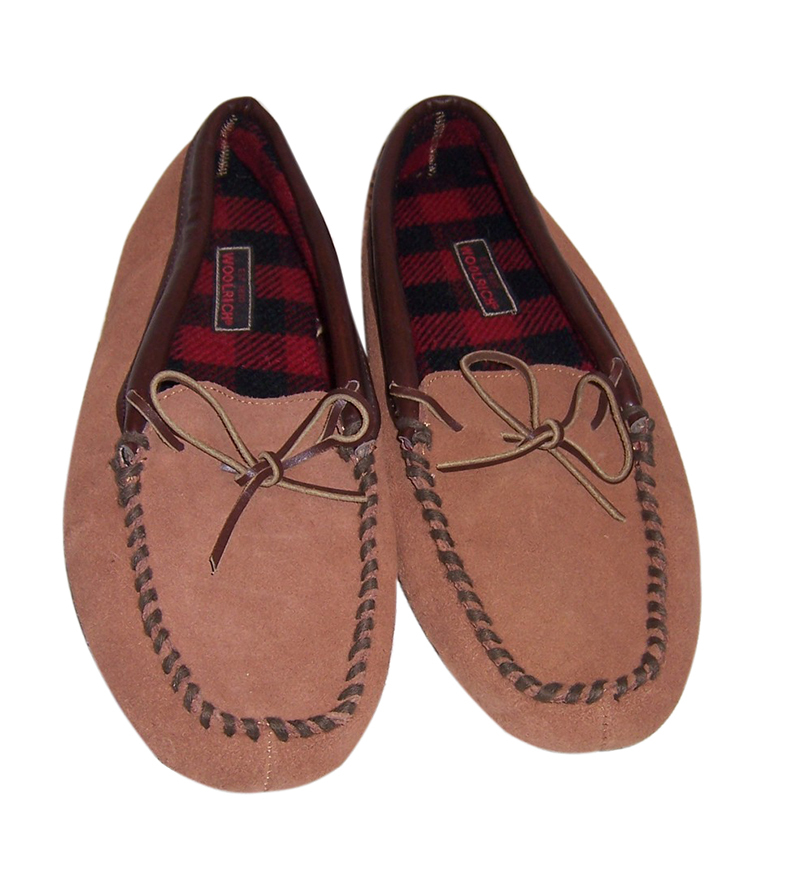 Made with thick, memory foam footbeds, soft fleece lining, and suede uppers, slippers">Woolrich suede slippers feature a strong, indoor/outdoor sole. The company also makes moccasin and scuff style slippers, and many styles are Berber lined for additional warmth and comfort.
---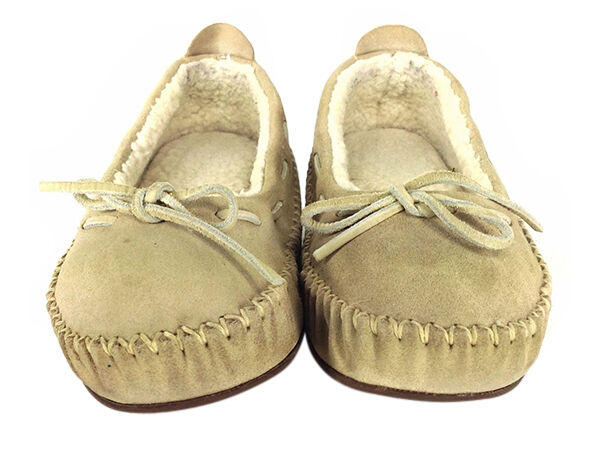 L.L. Bean make a variety of slippers such as slip-ons, soft-soled moccasins, booties, and scuffs for indoor use. Several L.L. Bean slipper styles can be lined with fleece, flannel, sheepskin, or shearing for additional comfort and warmth.
---
How to Buy Leather Slippers on eBay
When buying leather slippers on
eBay
, be sure that you consider both comfort and sizing. With the many styles of leather slippers available, there is a pair suitable for everyone. Whether you prefer open toed thong slippers or soft and warm
moccasins
, finding leather slippers on eBay is quick and easy. Simply type a search term such as "leather slippers" into the Search bar on any eBay page. Then filter the results by parameters such as size, colour, brand, and condition. When buying leather slippers, be sure to read the product description thoroughly as features and details vary depending upon the slipper brand and style.