As babies grow into toddlers, their nutritional needs change. Although it is not yet time to abandon breast milk and formula altogether, neither is sufficient in and of itself. A parent faced with this transition finds a dizzying array of products on the market, making it difficult to know where to turn. A brief review of options, including DHA (docosahexaenoic acid)- and ARA (arachidonic acid)-enriched formulas, fresh fruits and vegetables, and organic foods from reputable manufacturers such as Gerber, Happy Baby, and Peter Rabbit, yields much knowledge. Following a bit of reading, an informed parent can become an expert in navigating healthy offerings on eBay to obtain the best nutritional benefits for the child.

Nutritionally, nothing can replicate the unique components of breast milk for baby and toddler health. A child who is breast fed is less susceptible to disease and infection, both in the child's early years and later in life. The nutrient-laden milk itself, of course, is without cost; the only expenses are a breast pump, bottles, and nipples.
---
| | |
| --- | --- |
| 2 | DHA and ARA-Enriched Formula |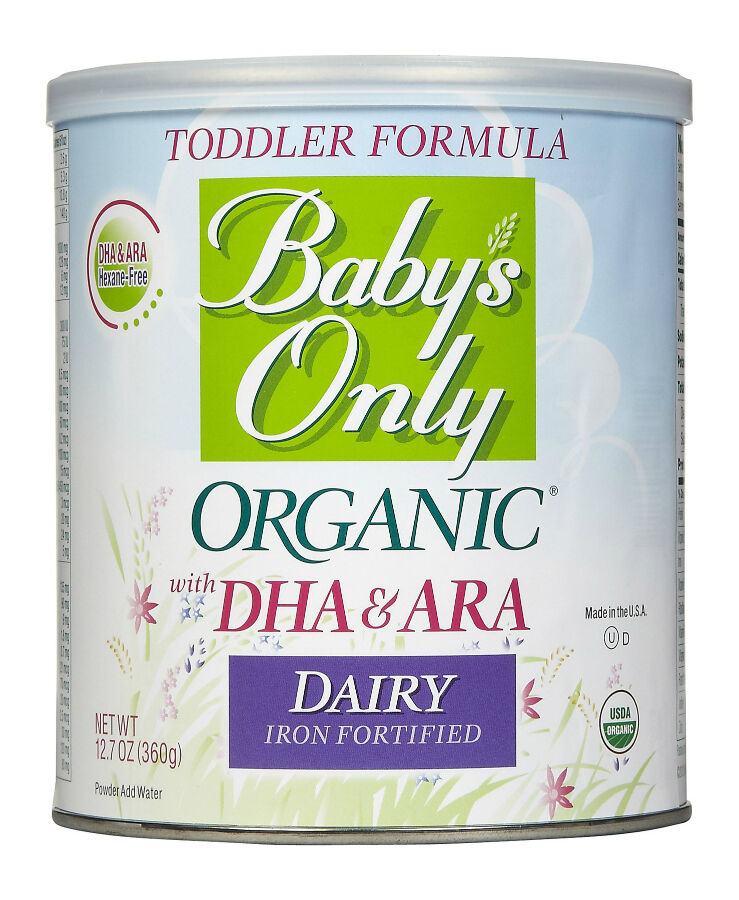 Breast milk is a natural source of two fatty acids, DHA and AFA, both vital to a young person's nutritional intake; children not breast fed receive the same nutrients from DHA- and ARA-enriched formulas. DHA directly impacts eye and brain health, and is linked with developmental increases. Since the body's ability to manufacture DHA and ARA is limited, it is essential to supplement infants' and toddlers' food for optimal nutrition.
---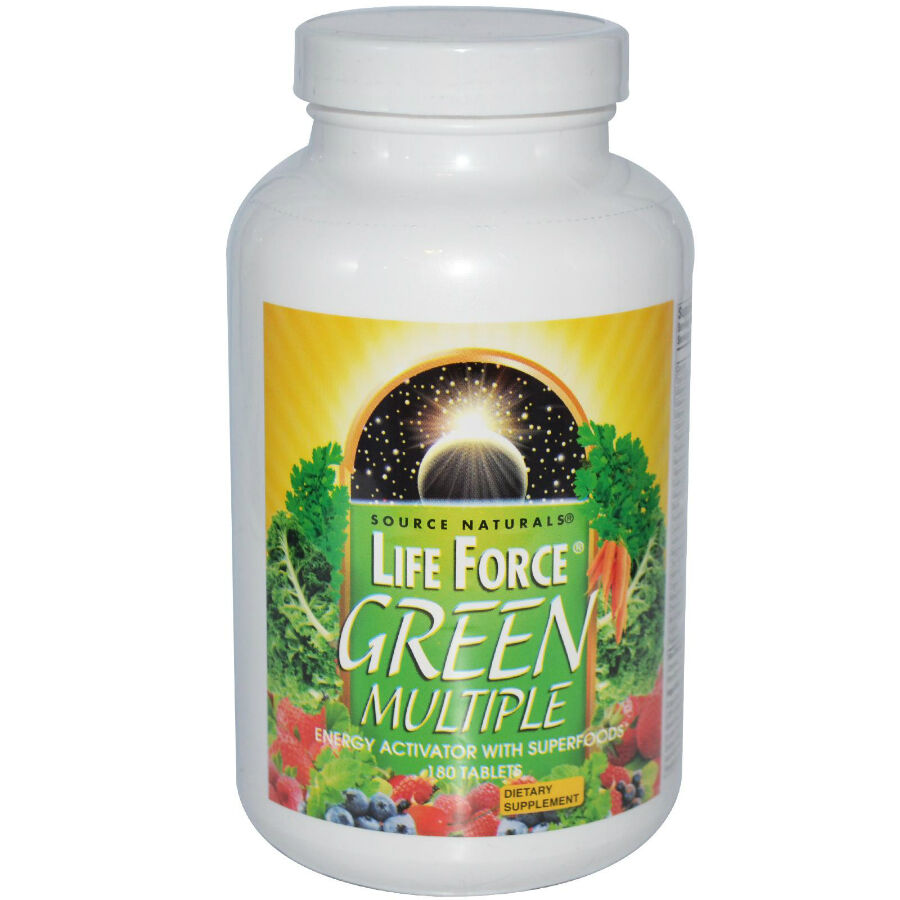 A recent buzzword on the health food circuits is "superfood." The term identifies basic foods that contain an abundance of nutrients, including not just vitamins and minerals, but also antioxidants and essential fatty acids. Superfoods are available at grocery stores and specialty food stores, and include the following: blueberries, strawberries, salmon, soy, spinach, oats, walnuts, oranges, and flax seeds.
---

Although fruits and vegetables may not be a kid's favourite, they are essential for a healthy diet. Fruits are packed with vitamins, minerals, antioxidants, and dietary fibre. Amongst the top nutrients found in fruit are Vitamin C, folate, and potassium. Contributing to a healthy weight, fruits improve a toddler's disease prevention and intestinal health. Eating the right balance of foods also contributes to better academic performance.
---

As a supplement to a growing toddler's diet, the high concentrations of protein and minerals found in cow's milk provide numerous health benefits. Milk's calcium builds strong bones and teeth, improves muscle control, and regulates blood clotting. Milk also contains Vitamin D, which helps the body absorb calcium and grow bones.
---
| | |
| --- | --- |
| 6 | Earth's Best Organic 1st Line |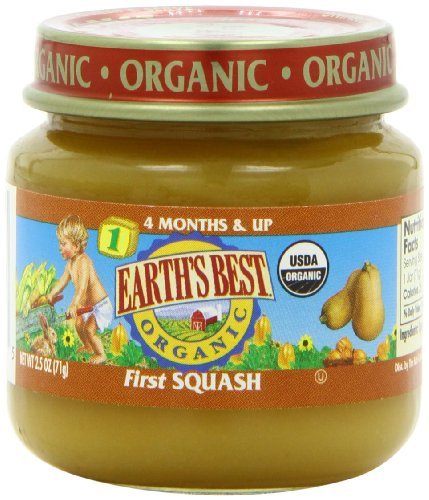 Earth's Best Organic has a line of products for infants, toddlers, and kid, making it easy for them to enjoy foods that are as delicious as they are healthy. Earth's Best has a Sesame Street line for toddlers, with snacks, meals, breakfast items, and fruit and yoghurt smoothies. Earth's Best Organic also makes organic juices, toddler biscuits, and tot snacks.
---
| | |
| --- | --- |
| 7 | Happy Baby Organic Puffs |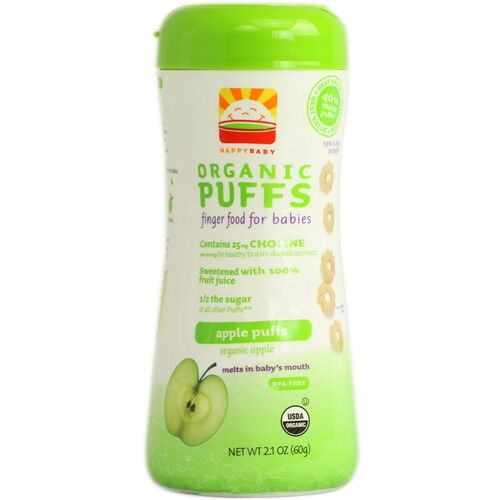 Encouraging self-feeding is a snap with Happy Baby Organic Puffs. Happy Puffs are one of many products geared toward small fingers and mouths. Sweetened with 100 per cent fruit juice and enriched with vitamins and minerals, the organic puffs come in four fruity flavours: purple carrot and blueberry, banana, strawberry, and apple.
---
| | |
| --- | --- |
| 8 | Gerber's Organic Baby Food |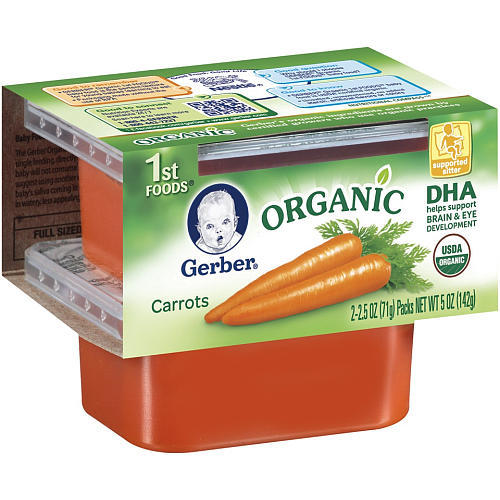 Gerber's rapidly expanding organic line is USDA-certified and carefully crafted. Products include both 1st and 2nd Foods fruits and vegetables, as well as 2nd Foods Fruit and Vegetable and 100 per cent Juice. Organic Puffs are sized right for a toddler's hands, fun to eat and delicious to taste. Selective parents may also look for Gerber's organic purees, cereals, and yoghurt pouches
---
| | |
| --- | --- |
| 9 | Peter Rabbit Organics Pouches |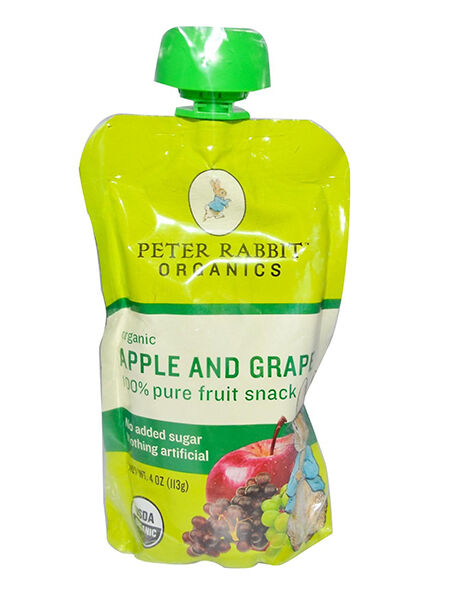 Peter Rabbit Organics provides healthy, mouth-watering fruit snack and veggie blend pouches, ideal for supplementing a choosy toddler's fruit and vegetable intake. The pouches contain 100 per cent juice and no fillers. Peter Rabbit makes seven fruit pouch flavours and six veggie blends-plenty of options for a young appetite.
---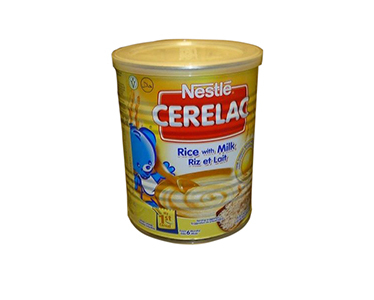 This tasty rice cereal is healthy, easy to digest, and almost universally non-allergenic, a milk-free product that can supplement breast feeding as a mother introduces her baby to solid food. Essential nutrients in Cerelac include calcium, iron, DHA, and Bl Bifidus for good digestion.
---
How to Buy Nutritious Foods to Feed Your Toddler on eBay
The first step to buying nutritious foods is knowing what to look for. From natural foods such as breast milk, superfoods, and fresh fruits and vegetables, parents have an array of options before them. When transitioning your children to solid foods, you can visit eBay to find a range of manufacturers and products from which to choose, including trusted names like Earth's Best Organic 1st Line, Happy Baby Organic Puffs, Gerber's Organic, Peter Rabbit Organic Pouches, and Nestlé's Cerelac Rice cereal. As always, eBay makes browsing and shopping easy, with photos, prices, and descriptions in search results. With so many options both at home and on the market, parents of young children should have no trouble finding foods that promote health and nutrition while delivering a taste that toddlers love.