When newborns grow out of their first
outfits
in a matter of weeks, it is important for parents to purchase the next size up. Many parents even sell their gently used infant clothing to help cover the cost of the next size, and to help other parents get a deal on great structure pieces. Before buying any new or used clothing items, remember that newborns are unpredictable: if the baby comes early it may be months before he fits into a newborn outfit, while other full-term babies fit right into the 3-6 month size. Therefore, it is a great idea to purchase multiple sizes. When looking for baby clothes, consumers should consider these top outfits for their newborns.
| | |
| --- | --- |
| 1 | Tommy Hilfiger Baby Snowsuit |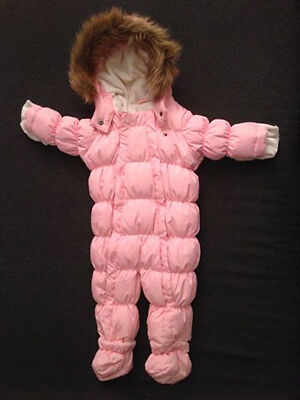 When bringing home a newborn in the coldest parts of winter, a bodysuit or snowsuit provides more practical warmth than a tiny baby winter coat. The Tommy Hilfiger baby snowsuit has hand covers, removable foot covers, a hood, and buttons down the front.
---
| | |
| --- | --- |
| 2 | Emma Levine Newborn Dress |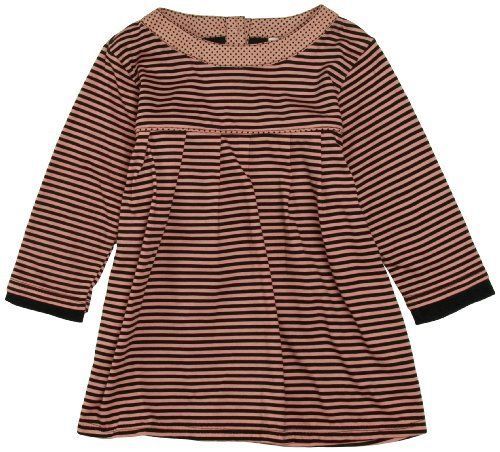 For a newborn daughter, Emma Levine dresses create a vintage look. The colour palette on many of the outfits is neutral, and each dress uses organic materials wherever possible. The manufacturer makes these dresses in 100 per cent jersey cotton with buttons in the back.
---
| | |
| --- | --- |
| 3 | Peter Rabbit 3-Piece Set |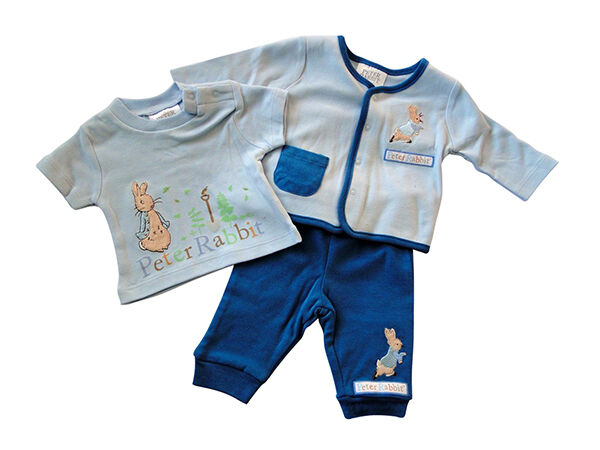 The 3-piece Peter Rabbit clothing set hearkens back to the classic childhood story, including imagery from the Peter Rabbit story on the T-shirt and printed leggings. The leggings come with covered feet, and the set also includes a T-shirt and a cardigan, all of which feature 100 per cent cotton.
---
| | |
| --- | --- |
| 4 | Mud Pie Baby Girl Newborn Little Sprout Petal Top and Bloomer Set |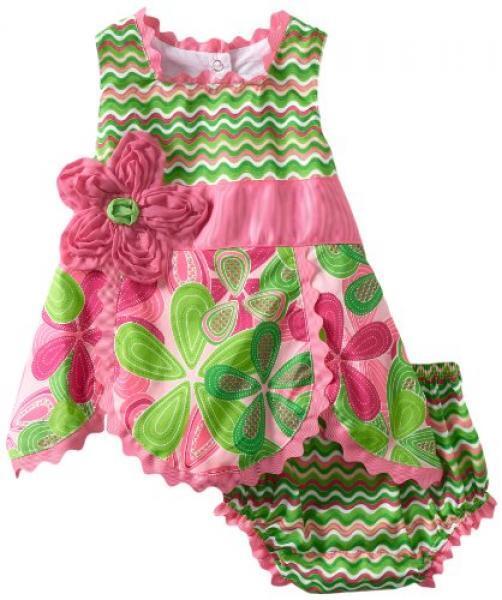 Perfect for little girls born in the spring and summer, Mud Pie's Little Sprout Petal Top and Bloomer set uses bright greens and pinks to invoke the look and feel of a flower. The top comes with a large flower adorned at the waist, and a striped set of bloomers. The set has no sleeves or legs, so it may be a bit chilly for girls born early in the spring months.
---
| | |
| --- | --- |
| 5 | Baby Aspen "Sweet Tee" 3-Piece Golf Layette Set |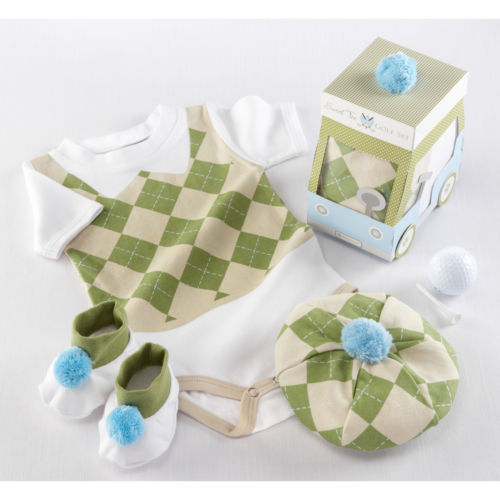 The "Sweet Tee" set by Baby Aspen includes a body suit, booties, and a tiny hat to invoke the look of a golfer. It comes with a gift box shaped like a golf cart, making it a cute gift for a family with a golfer. The bodysuit features short sleeves and emulates the look of an argyle sweater vest. Made from 100 per cent cotton, this set is machine washable.
---
| | |
| --- | --- |
| 6 | Brecrest Baby Outfit Set |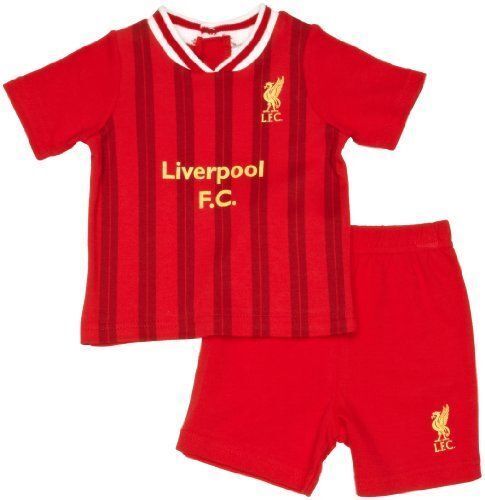 For the family of football fans, outfit sets from Brecrest Baby allow them to introduce the new addition young. Brecrest Baby outfit sets feature a top and pants; some sets come with sweatpants and sweatshirts, while others have jeans and T-shirts. All sets feature the colours and logo of various football teams.
---
| | |
| --- | --- |
| 7 | Pumpkin Patch 2-Piece Outfit Set |
For cute clothes that do not come at a high cost, Pumpkin Patch provides a wide variety of options. For summer babies, Pumpkin Patch offers tank top and knickers sets, while winter babies can wear leggings and long sleeves.
---
| | |
| --- | --- |
| 8 | Carter's 4-Piece Layette Set |
---
| | |
| --- | --- |
| 9 | Offspring Baby Apparel Baby Boy Newborn Footie with Hat |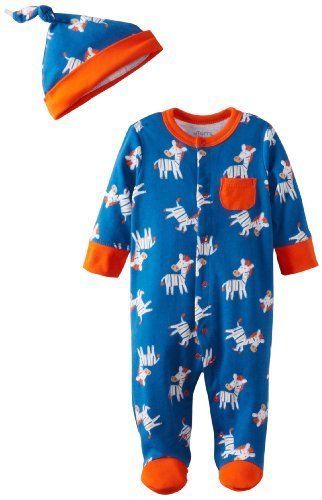 The footie and hat sets from Offspring come in colourful stripes, with a bright colour offset on the trim. The 100 per cent cotton set is also machine washable. The set features long sleeves and closed legs, with snaps down the front to keep the newborn warm and snug.
---
| | |
| --- | --- |
| 10 | Tadpoles Cable Knit Romper and Hat Set |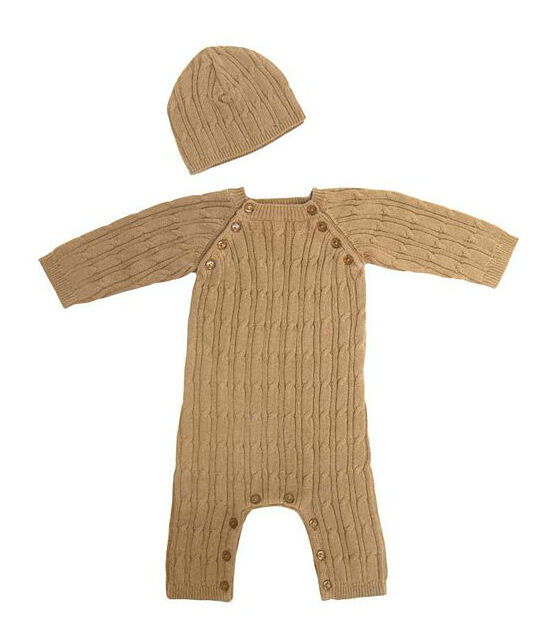 For a baby born in the coldest months of the year, the cable knit hat and romper set from Tadpoles keeps the newborn safe and warm. The cable-knit set comes in soft colours and features buttons at the shoulders and legs. The set is machine washable and made of 100 per cent certified organic cotton.
---
How to Buy an Outfit Set for a Newborn
Be specific when searching on
eBay
; include any brands, colours, or styles that appeal to you. When viewing a listing for used newborn clothing, determine what comes with the set and what condition it is in. Choose items that are appropriate to the climate when the baby is born; the goal is to keep the newborn snug and comfortable. If purchasing a gift, consider the parents' aesthetic preference; after all, if mom does not like the outfit, it may not get worn.