Portable boomboxes have evolved a great deal since they first became popular in the 1980s. Technological advances to these portable music players means that tape decks have made way for CD players, USB devices, MP3 players, and docking stations. Contemporary designs are sleek and the sound quality is excellent. Buyers should look for boomboxes that are portable and compatible with music devices. They should learn about the top 10
portable boomboxes
available in electronics shops, and online from marketplaces such as eBay.
| | |
| --- | --- |
| 1 | Logitech UE Mobile Boombox |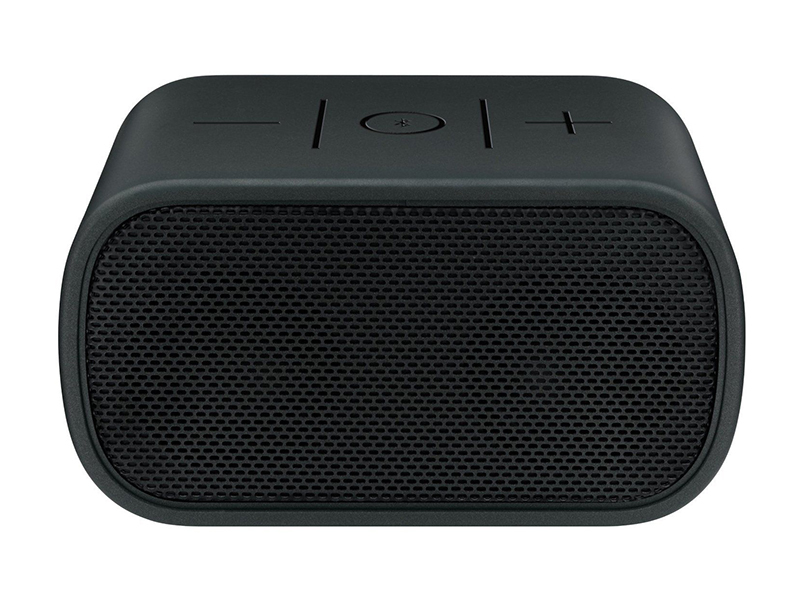 The Logitech UE mobile boombox streams music wirelessly from tablets and mobile phones. It also works with a speakerphone and has a mobile range of up to 15 metres. It has a 78-decibel maximum sound level and comes with two 1-inch full-range drivers. It has a micro USB rechargeable battery that lasts up to 10 hours.
---
| | |
| --- | --- |
| 2 | Cambridge Audio Minx Go |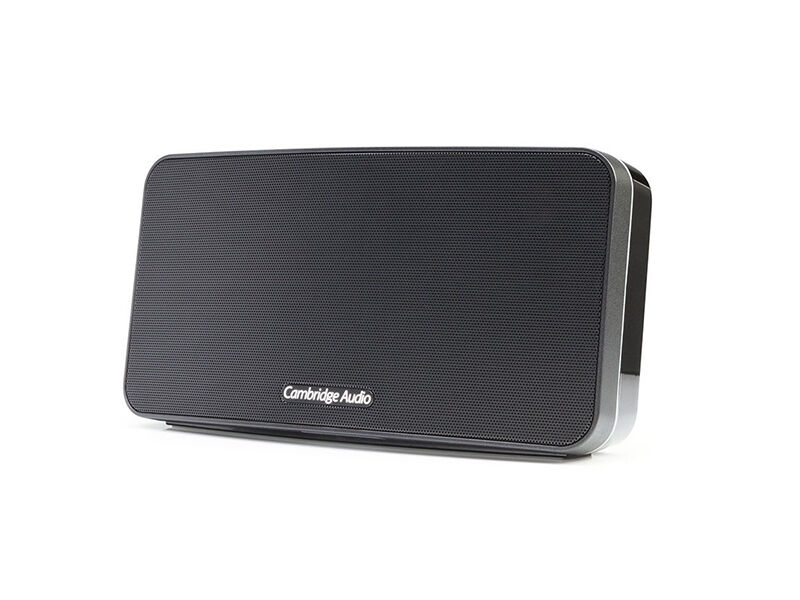 The Cambridge Audio Minx Go is a Bluetooth speaker that streams audio from mobile phones, tablets, and computers. It is quick and easy to set up, comes in sleek finishes, and has a high-performance rechargeable battery that lasts for up to 18 hours. It recalls up to eight previously paired Bluetooth devices, making it easy to listen to music from a variety of sources.
---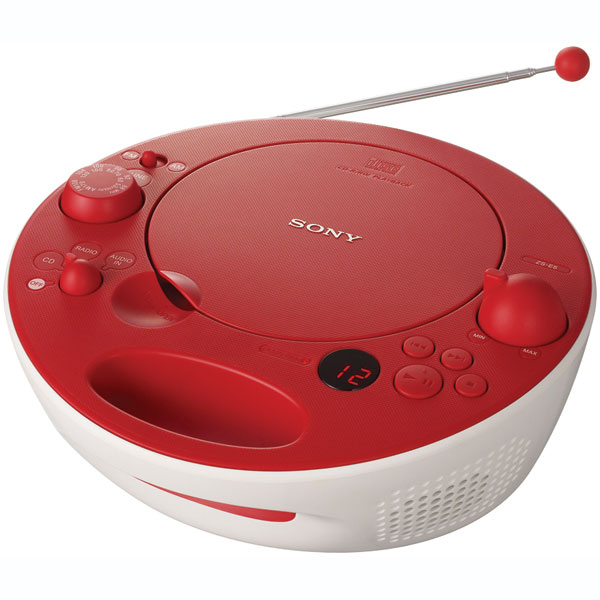 The Sony ZS-E5 boombox in two fun colours comes with a CD player, CD-R and CD-RW playback, and an integrated analogue FM/AM tuner. This boombox features two 1-watt stereo RMS speakers with one audio connection. It runs on AC power or batteries.. It does not play MP3s, so it is suitable for users that are looking for simple devices that can play commercial and user-created CDs.
---
| | |
| --- | --- |
| 4 | Harman Kardon GO-Play II |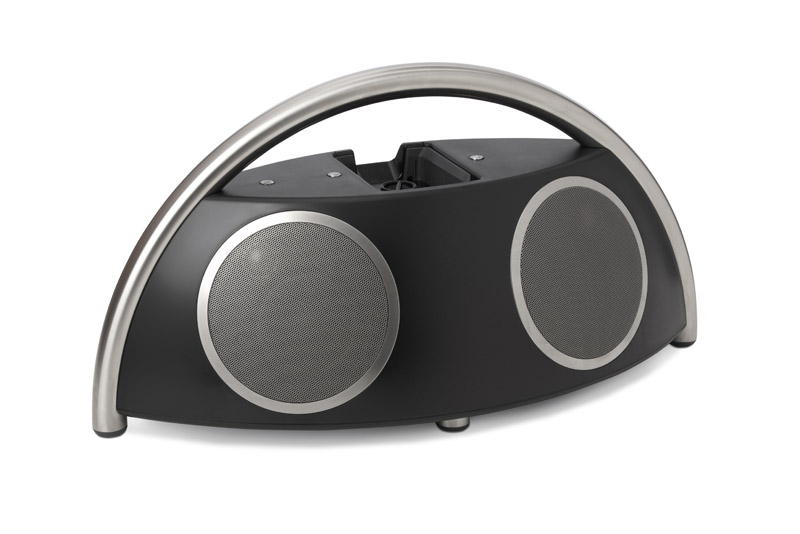 The Harman Kardon GO-Play II is a portable loudspeaker system ideal for iPods, iPhones, and other portable music players. It features two Ridge and two Atlas transducers and a 3.5-millimetre stereo input. The GO-Play II uses eight type D alkaline batteries or works on AC power, and charges docked devices.
---
| | |
| --- | --- |
| 5 | Beats by Dr Dre Beatbox (BDD) |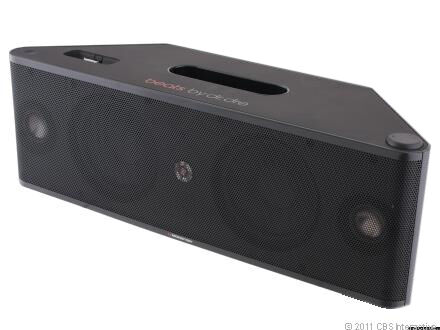 The Beats by Dr Dre beatbox is ideal for large rooms, as its high-voltage circuitry creates louder and deeper audio than other speakers of a similar size. Users can connect this device to music players or mobile phones. It has advanced components that provide more bass, more accurate response rates, and clearer sound. The Beatbox comes with a remote control for an iPhone or iPod.
---
| | |
| --- | --- |
| 6 | Altec Lansing MIX Boombox IMT810 |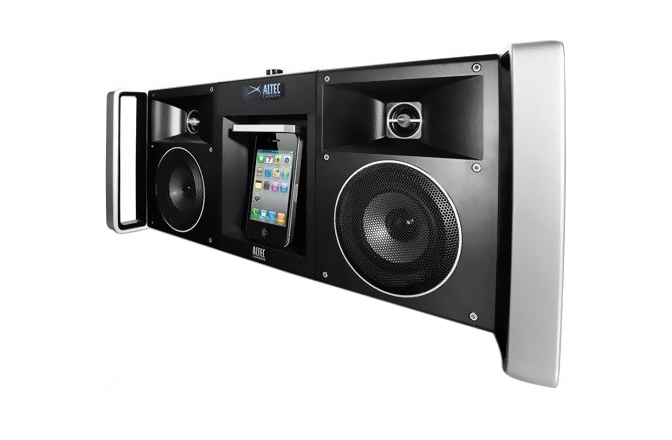 The Altec Lansing MIX boombox IMT810 comes with inputs for multiple devices, lasts for up to 30 hours, and delivers excellent sound quality. It has an integrated FM radio, two auxiliary inputs, and a storage slot for its remote control. The IMT810 is compatible with the iPhone 4..
---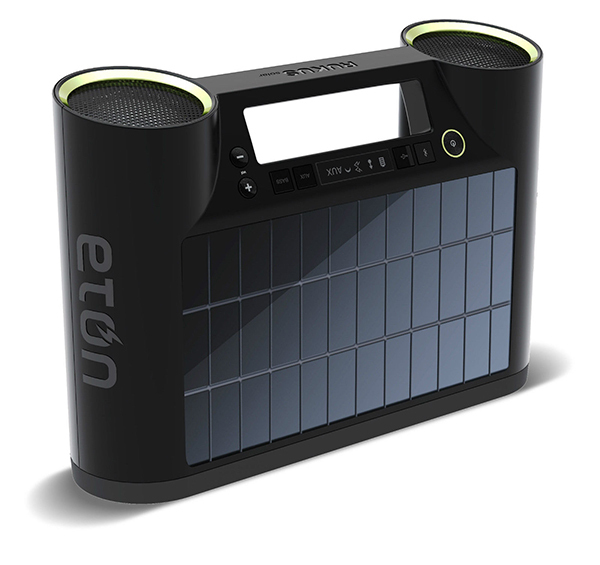 The eTon Rukus Solar features an efficient solar panel used to charge the boombox and mobile devices. Users can also charge the device using AC power. It has an E-ink display that is legible even in bright sunshine. It comes with a carrying pouch that shades mobile devices. The Rugged Rukus features two full-range speakers and Bluetooth wireless.
---
| | |
| --- | --- |
| 8 | House of Marley Bag of Riddim |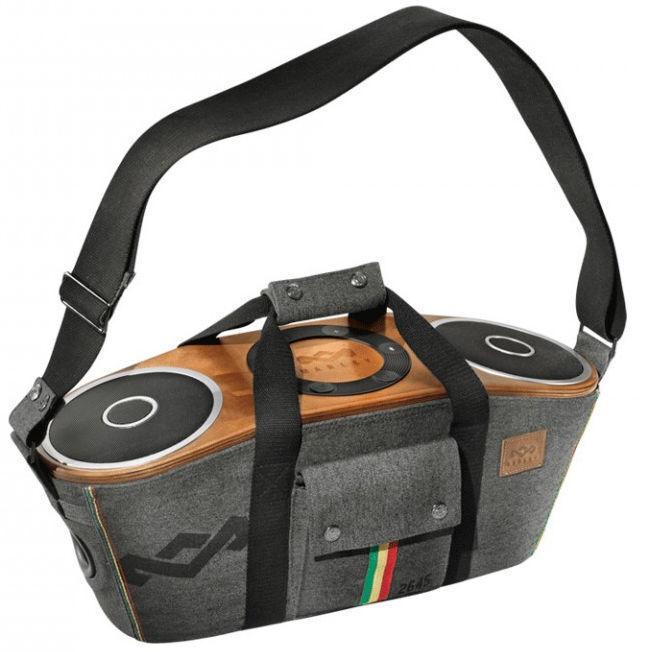 The Bag of Riddim is a boombox that comes in a stylish canvas bag with House of Marley branding. It charges docked iPods and iPhones, and an auxiliary input allows users to connect a wide range of music players and storage devices. It has 4.5-inch high-output woofers, 1-inch high-definition tweeters, and an amplifier for deep bass. It works on D-cell batteries or AC power.
---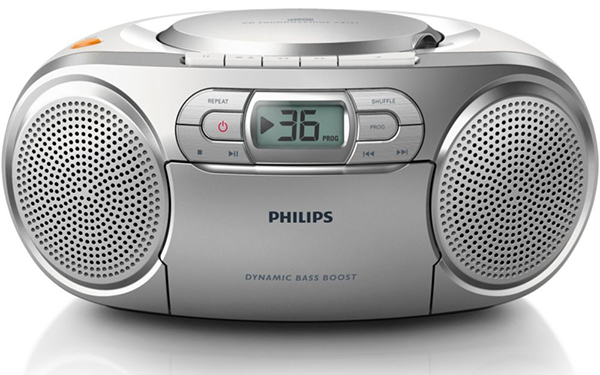 The Philips AZ127/05 plays CD,, CD-R, and CD-RW discs, and comes with an auto-stop cassette deck and FM tuner. The device is easy to use, with features such as CD shuffle and repeat. It has a 3.5-millimetre audio-in port and Dynamic Bass Boost for deep sound.
---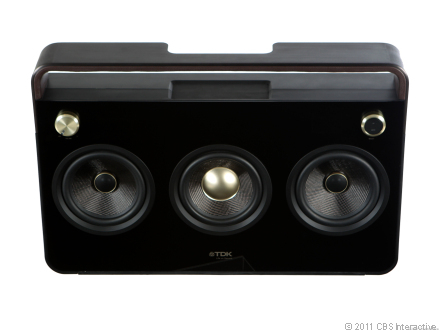 The 3-speaker boombox from TDK Life delivers loud sound in a retro package. It has two 6-inch coaxial drivers and a subwoofer, a USB input, 3.5-millimetre audio jack, auxiliary audio jack for instruments and mixing, and AM/FM tuner. It works on AC power and 12 D-cell batteries.
---
How to Buy a Portable Boombox on eBay
eBay has a wide selection of portable stereos and boomboxes. To search, type a phrase, for example " JVC boombox", into the bar that appears on every page. Browse the items on offer or narrow your results by choosing the most appropriate product specifications. When shopping for boomboxes, buyers should consider factors such as portability, ease of use, compatibility, and sound quality. Devices with 3.5-millimetre audio jacks and USB connectors are more versatile.