Pram accessories
help parents get the most out of the
pushchair
. As children grow and their needs change, adding a few new accessories helps to extend the usefulness of the
pram
. Many pram accessories keep a baby or young child comfortable in bad weather or while they nap, and they can keep a bored, fussy baby amused. Pram accessories are also make parents' lives easier. Whether shoppers purchase them from a local baby supplies shop or online at eBay, a little research into the features and benefits of the top pram accessories makes shopping quick and easy.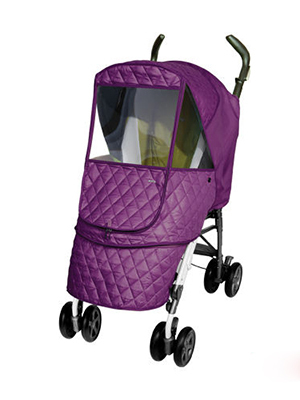 Parents want to keep their babies safe and comfortable. Babies and small children cannot handle sun, rain, heat, and cold as easily as adults can, so using pram covers keeps babies comfortable in all weather. Other types of pram covers available include cat nets and insect nets.
---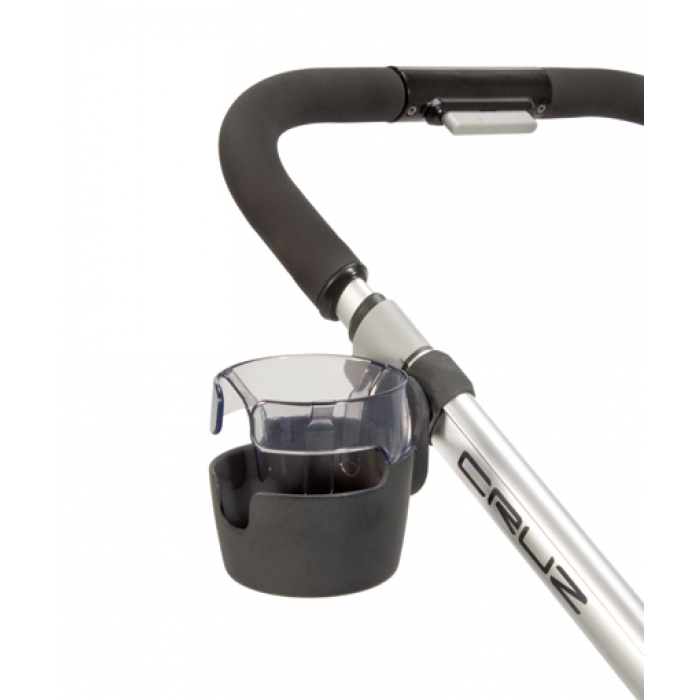 Many prams, strollers, and buggies do not come with cup holders. However, shoppers can purchase them separately. The Bugaboo cup holder is an accessory that attaches onto the handle of many prams and can hold beverages up to 700 ml.
---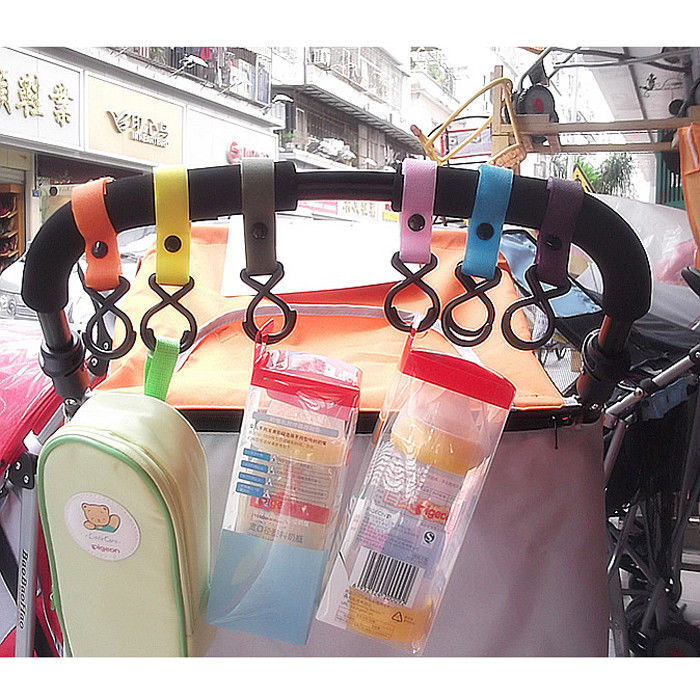 Parents often find that they have a number of things to carry while pushing a pram or stroller, so they can add a hook or two to the handle to carry items such as purses and grocery bags. The Think King Mighty Buggy Hook has a clipless design that makes it easy to slip items on and off, and the hook is big enough to accommodate wide purse handles. The Mommy Hook is a large, heavy-duty hook that can hold multiple bags.
---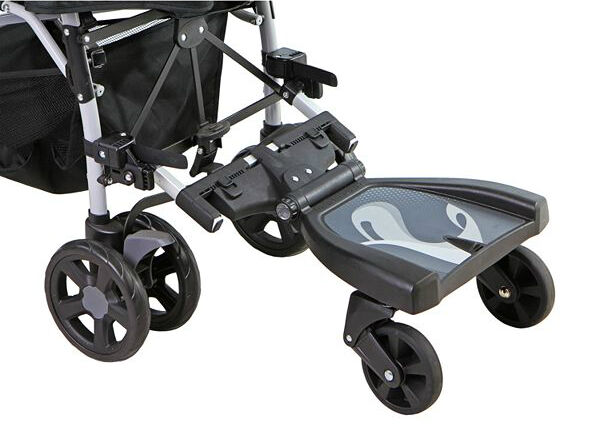 Families with preschoolers who are too big for a pram or stroller, but may not have the stamina to keep up, find a stroller board useful. The Mothercare Hop On Stroller Platform sits on most strollers, pushchairs, prams, or tandems. The anti-slip surface and anti-vibrate tyres ensure that any toddler from approximately 2 years old up to 20 kg is safe and comfortable. Another option is the Lascal Buggy Board.
---
---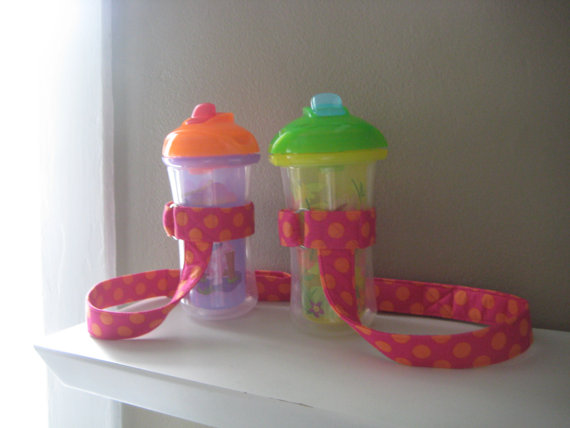 Babies can easily throw or drop their toys out of a pram or stroller. However, when attached to a toy strap, parents do not have to worry about the toy hitting the ground and getting dirty or becoming lost. Toy straps, like the Baby Buddy Secure-a-Toy, come in many colours and keep favourite toys safe and secure.
---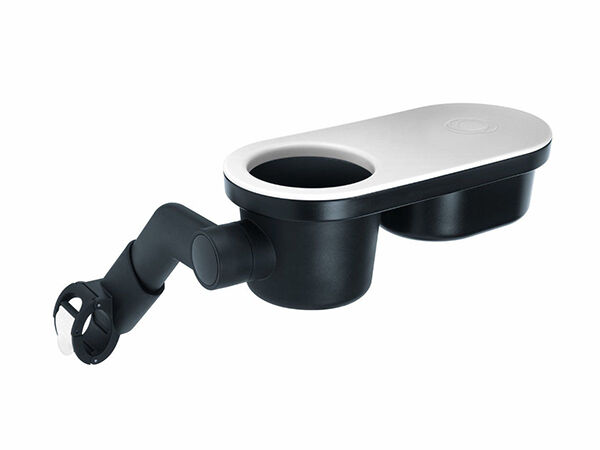 A snack tray is a favourite pram or stroller accessory amongst parents. Many snack trays, such as the Bugaboo Bee Snack Tray, have space for a bottle or cup plus compartments to hold snacks. Most snack trays are durable, easy to clean, and easy to use.
---
| | |
| --- | --- |
| 8 | Cosy Toes and Footmuffs |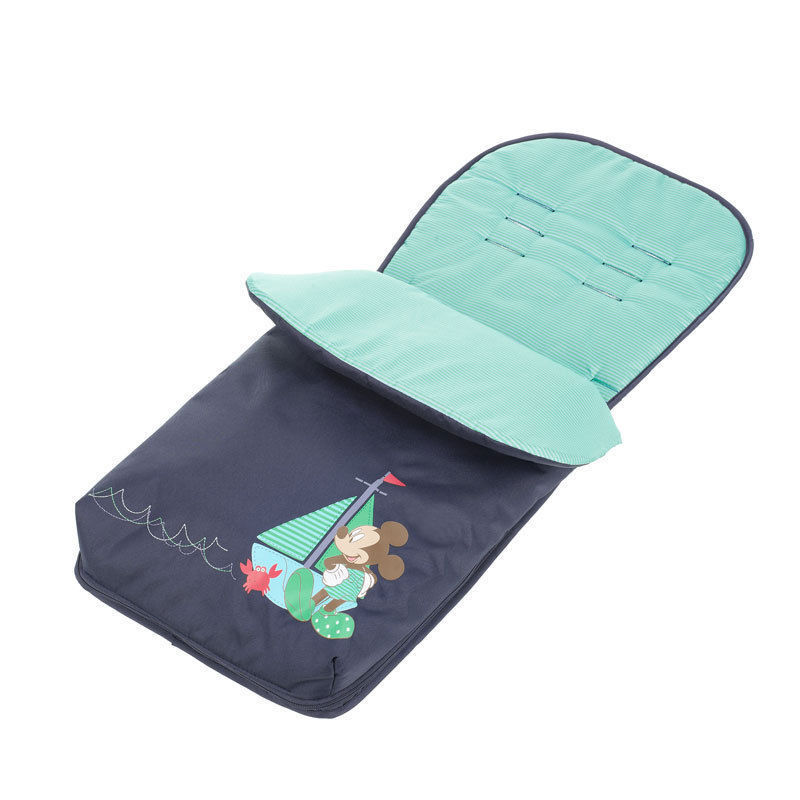 Designed to keep babies and young children snug and warm, cosy toes or footmuffs wrap them up in a comfortable cocoon. Footmuffs are suitable from birth and easily attach to most pushchairs, prams, and strollers.
---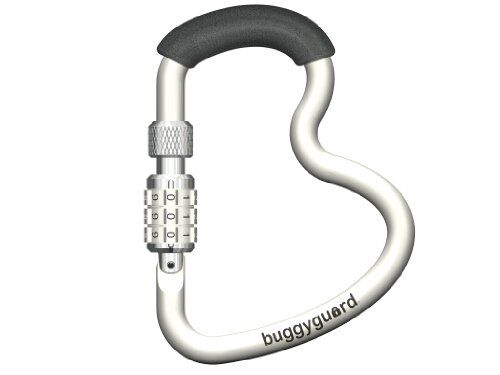 Parents invest a lot in a pram, pushchair or stroller, so using a stroller lock allows them to attach the pram to a stationary object such as a fence or thread it through the wheels to stop them from rolling. Most stroller locks have a three-digit combination and 1 m of cable, allowing it to attach to almost anything.
---
Pram Organiser
A trip out with a baby or toddler often means carrying keys, a wallet, mobile phone, and a variety of other things. Additionally, many parents carry items to keep their children comfortable and happy such as drinks, snacks, or small toys. A pram organiser, such as the Buggy Buddy from Diono, fits easily onto the handles of a pram or pushchair and keeps many necessary items nearby.
How to Buy Pram Accessories on eBay
When buying pram accessories on eBay, you can begin by typing a keyword or phrase into the Search box found on any eBay page. For example, type " pram organiser" if you want something to hold your important items. From there you can narrow your search by brand, type, condition, colour, and other important criteria. Once you have found an item, look at the seller's feedback to see how others rated the seller. Whether you are looking for something to keep baby warm on cold days, amused when bored, or something to hold snacks and drinks in, there are many pram accessories to choose from.