Colourful and patterned cellophane bags offer an appealing and cost-effective way to present handmade gifts and party favours. Pretty packaging is a great marketing tool that will enhance whatever it contains so read on to choose your perfect gift bag from our top 10.
10. Party Piece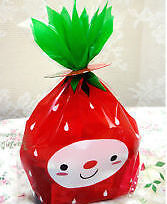 Make your children's party go with a swing by using pretty cellophane bags to give out prizes for party games and for sending favours home with the kids. Perfect for sweets, hair accessories, or small toys, these bags add a fun touch to party proceedings. Available in a myriad of patterns and colours, you could choose one for the boys and one for the girls if your presents differ or keep it chic with minimalist single colours.
---
9. Zip It Up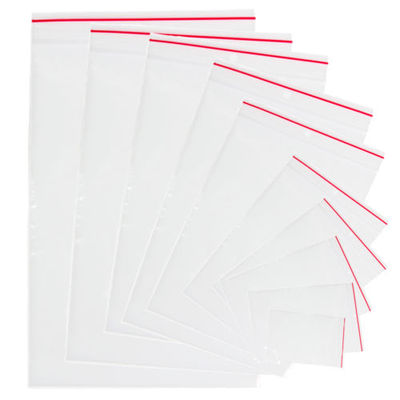 These neat little bags are the ideal choice for keeping small items, such as jewellery, safe. If you make or sell craft or jewellery items use these when transporting and selling your gifts. Zip lock bags are easily and quickly closed up to ensure the precious cargo inside is contained and displayed safely. They won't come undone unintentionally and so are suitable for storing items and for sending gifts through the post.
---
8. Cookie Cutie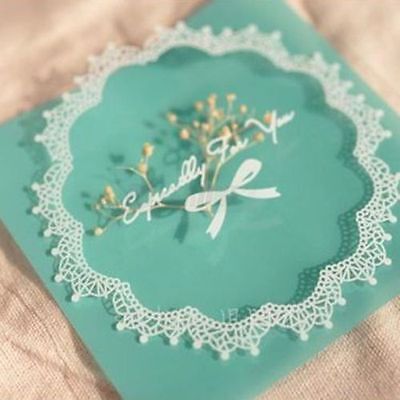 If baking is your thing you'll need a stunning way to present your wares, so look no further than this pretty little number. The patterned cellophane top will frame a cookie perfectly and make sure it looks good enough to eat! Various designs are available to reflect that special occasion or to present your home-baked cookies at farmers' markets or cake sales.
---
7. Happy Hampers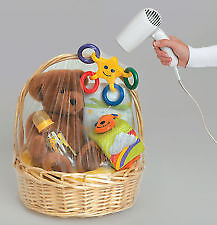 Perfect for presenting homemade crafts and hampers, especially if they are awkward shapes! These shrink-wrap bags are simple to use. Place your item in the bag, tie it up with ribbon, then shrink to fit by using a hairdryer evenly all around your product. A neat and tidy way of keeping a basket of goodies together that looks spectacular and lends a professional edge to your home-made gifts. Measures 24"x30".
---
6. Crystal Clear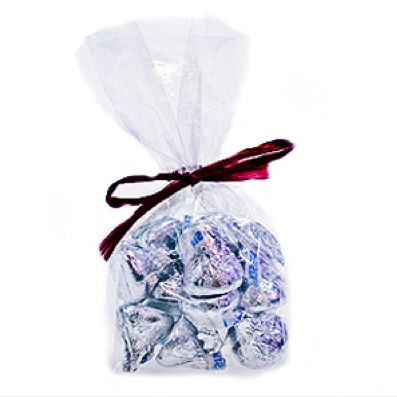 Display your confectionery and multi-coloured items at their best with these clear cellophane bags. Simplicity itself, these bags lend themselves perfectly to housing lots of brightly coloured items. Fill them up, tie up the tops with pretty ribbons, and hey presto, you have an attractively packaged gift. These bags are available in an amazing 28 different sizes, including C5, C6 and C7.
---
5. Sweet Treats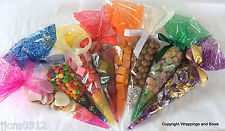 Old-fashioned ways are often the best and these cute sweet cones take their influence from the "twists" of confectionary sold in the sweet shops of the past. These bags are available in crystal clear cellophane or with coloured tops and tips. They are food-safe and can be sealed with ribbons or twists, which may be sold separately, so do check first.
---
4. Wedding Windows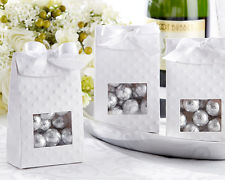 These white window bags reveal a modest peek at what's inside, perfect for individual wedding favours. Presentation is everything and these paper and cellophane bags in white are both very pretty and very practical. They complement the whites, silvers and golds associated with traditional wedding themes and can be personalised with tags or stickers.
---
3. Beautiful Bottles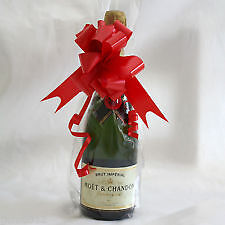 Wine is a popular gift and these clear bags mean your bottle looks attractive and classy and more than just stuffed in a pre-purchased 'bottle bag' with little thought. These bags, which are suitable for both standard wine bottles and Champagne bottles, are available with a choice of red, green, yellow, gold, silver and white coloured bows to top off the look. A quick and easy way to add a touch of glamour to your special occasion gift.
---
2. Handy Handles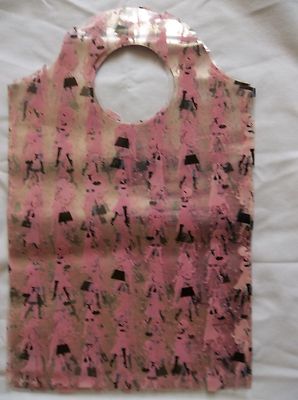 There's no need to spoil the surprise with these handy little hanging bags.
Simple yet effective, these bags can be hung over door handles or hooks to ensure the gifts they contain cannot be missed. Handy hanger bags mean that secret presents can be left for loved ones as a surprise on a bedroom door or kitchen cabinet. The handles also make these cellophane bags a great choice for kids' party favours – no need to tie up or close the bag.
---
1. Ultimate Party Theme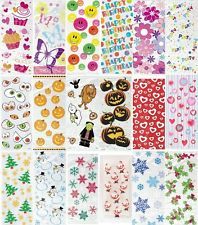 From pumpkins to pirates, wedding bells to Christmas trees, there is a bag out there to suit every theme you can imagine. Choose a pattern to match your event and your party will go with a swing, providing a talking point among your guests. Kids will love pumpkin-featured Halloween bags to collect their sweets and lollies in, or choose pirate bags to give out birthday loot. Tie them up with pretty ribbons or stick them down, these versatile bags deserve to come top of the pile when it comes to completing the perfect party theme.