Sliding on a pair of slippers is one of the first things that many people do when they get home from a long day of work. Slippers should be comfortable as well as functional.
Rubber-soled slippers for men
are great because they last longer and some men need slippers that they can wear outside as well as inside. Replacing slippers with regular shoes just to take out the rubbish is frustrating sometimes. Many popular manufacturers make rubber-soled slippers for men and some have several models to choose from. For example, there are slippers that slide on quickly, or that lace up to keep them securely in place. Overall, the best kind of slippers to shop for is a matter of opinion.
| | |
| --- | --- |
| 1 | Sorel Men's Falcon Ridge Slippers |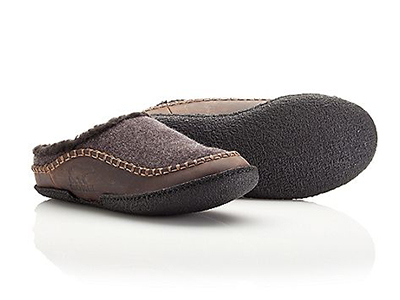 The Sorel Men's Falcon Ridge Slippers have a low edge around the heel to keep them in place without making it difficult to put them on. The exterior is suede and inside there is a removable EVA footbed. The flexible, rubber soles are comfortable and perfect for indoors, but can also withstand temporary use outside. Of course these also have the famous Sorel logo on the side.
---
| | |
| --- | --- |
| 2 | Old Friend Men's Moccasin |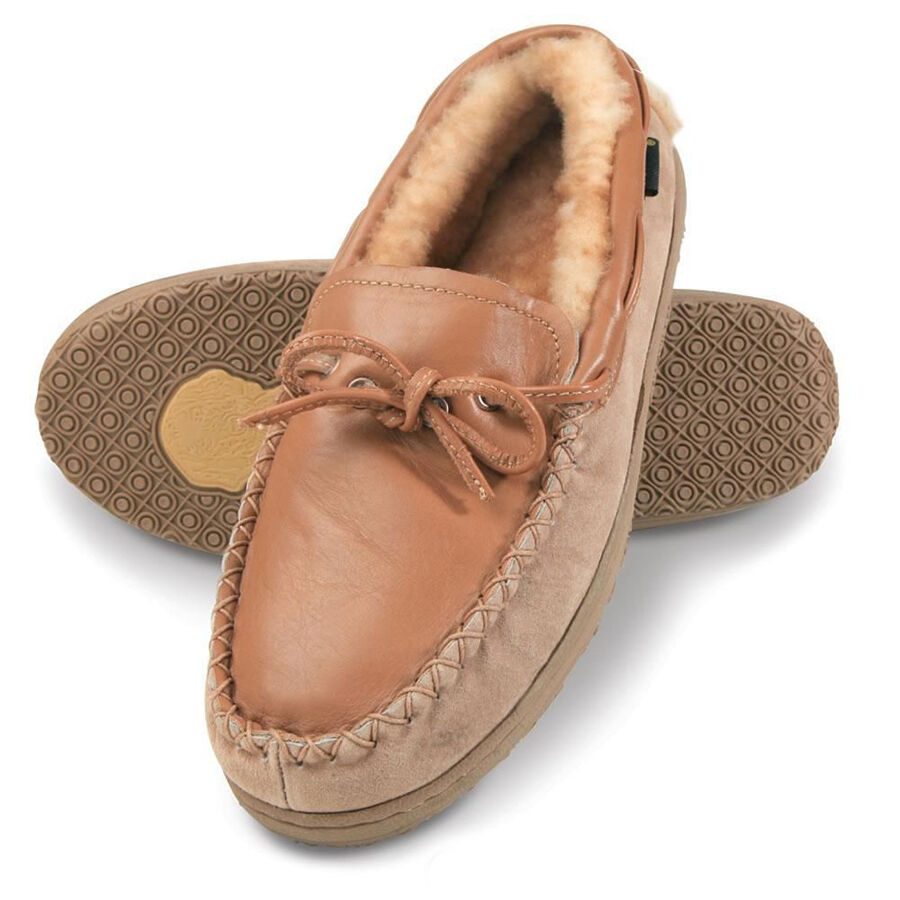 Enjoy the soft, warm, and comfortable sheepskin inside of the Old Friend Men's Moccasins. These have a full-sized heel but men can still slip them on without too much trouble. They are hand-stitched around the toe for a decorative accent and the insoles come out so that men can replace them with custom orthotics. Unlike many slippers, these also have small arch supports to keep the feet supported while walking around the house.
---
| | |
| --- | --- |
| 3 | Isotoner Men's Microterry Slippers |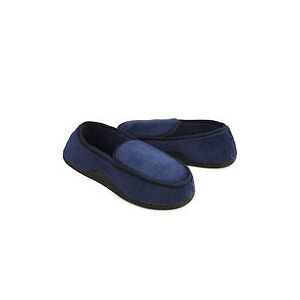 Isotoner made their men's microterry slippers out of a material that is extra soft and lightweight. They also put memory foam inside of the slippers for maximum comfort. With the ergo soles men can use these indoors and outdoors without wearing the slippers down or worrying about foot protection. The Isotoner Men's Microterry Slippers are available in black, tan, and blue.
---
| | |
| --- | --- |
| 4 | Sorel Men's Manawan Slippers |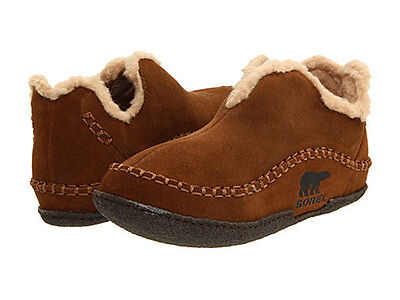 The Sorel Men's Manawan slippers contour to the feet and have a natural appeal to them. The exterior is suede and the interior is a wool and acrylic blend with a moulded EVA insole. The Sorel insoles are not removable on this model. Feel free to wear them outside or inside.
---
| | |
| --- | --- |
| 5 | Men's Cody Sheepskin Slipper by Slippers International |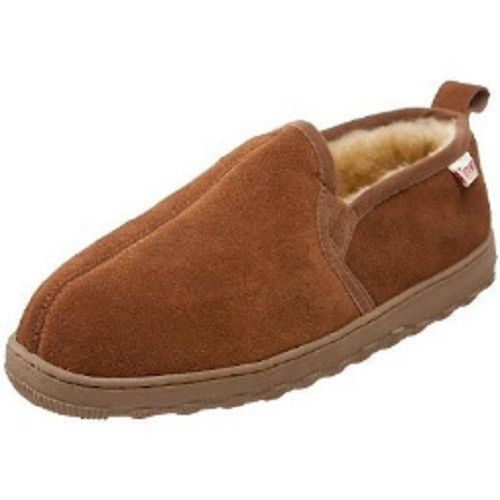 Slippers International has been in business since the 1930s so they know how to make appealing footwear. These have a thick rubber sole so wearing them outside is not a problem and the elastic sides around the ankles help keep them in place. These also have a memory foam insole that contour to the shape of a man's foot. The slippers are available in brown and tan colours.
---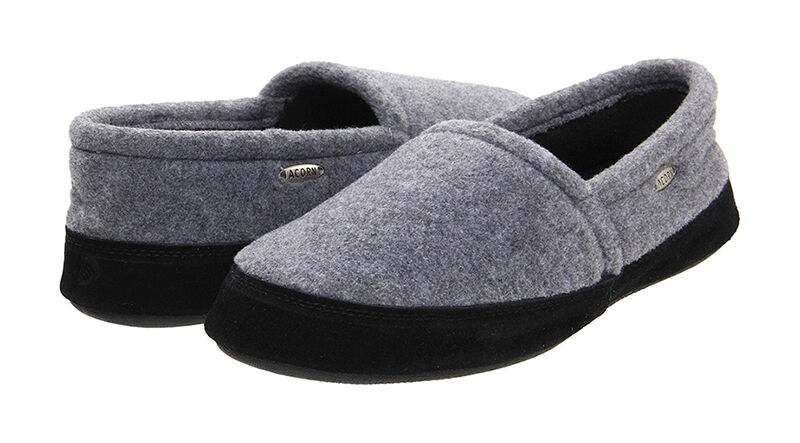 The ACORN Polar Moc slippers keep feet warm and comfortable with their fleece lining. The thin rubber sole is flexible and best for indoor use, but men can wear them outdoors if needed. Around the rubber sole is a fleece sidewall for extra durability. The inside is highly padded and the EVA insole provides a little support.
---
| | |
| --- | --- |
| 7 | L.B. Evans Men's Atlin Terry Slippers |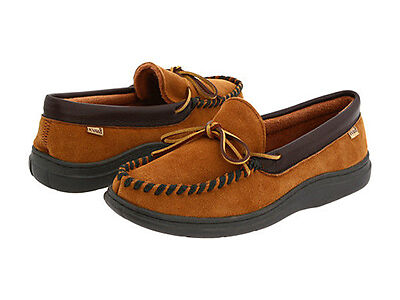 Those looking for more sophisticated slippers that they can wear any place may like the L.B. Evans Men's Atlin Terry Slippers. The lining is faux fur which is both warm and soft. The sole has a good amount of traction so these are perfect for outdoor wear. The slippers have a leather lining around the ankle that's a classy touch and contrasts with the suede exterior.
---
| | |
| --- | --- |
| 8 | Men's Trailer Moccasin Slippers by Slippers International |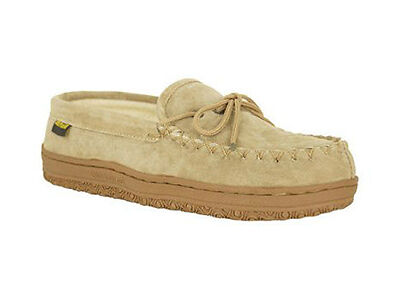 Never have chilly feet again with the men's Trailer Moccasin Slippers by Slippers International. The fleece lining inside is warm and comfortable without making the feet sweat and the sole is appropriate for indoor and outdoor wear. Get them in black, brown, or tan. The stitching around the toe gives them the traditional "moccasin" look and the memory foam footbed is sure to impress all who wear them.
---
| | |
| --- | --- |
| 9 | Minnetonka Men's Hardsole Pile-Lined Slippers |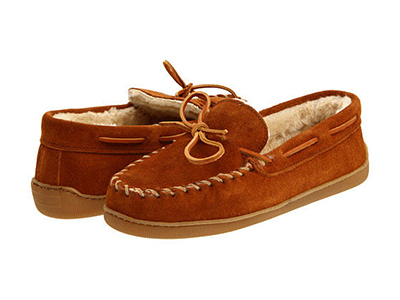 Slide into comfort everyday with the Minnetonka Men's Hardsole Pile-Lined slippers. Their pile-lined sole is durable without making the slippers feel like traditional shoes. They come in brown and tan suede colours and feature matching laces.
---
| | |
| --- | --- |
| 10 | BEARPAW Men's Moc II Slip Ons |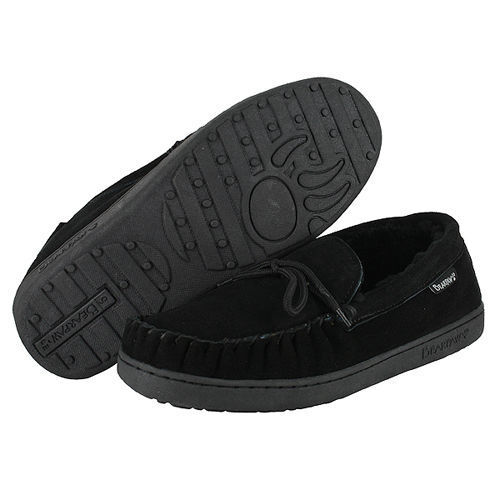 These suede slippers are lined with luxurious sheepskin and to prevent sweating, the slippers are moisture wicking. No one can go wrong with the BEARPAW Men's Moc II Slip Ons. Like most moccasins, they are suitable for light outdoor wear without detracting from comfort.
---
How to Buy Rubber-Soled Slippers for Men
Choosing a comfortable pair of men's slippers does not have to be that complicated. While there are hundreds of options on the market, from leather to suede and fur, every man has his ideal pair in mind. On eBay you can view thousands of products in one place rather than shop around. Type the product keyword phrase into the eBay search bar to generate a list of men's slippers. When the list appears, narrow it down by entering your price range and selecting the shoe size. Whether you want to buy slippers for a gift or to keep extras around for visitors, rubber-soled slippers are a warm treat for men's feet.