Finding the right
baby bottle
is a challenge for many new parents. With so many different sizes, shapes, and types to choose from, deciding which one comforts the baby while ensuring his or her safety is a difficult decision. From stainless steel and plastic to silicone and disposables, the possibilities are overwhelming. Whether buyers are looking for a bottle that most resembles the breast or one that is safe and environmentally friendly, they find what they are looking for from local retailers or online at eBay. Learning about some of the safest types of bottles helps parents decide which bottle is best for baby.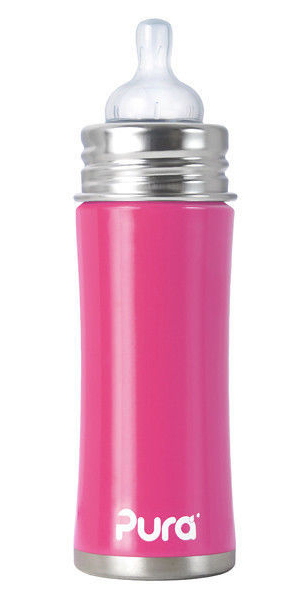 Pura Kiki carries a line of bottles which range in size, and they are available with various features and accessories. Made from durable stainless steel, Pura Kiki bottles are not only safe and corrosion resistant, but environmentally friendly as well. The bottles are PVC, petroleum, and BPA-free. They also come equipped with stainless steel lids for added protection. The medical-grade silicone nipples offered by Pura Kiki promote a breastfeeding like experience by ensuring a strong seal between the nipple and the baby.
---
| | |
| --- | --- |
| 2 | Comotomo Natural Feel Bottles |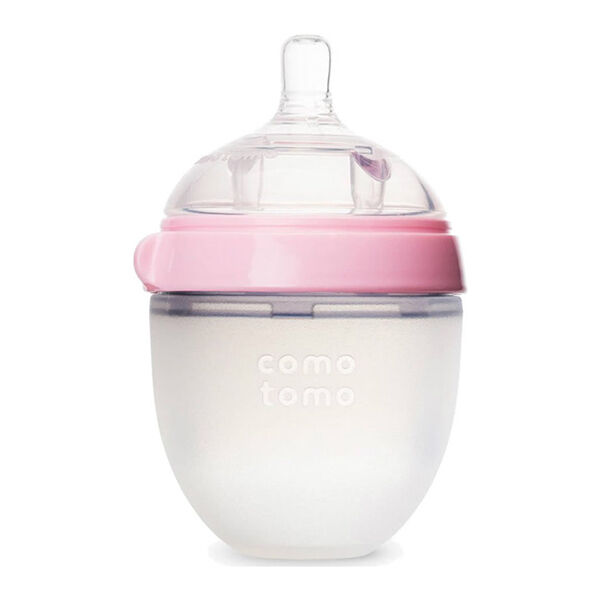 Comotomo Natural Feel offers a line of bottles available in sizes ranging from 148 ml to 250 ml. The bottles are BPA and PVC-free to ensure safe drinking. The bottles are made of soft silicone in order to give the baby a feel similar to the mother's skin. Comotomo Natural Feel bottles also feature a wide neck for easy cleanings and are equipped with silicone nipples. An air venting system also helps reduce bubbles which cause fussiness and colic.
---
| | |
| --- | --- |
| 3 | Lifefactory Glass Feeding Bottles |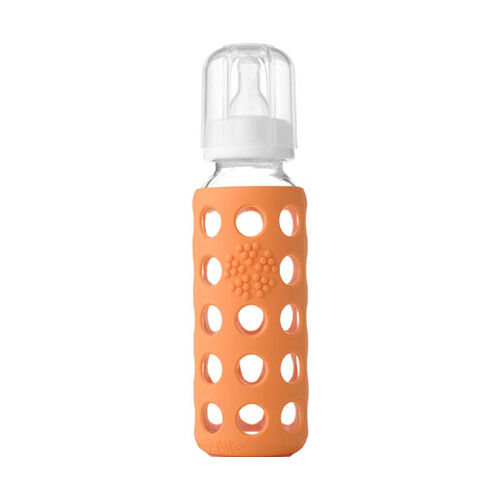 Made from thermal, shock-resistant borosilicate glass, Lifefactory glass feeding bottles are transferable straight from the freezer or refrigerator to hot water. The bottles are BPA-free and phthalate-free. They are also fitted with a silicone sleeve for better gripping and protection against breakage. The FDA-approved bottles also feature polypropylene caps and silicone nipples to ensure baby's comfort. The bottles are available in 116 ml and 266 ml sizes.
---
| | |
| --- | --- |
| 4 | Tommee Tippee Closer to Nature Bottles |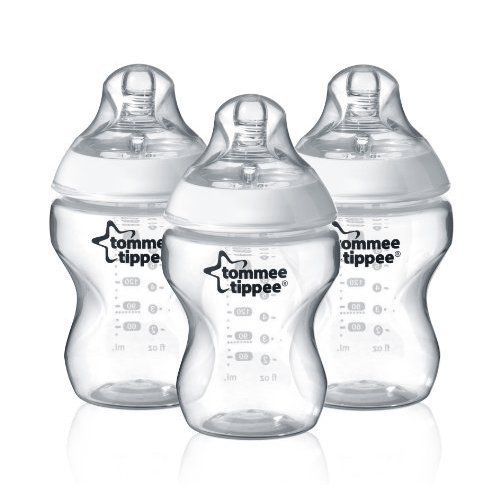 Tommee Tippee offers a wide range of bottles and accessories designed with baby's safety and comfort in mind. Made from BPA-free plastic and offering a compact shape, the Tommee Tippe Closer to Nature bottles offer the baby a natural feel. The bottles come equipped with a soft silicone nipple that stretches and flexes in order to mimic the mother's breast. The bottles also feature an Easi-Vent valve to reduce air intake and decrease the chance of colic.
---
| | |
| --- | --- |
| 5 | Playtex Drop-Ins Bottles |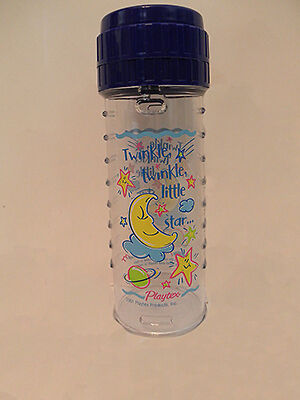 Designed to closely resemble breastfeeding, Playtex Drop-Ins are BPA-free and phthalate-free. With a patented venting system and disposable liners, the bottles work to reduce air intake and colic. The bottles are available in different colours including blue, yellow, and green. Playtex Drop-Ins are equipped with silicone nipples offered in different stages starting with newborn. The bottles are a good choice for transitioning from the breast to bottle.
---
| | |
| --- | --- |
| 6 | Born Free Wide Neck Bottles |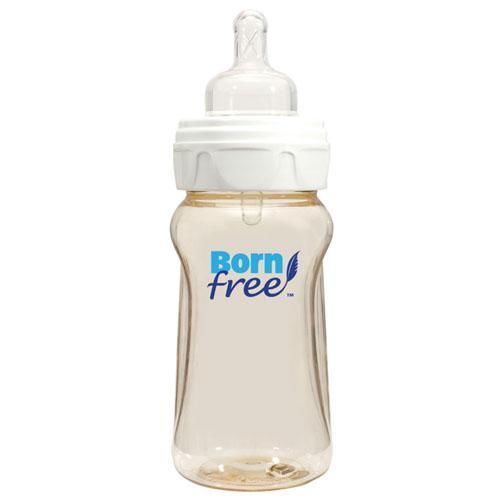 Born Free wide neck bottles are ideal for reducing colic. The bottles feature an air venting system and a design that ensures an even liquid flow. The bottles are BPA-free and equipped with silicone nipples available in different stages such as stage two for infants 3 to 6 months of age. Lightweight and contoured for an easy grip, the feeding bottles are also available in an array of sizes including 150 ml and 260 ml. The bottles are available in plastic, glass, or with an eco-friendly design.
---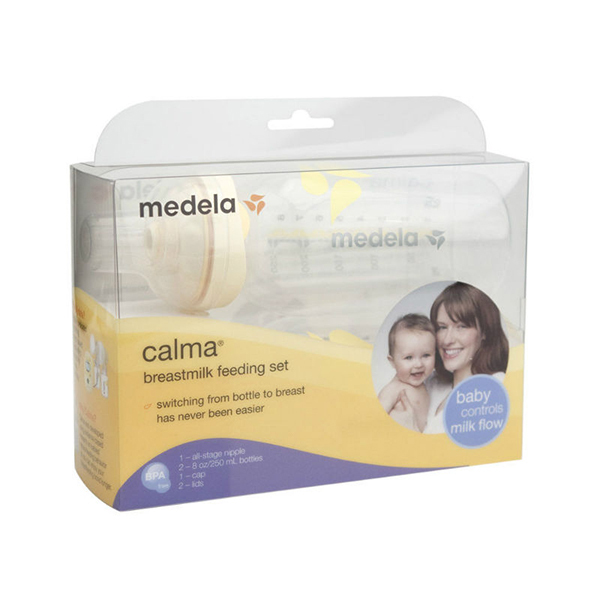 Medela feeding bottles safely store breast milk while retaining its beneficial properties. Made from BPA-free polypropylene, the bottles are also fitted with silicone nipples which resemble the mother's breast. The bottles are available in 150 ml and 250 ml sizes and can also be fitted with labelling lids.
---
| | |
| --- | --- |
| 8 | Dr. Brown's Natural Flow Standard Bottles |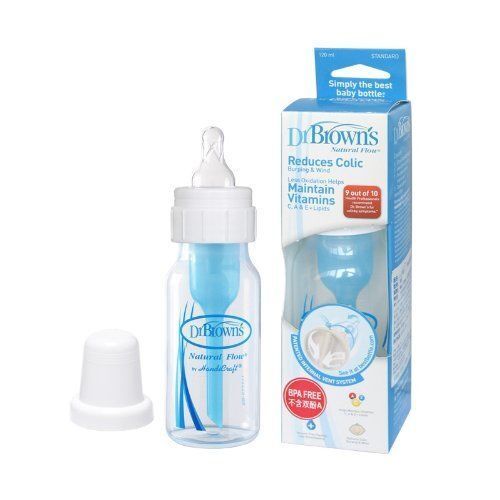 Dr. Brown's natural flow standard bottles are PVC, lead, and phthalate-free. The plastic bottles offer a traditional narrow design for comfortable handling and a venting system which helps to reduce bubbles. The reduction of air intake helps preserve the nutrients of the milk or formula. The bottles are available in different sizes including 118 ml and 250 ml and are equipped with silicone nipples that provide different flow rates.
---
| | |
| --- | --- |
| 9 | Adiri NxGen Nurser Bottles |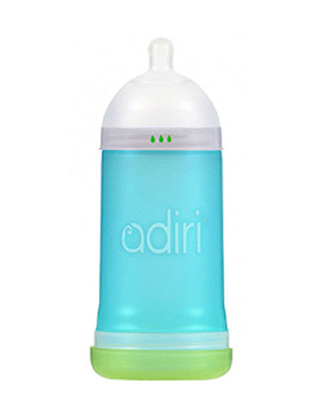 Constructed from BPA-free plastic and designed by doctors, Adiri NxGen nurser bottles are available in bright colours such as orange and blue. The silicone nipples are ideal for transitioning from breast to bottle and provide just the right amount of flow for proper feeding. Adiri also offers sippy cups, teething rings, and pacifiers.
---
| | |
| --- | --- |
| 10 | NUK Orthodontic Bottles |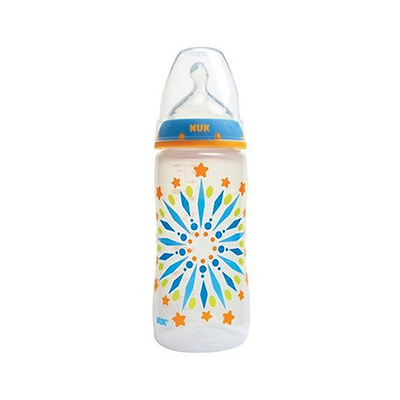 Made to mimic the mother's breast, NUK orthodontic bottles are shatterproof and equipped with nipples that promote healthy oral development. The bottles also feature an anti-colic air system to reduce air intake. The bottles are also equipped with unique nipples designed to promote easier digestion. A wide variety of designs such as tie-dye and animal prints are available.
---
How to Buy Feeding Bottles on eBay
When deciding on the best feeding bottle for your baby, easily find what you are looking for by shopping on eBay. The website offers different filters for you to access the products that suit your shopping needs. This process speeds up searching time by allowing you to sort the products by price, condition, and size. For new and expectant parents, finding the right products is an overwhelming experience. Choosing a bottle that is not only comforting, but safe for baby is challenging with so many different styles and types to choose from. By learning about the different feeding bottles available, finding the one that is best for your baby is less of a challenge.