Salwar kameez is a popular clothing option for women in Middle Eastern cultures. This style of dress consists of the salwar, which is a pair of loose trousers, and the kameez, which is a long tunic. The salwar kameez comes in many styles and designs, with some being more elegant than others. People can spice up the appearance of a drab salwar kameez by adding accessories. These include several styles of shoes, jewellery, skin decorations, and more. By learning about the top accessories and styles, shoppers can find just the right ones to add to their wardrobe.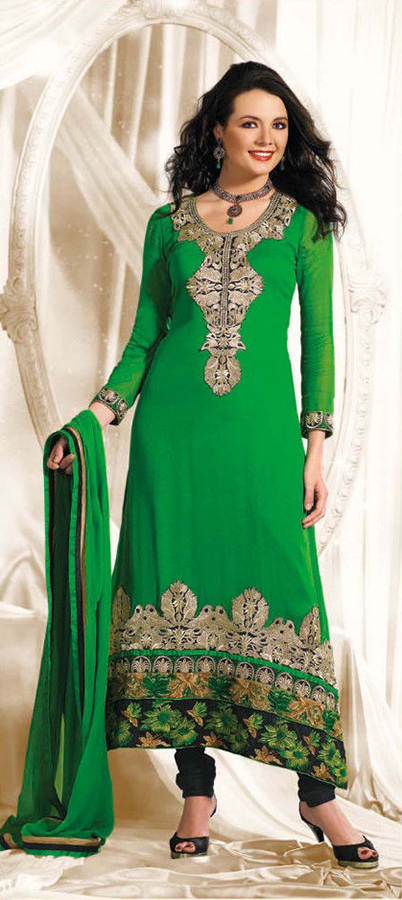 Dupatta is a long scarf commonly worn as part of salwar kameez. It is a multi-purpose scarf that is a popular garment worn with women's suits. Women can wear the dupatta as a shawl, draped over one or both shoulders, as a head covering, or to cover the chest and back. Additionally, some women opt to wrap the dupatta around the waist as a belt.
---

Mehndi is also known as Henna. This is a popular accessory for decorating the skin. The paste comes in a tube and artists apply intricate patterns and designs all over the skin. Traditionally, women decorated their palms with Mehndi, but not it is common for both men and women to decorate other parts of the body with this paste. Though it is temporary, the designs usually last for several weeks.
---

Churiyan are brightly coloured bangles made from glass beads and expensive gems. Women usually wear several on each arm, and the bracelets connect together with an ornamental chain. Chiruyan is commonly worn with salwar kameez with coordinating colours. In the past, Chiruyan was typically worn for weddings, but they are more common now.
---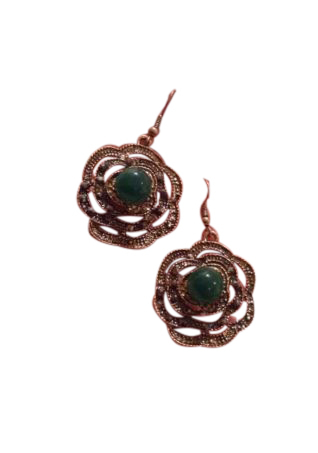 Earrings are an important part of any woman's outfit. With salwar kameez, earrings are very versatile. Shoppers can choose from studs, hoops, and dangly earrings to go along with their attire. Polki earrings have intricate designs and often use precious metals and gems. Kundan earrings are also popular and use coloured glass or gems to make decorative designs.
---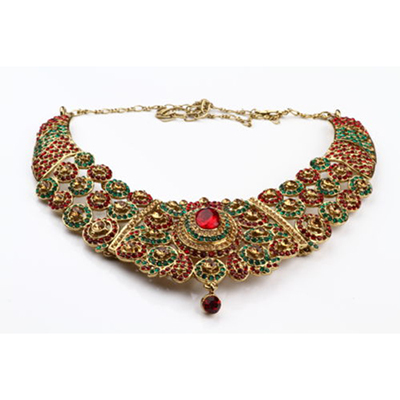 As with earrings, necklaces are other pieces of jewellery that go along with the salwar kameez. Both Polki and Kundan necklace styles are available. Depending on the colours and design of the salwar kameez, shoppers can find intricate cultural designs or simple beaded colours and patterns to match the outfit.
---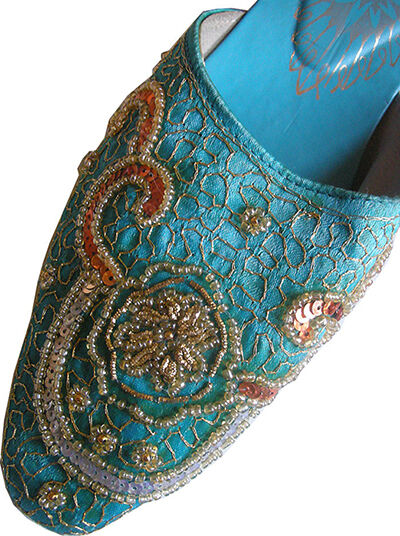 Women most commonly wear flat shoes with salwar kameez. Kolhapuri chappals are hand-crafted leather sandals with a T-strap design. They have a thick and durable sole that make them comfortable for wearing in hot weather. Jutis are closed-toe flats with a more intricate design. These shoes often have colourful beadwork along the top.
---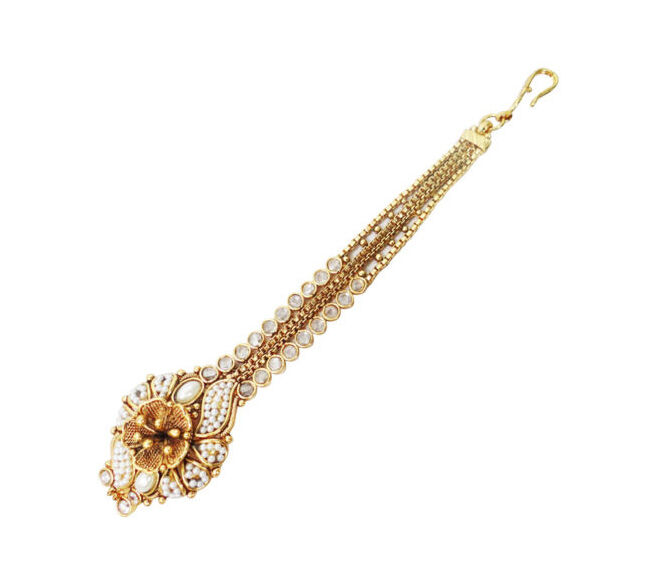 Another accessory women may consider for the salwar kameez is the maang tikka. This decorative headwear was traditionally worn for wedding ceremonies. It wraps around the head and the decorative beadwork sits on the forehead. Maang tikka pieces usually come as sets with matching earrings and necklaces. The design of the tikka, or forehead piece, usually incorporates an elaborate beaded design.
---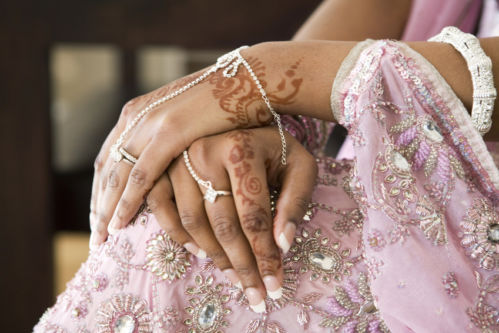 Rings go along with other jewellery worn with the salwar kameez, or women can wear them on their own. Several designs are available, including Polki and Kundan. Some rings connect to the bracelets via a thin chain or tie into the design of the Mehndi. Rings are an easy accessory to use to brighten up a boring salwar kameez.
---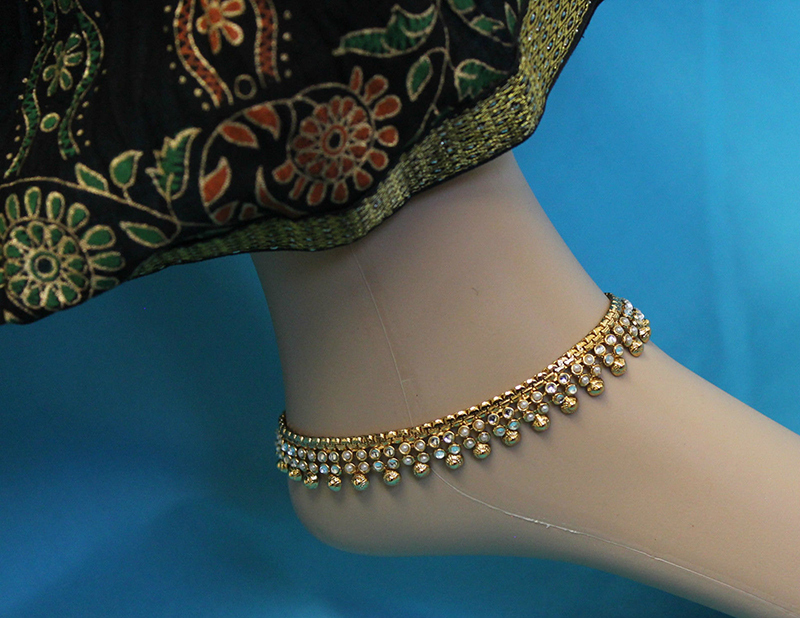 Anklets are a common accessory in traditional and contemporary Middle Eastern dress. Some anklets use precious metals and gemstones while others decorate with simpler materials, such as shells or handmade beads. Other anklet designs have long chains that connect to a toe ring and decorate the top of the foot. These are often worn without shoes.
---

An armlet differs from a bracelet in that women wear them on the upper part of the arm rather than around the wrist. These help accessorise a short-sleeved salwar kameez. Armlets may just be a cuff that goes around the arm or they may consist of several bangle-like rings that go together. These are enclosed with a chain to hold them in place.
---
How to Buy Salwar Kameez on eBay
Purchase salwar kameez and a wide range of Middle Eastern accessories on eBay. Start with a basic or advanced search to locate items based on the keywords you enter. Narrow the selections by choosing options such as colour, materials, or condition. Find low prices by shopping for used items or looking for sellers that offer free postage and packaging. Before making a purchase, be sure to read item descriptions, look at photographs, and compare prices to find the best selections.