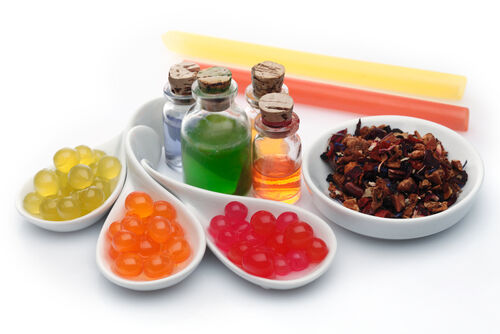 Add a caption
Bubble tea has taken Asia by storm... why not give it a whirl?
Click to edit caption
Tea-drinking culture has evolved from a posh afternoon-only affair to an all-day, every-day activity enjoyed by millions across the globe. The most popular drink in the world is still enjoyed in traditional black, white, green or milky forms, but here eBay reveals some even funkier tea options.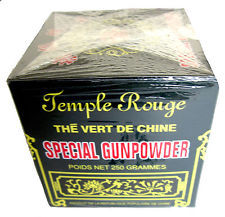 Add a caption
Special Gunpowder... explodes with water
Click to edit caption
10. Special Gunpowder
Who can resist a tea with such an explosive name?
Special Gunpowder
is non-fermented loose green tea from China. Fresh tea leaves are steamed and rolled into tight little "pearls" that explode like gunpowder. The delicate amber tea is described as having a "penetrating and refreshing" flavour.
Special Gunpowder tea should be brewed using a traditional Chinese tea set using water between 90-95°C. The tealeaves are first "washed" to wake up the tea flavour and this hot "washing liquor" used to warm the cups, which is then discarded. More water is poured on the tea and it is brewed for one minute only.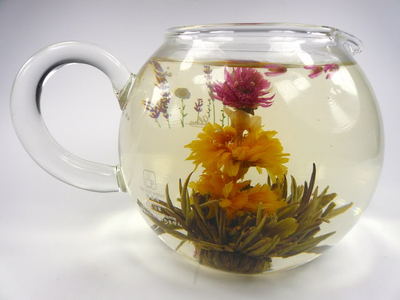 Add a caption
Blooming flower teas make a stunning display
Click to edit caption
9. Blooming flower
If you are looking for a bit of drama from your tea then look no further than the spectacular
blooming flower teas
from China. These are made from green tea and brightly coloured dried flowers hand rolled into balls.
For a magical display in a cup, place a flower ball in a glass teapot and pour over just-off-the-boil water (90°C). Allow to steep for three to five minutes and enjoy watching the flowers unfurl in a stunning display. Pour into glass cups and sweeten with sugar or honey if required.
8. Champagne of teas... Darjeeling
This tea is produced only in the Darjeeling region of India. The high altitude of the area leads to a permanent mist in the air, keeping it cool for the growing tea trees, and imparting a distinct flavour to the tea leaves. Tea officionados have dubbed this "muscatel", thus ensuring Darjeeling's place as the "
Champagne of teas
". The first flush is gentle and delicate, with subsequent flushes becoming more fuller-bodied. Video credit: Rob Matys.
Add a caption
Lavender... a great choice for a hectic lifestyle
Click to edit caption
7. Lavender tea
Lavender is well known for its calming properties and has been used for centuries for its amazing scent and relaxing properties. Lavender tea is seeing a rise in popularity in today's hectic world where finding time to relax and de-stress is a challenge in itself.

For relaxing and promoting a good night's sleep, a pure lavender infusion is recommended or a herbal mix of chamomile and lavender. To appreciate the full flavour of lavender in a proper caffeine-stimulating tea, choose one that also contains black tea – Lavender Earl Grey is a popular blend.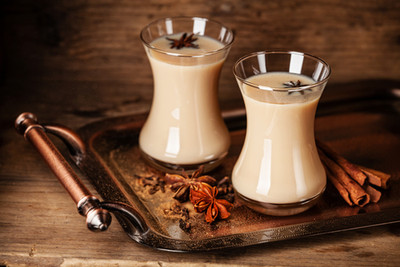 6. Indian chai
This milky, spiced, sweet tea is drunk all over India and is becoming more popular in the UK. Although you can buy "instant" chai, this is no substitute for the real thing, so a basic chai recipe is included below.
Ingredients:
4 tsp black tea
1
cinnamon stick
1 tsp fennel seeds
6 cardamom pods, bruised
cup of milk
5 cups of water
sugar to taste
Method
Break the cinnamon stick in two and add to a saucepan with fennel seeds and cardamom pods.
Add the water and bring to the boil. Add the tea and boil for one minute, then add the milk and boil for a further minute.
Add sugar to taste and stir in well. Strain the chai twice and drink hot.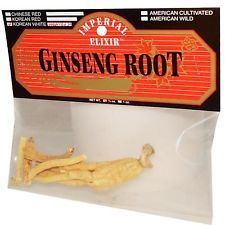 Add a caption
Ginseng... adds zing to your life
Click to edit caption
5. Ginseng tea
Ginseng
is considered to help combat fatigue as well as purportedly having other health benefits. Ginseng tea is therefore the perfect drink for when you are feeling a little jaded and in need of a pep-up. Although you can buy powdered ginseng and ginseng tea bags, you can easily brew your own.
Although the brew doesn't contain any actual tea, it is steeped in the same way as a cuppa. Follow the method below for brewing from fresh ginseng roots.
Method
Slice up the fresh root and place in a bowl of cold water to activate the nutrients.
Boil water in a saucepan and add the sliced ginseng. Turn down to a simmer.
Allow the root to steep for at least six minutes or longer for a stronger infusion. Strain and sweeten with honey or sugar to taste.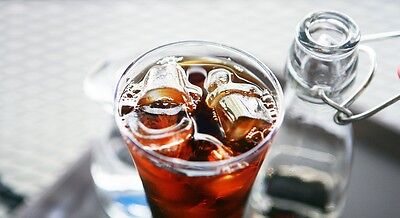 Add a caption
Tea cocktails... ultimate refreshment
Click to edit caption
4. Tea cocktails
Leave behind the idea of Long Island iced tea – this cocktail has never been near a tea bag! Think chilled blends of fragrant teas, or the coolness of green tea and cucumber. Below is a recipe for a contemporary British cocktail – Beefeater gin created this recipe in celebration of the launch of the film
The Queen
.
Ingredients (per cocktail)
2 parts Beefeater Gin
2 parts brewed and chilled Earl Grey tea
Squeeze of lemon juice
Spoonful of sugar
Lime slices to garnish
Method
Pour the ingredients into an old-fashioned glass filled with ice
Stir well
Garnish with lime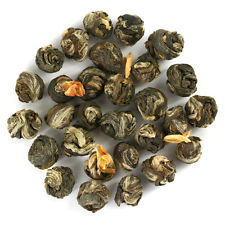 Add a caption
Jasmine pearls give a fragrant taste
Click to edit caption
3. Jasmine pearls
Premium white and green Chinese tea leaves are scented with jasmine flowers and hand rolled into cute little balls. These
jasmine pearls
or "dragon pearls" unravel when brewed and give a delicate green tea with a fragrant taste of sweet jasmine blossoms.
Brewing the perfect jasmine tea
Take a good-sized pinch of jasmine pearls – around 10g – per person and put in a small pot.
Boil the kettle and leave it to stand for one minute (the water temperature will be around 85-90°C) before pouring over the pearls.
Brew the jasmine tea for less than minute; any longer and you lose the delicate floral flavour and the tea becomes bitter.
The leaves can be rebrewed several times if you follow the directions above and treat the tea gently!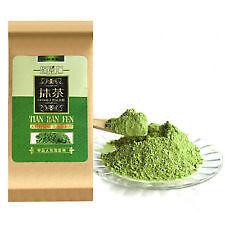 Add a caption
Prime Japanese green tea goes into Matcha
Click to edit caption
2. Matcha tea
Matcha tea
powder is ground from the finest Japanese green tea leaves. Although it is a centuries-old tradition to drink matcha in Japan, it is relatively unknown in the UK. Organic matcha powder is mixed with a bamboo whisk in a bowl with hot water, which makes a frothy, bright-green tea. It is drunk straight away in one go.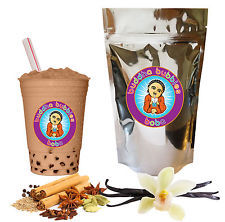 Add a caption
Bubble tea... try making it at home!
Click to edit caption
1. Bubble tea
Also called pearl tea, boba, milk tea or bubble drink,
bubble tea
originates from Taiwan and is part dessert, part drink. The "bubbles" are balls of coloured tapioca that sink to the bottom of the cup. Bubble tea flavours include peach, mango and lychee as well as more traditional green or black tea varieties.
You can buy the flavourings and the tapioca pearls and make
bubble tea
at home. Don't forget to buy your
jumbo drinking straws
too to suck up those
pearls
!
Ingredients
1 scoop flavour powder
1 scoop powdered dairy creamer
1 scoop sugar syrup
¾ cup of cold tea
1 cup of ice
Method
Shake everything in a cocktail shaker until the powders are dissolved and well blended.
Pour into a glass over the cooked tapioca pearls. May also be made hot.