Babies cannot speak for themselves, which can make caring for them very difficult sometimes. When they are not feeling well, finding out whether or not they have a fever is one of the first steps to diagnosing what ails them. Thus, a baby thermometer is an essential piece of equipment for any family to own.
Thermometers
use a variety of different methods to measure an infant's temperature, each with varying degrees of accuracy, ease, and dependability. Before deciding on a thermometer to purchase, parents should be aware of the different types of thermometers and the most popular and highly recommended brands available.
| | |
| --- | --- |
| 1 | Braun Thermoscan Ear Thermometer |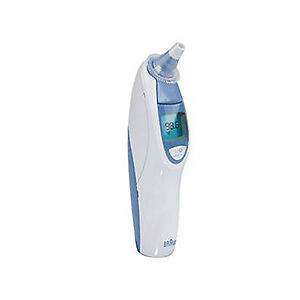 An ear thermometer measures the level of heat in the ear canal to determine the baby's temperature. The Braun Thermoscan is a very popular and trusted thermometer. Parents place the probe in the ear and depress a button. Approximately 3 seconds later, the device displays the temperature. The Thermoscan can store previous readings for reference.
---
| | |
| --- | --- |
| 2 | Mobi Ultra Digital Thermometer |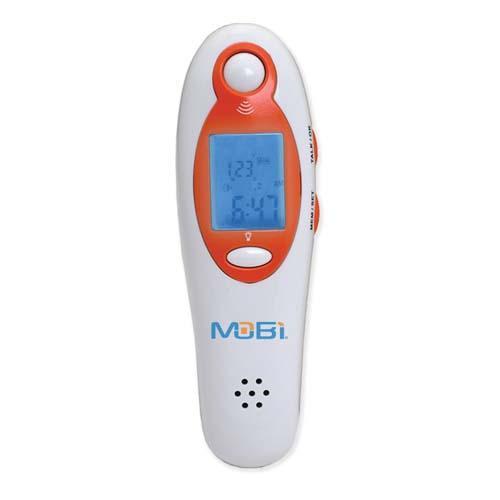 This flexible thermometer from Mobi can measure temperatures in the ear or on the forehead in only 2 seconds. There is an audio feature allowing the temperature result to be read aloud, and a backlit screen makes it easy to see. The Mobi Ultra Digital thermometer does not require probe covers, making it an easily cleanable surface.
---
| | |
| --- | --- |
| 3 | Omron MC-514 Ear Thermometer |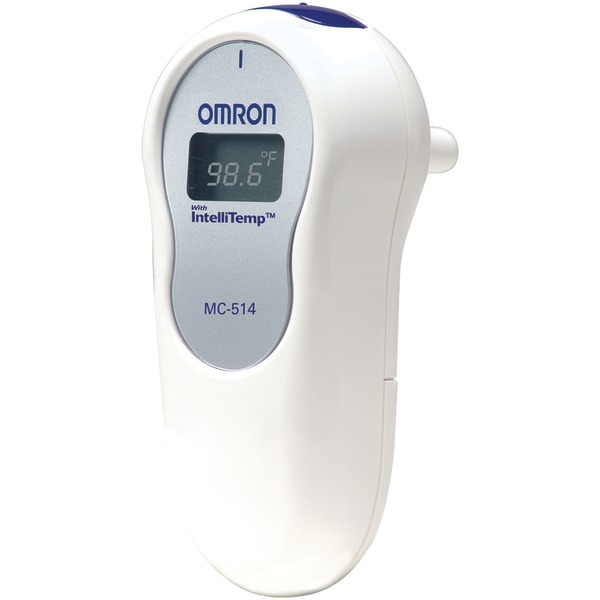 Every moment is precious when parents are trying to determine if their child has a fever. The 1-second measuring time of the Omron MC-514 ear thermometer makes it one of the quickest thermometers available. For precision, the thermometer takes over 250 scans per second and averages them together for the final readout.
---
| | |
| --- | --- |
| 4 | Gurin Infrared TS-110 Ear Thermometer |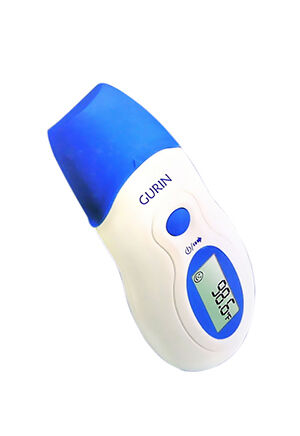 Gurin's TS-110 ear thermometer also features a 1-second reading time for quick fever determinations. It does not require probe covers as the probe is waterproof for easy cleaning and sanitation. A large, backlit display is easy to see during the day or at night so parents can assess the situation quickly.
---
| | |
| --- | --- |
| 5 | Vicks Baby Rectal Thermometer |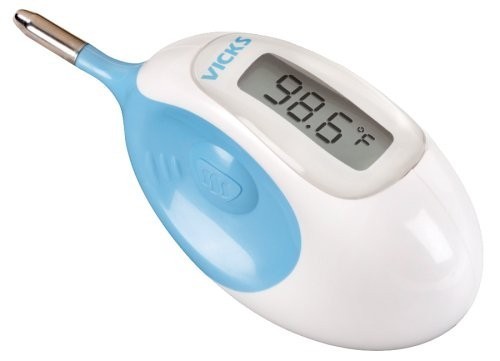 The most accurate method for taking a baby's temperature is rectally. Unfortunately, this is not a very pleasant task for baby or parent. Vicks baby rectal thermometer makes it as simple as can be by providing a thermometer body with an easy-to-hold, ergonomic design. The temperature probe is flexible and short, and is as comfortable as possible for the baby.
---
| | |
| --- | --- |
| 6 | Safety First Gentle Read Rectal Thermometer |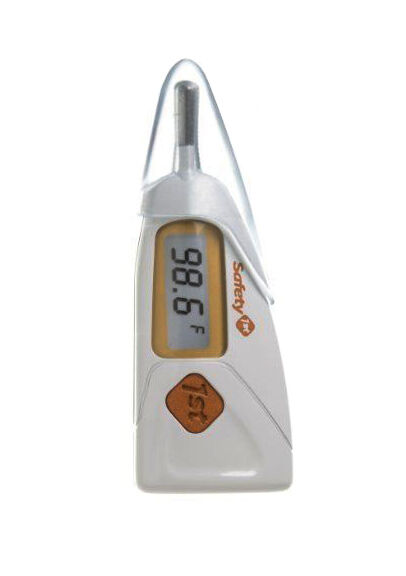 Safety First provides a rectal thermometer that is simple and quick to use. The unit itself has a finger grip to resist slipping, and has a flexible temperature probe that guards against over insertion. Temperature readings come back in just 8 seconds for an accurate result that is easy to read on the digital display.
---
| | |
| --- | --- |
| 7 | Vicks Pediatric Wearable Underarm Thermometer |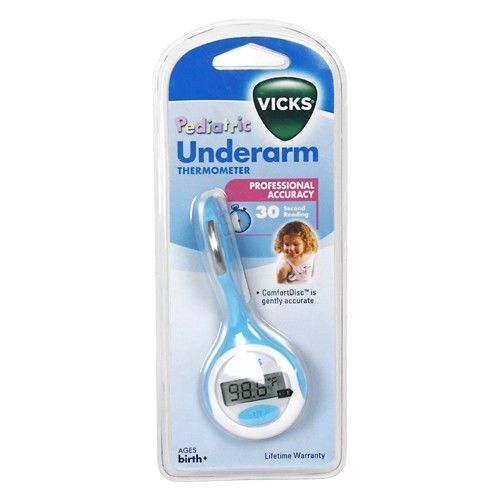 Underarm temperatures tend to take longer to sense, but can be very accurate. The disposable thermometer from Vicks provides a constant temperature update for up to 48 hours. The thermometer is essentially a patch that sticks to the skin using gentle adhesives. This is especially great for children who may be bothered by frequent temperature checks.
---
| | |
| --- | --- |
| 8 | Exergen Temporal Artery Thermometer |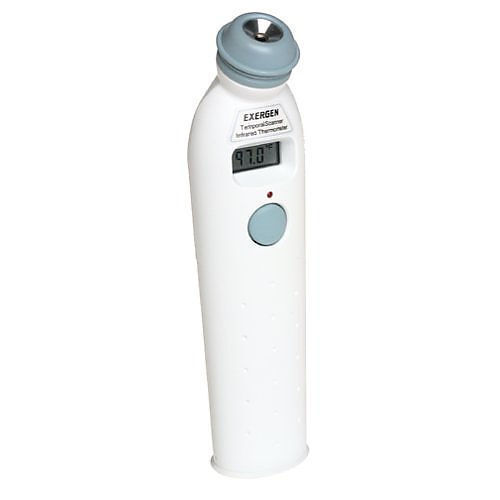 This thermometer takes a quick scan over the forehead to detect temperatures via the temporal artery in just 1 second. This method is truly non-invasive and simple to use. The Exergen temporal scanner is safe for children of any age, and the method is one of the most consistently accurate.
---
| | |
| --- | --- |
| 9 | FeverWatch Professional Clinical Non-Contact Infrared Thermometer |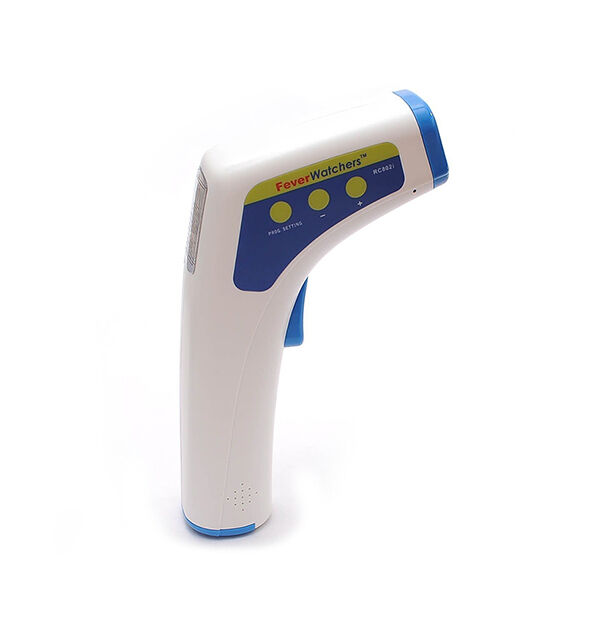 The innovative design of the FeverWatch non-contact infrared thermometer provides a highly accurate temperature reading without needing to even touch the baby's skin. Temperatures can be taken even in total darkness, with the results appearing on a bright LCD screen.
---
| | |
| --- | --- |
| 10 | Red Cross Pacifier Thermometer |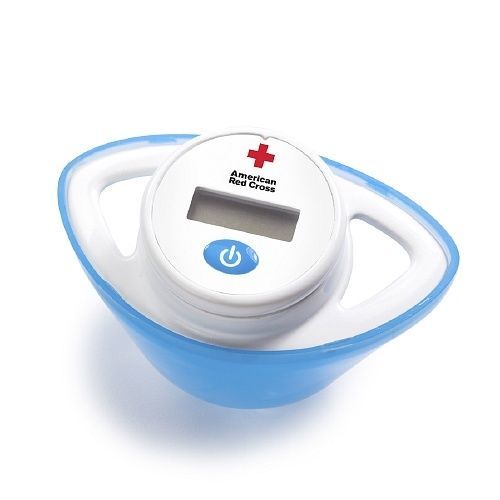 The Red Cross pacifier thermometer makes taking a baby's temperature no different than an ordinary day. As far as babies know, they are sucking on a comfortable, orthodontic pacifier. In 90 seconds though, parents can have results at their fingertips. An alarm beeps to alert parents if the child is feverish.
---
How to Buy Thermometers on eBay
Determining the right thermometer for your baby may be difficult, but the wide range of options on eBay offers plenty of choices. It is as simple as typing your keywords into the search bar located on any eBay page. The results feature your keywords in their title. Consumers can find more specific results by using any of the categories on the page, such as the listing type, or condition. Watching for bundled listings may allow you to purchase several similar items for a reduced price without needing to pay multiple shipping charges. Once your new thermometer is in hand, you can be assured of your child's health at any time.