The Victorian era is the period from 1837 to 1901 when Queen Victoria was in power, and is a time of great fashion. In fact, fashion for women was constantly changing and therefore when shopping for
Victorian theatre costumes
it is important to pinpoint what time one wants to represent. For both men and women, their clothing was very representative of their status and profession so costumes also vary according to the character's station in life. By delving into some of the most recognisable Victorian costumes, buyers are better prepared to pick their ideal costume, whether purchased at a local shop or online on retail sites, such as eBay.

There is no doubt a Victorian lady costume is a must, whether it be for a full theatre production, a re-enactment, or Dickensian weekend. The Victorian lady costume is comprised of either an elegant Victorian gown or more simple tea-time dress with lace-up boots. This is accompanied with accessories like fans and ladies boater.
---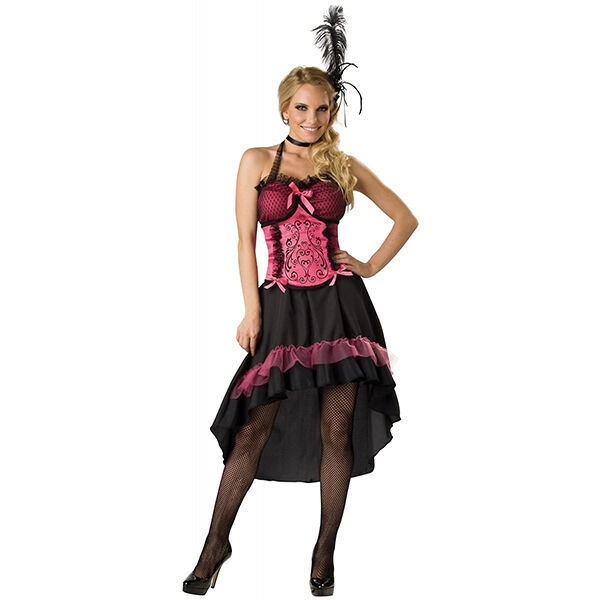 Another iconic theatre costume from this period is the Victorian saloon girl costume made up of a lacy corset and bustle skirt. Popular colours for this costume are red, purple, and blue, which pair well with long boots, a fascinator, and jewelry, such as a choker necklace.
---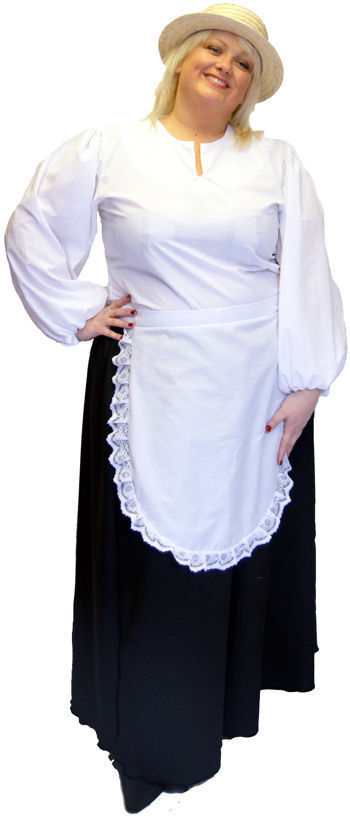 The Victorian shopkeeper costume is simple with a lafayette vest worn over a long sleeved shirt (or Gibson girl blouse for women) with the sleeves rolled up. Men accompany this with trousers, while the women finish their costume with a long skirt or suede riding pants depending on the portrayed era.
---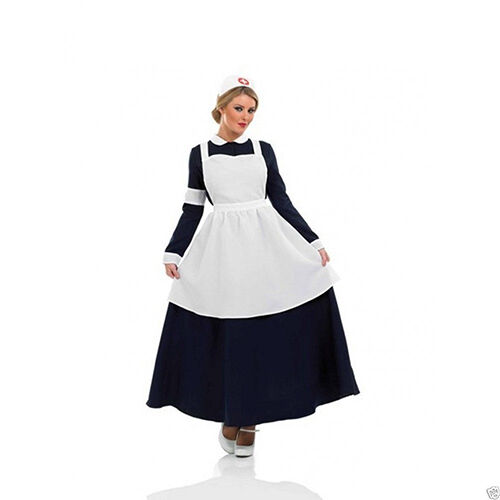 Made famous by the extraordinary Florence Nightingale, the Victorian nurse costume is comprised of a simple, neutral dress with hoop underskirt. Users wear a white apron over the dress with a white nurse's cap accompanying the outfit.
---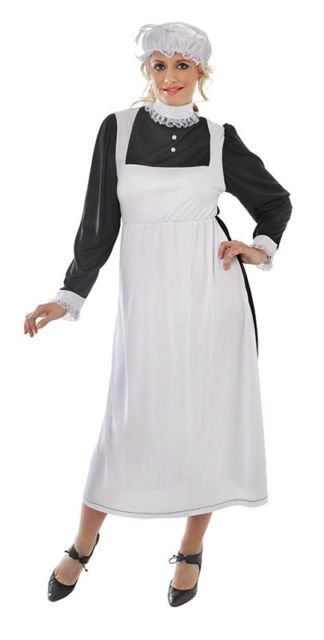 The Victorian maid costume does not differ much from the nurse costume as far as simplicity and colour palette. Maid clothing consisted of a black dress with crisp, white collar and sleeve cuffs. A white apron is worn over the dress and finished with a lace headpiece or white mobcap.
---
| | |
| --- | --- |
| 6 | Victorian Gentleman Costume |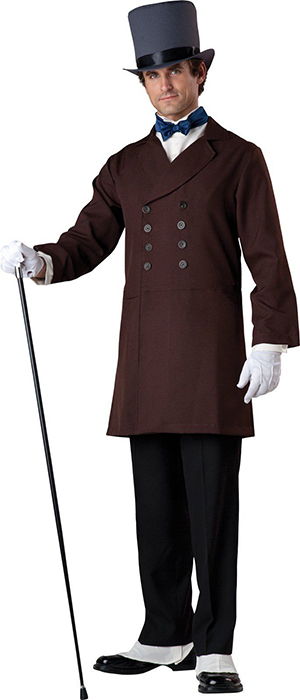 The Victorian gentleman costume features a long-sleeve shirt with ascot. Over the shirt, y-braces, a double-breasted vest, and wool frock coat is worn. Dark trousers pair with lace up boots or gaiters. This costume is not complete without a hat, whether it is a top hat or derby hat. Other accessories include a pocket watch with a chain and a cane.
---
| | |
| --- | --- |
| 7 | Victorian Huckster Costume |
What stage production is complete without an adorable huckster or salesman costume. This whimsical costume has a suit with distinctive pattern, vest, y-braces, and long-sleeve shirt. A bowtie adds a good finishing touch, as does a fedora or derby hat.
---

Doctors were indispensable in the Victorian era. The Victorian doctor costume does not differ much from the gentleman costume since doctors were considered gentlemen and dressed accordingly. This costumes features the long-sleeved Victorian shirt with stand up collar and inset bib. The braces, vest, and frock coat go over the shirt. Spectacles and a leather doctor's bag add special touches to this costume.
---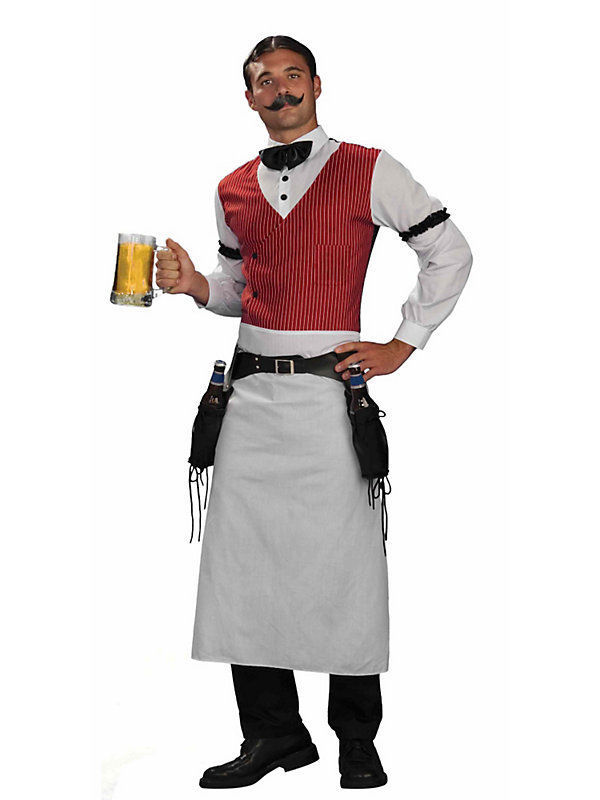 The bartender or saloon keeper costume is as quintessential as the saloon girl costume. It features a long sleeve, button-up shirt with straight collar. Y-back braces and a vest go over the shirt with a pocket watch and chain. Black sleeve garters accent the long sleeves. Dark trousers and shoes pair with a derby hat for this costume.
---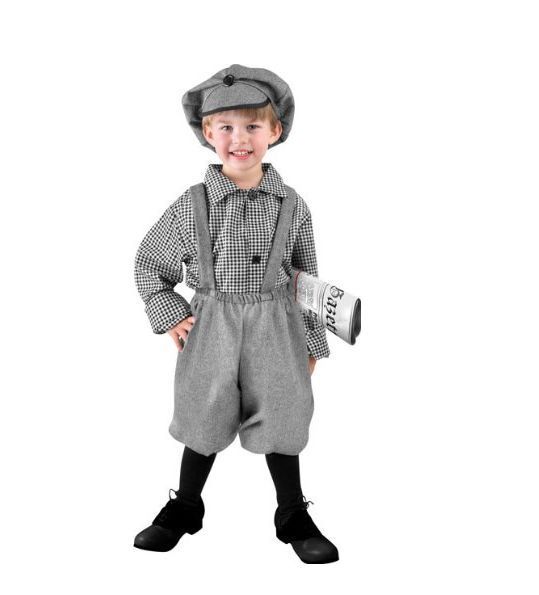 The newsboy costume has a Edwardian club collar shirt with leather buckle braces and bowtie. The braces attach to short plaid knickers that pair with calf-length socks and lace up boots. Of course, this costume is not complete without the wool newsboy hat.
---
How to Buy Victorian Theatre Costumes
Once shoppers know the kind of Victorian theatre costume they want they are only a few clicks away from finding the perfect match. To browse through eBay's wide selection of costumes, simply enter a keyword like " Victorian costume" into the Search bar to return with all the associated listings. For a more concise yield, enter a specific keyword such as "Marie Antoinette costume." To ensure the best shopping experience it is best to browse from sellers with top rated status and to read all product descriptions before making a purchase. If you have any additional questions or concerns, contact the seller using eBay's message system.