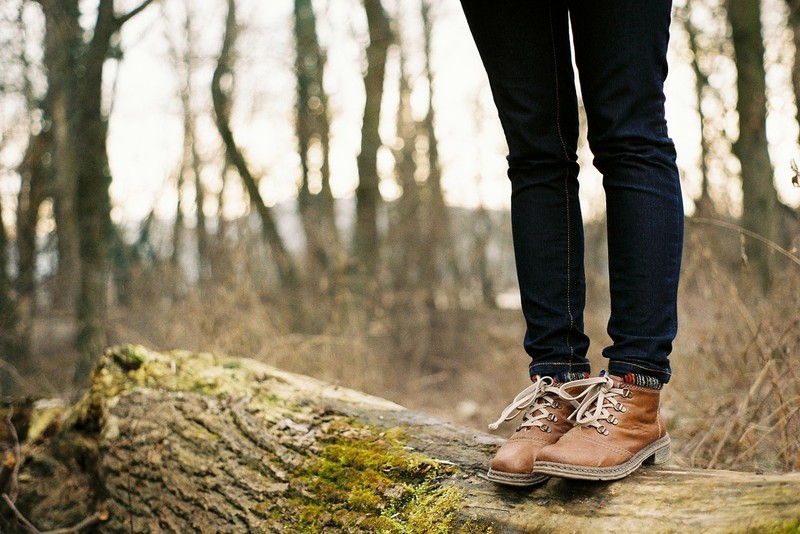 Add a caption
Tough waterproof boots can be a lifesaver when hiking.
Fashion or function? As the wet winter weather approaches, the discerning waterproof boot wearer might want both, and could be prepared to give their wallet or purse a few kicks to get it. We've picked a top five for men and women that will repel the rain for all shapes and sizes of feet.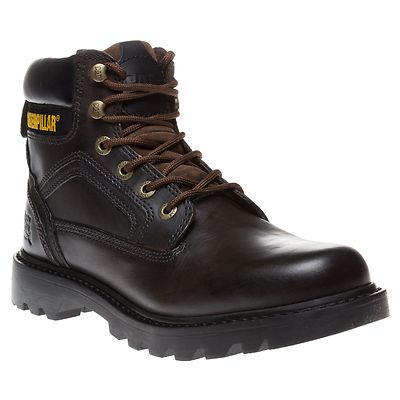 Men's top five
5. Caterpillar
Chunky and hunky,
Caterpillar
has gained a clear foothold in the work boot market, with footwear specifically designed for the industrial work that uses its machinery and engines.
But you don't need to be mining or driving tractors to appreciate these heavy-duty workhorses, which are also available in a range of women's designs.
Among the attractions of a caterpillar boot are the steel toe caps, their heat/electrical/slip resistance, and aggressive tread pattern, along with their good looks.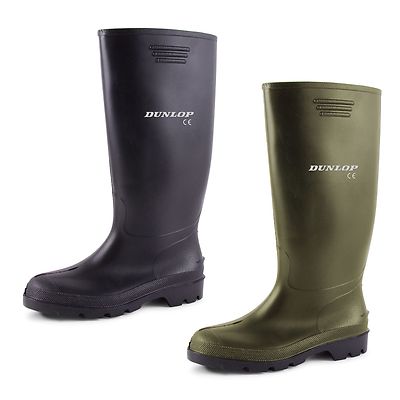 4. Dunlop
The traditional tyre giant's boots retain their image of no-nonsense, mucking-out-the-pigs, wading-through-muddy-puddles, practicality.

Resistant, hardwearing and easy to pull on, the Dunlop is a tried and tested winter life (and foot) saver.

They're also perfect as a means of transmitting mud throughout the house for younger members of the family.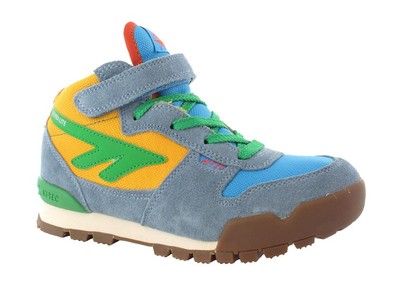 3. Hi-tec
Of course boots are only one part of the
Hi-tec
sporting arsenal, which also includes football, golf and running footwear, but it's a significant part.
Perhaps the most exotically colourful of each brand mentioned here (chocolate, taupe and clementine, anyone?), Hi-tec has sponsored travel writer Alexandre Poussin and his family who are spending 16 months walking across Madagascar.
Its new 'adventure proof' boots include water and dirt repellent i-shield technology and anti-odour/microbe ortholite cushioned liner.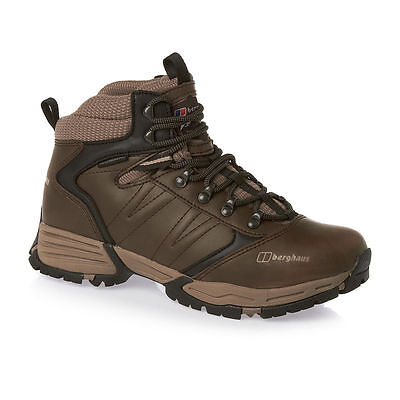 Add a caption
Hikers of all abilities will love these durable boots
2. Berghaus
Tougher than your nan's Yorkshire puddings, these
boots
are built to last.
They are the choice of serious explorers who love all environments, from fell to forest to imposing crag, and boast a series of technological advances that mean a stay in a 'Mountain House' (translation of the German company's name) should be a stroll in the park.
Gore-tex waterproof protection, thick leather, and hiking-specific lace, grip and foot beds make these brawny brutes a boot to be reckoned with.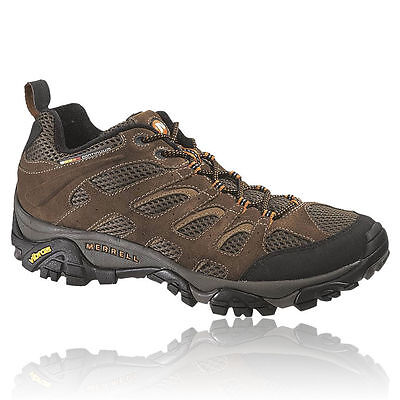 1. Merrell
Billed as "bringing the trail into your casual life",
Merrell's
heritage as a producer of hiking and running shoes translates into some cool boots – in more ways than one.
We've chosen them as our number one because of their diversity and adaptability for urban, country and social life. Not only does the 'M-Select Fresh' mesh lining prevent odour before it starts, but the super exoskeletal construction gives these boots stability for the time you want to walk straight out of town into the country – and then back to the pub.
In 1981, the year of the company's birth,
Backpacker
magazine named its hiking boots as 'the best ever made'. The company is also proud of Team Merrell – a select group of world-class athletes who have endorsed the brand, which includes record holders in sports such as ultracycling and marathon paddling.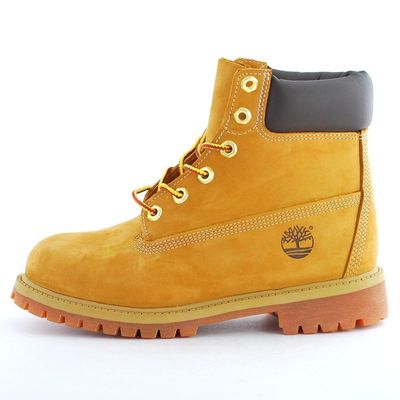 Women's top five
5. Timberland
Famous yellow things: Pacman,
The Simpsons
, Timberland boots.
It's not difficult to pick out a pair of these leather legends, favoured as they are by hip hop moguls, fashionistas and heavy duty construction workers.
And even though they scream muscle and masculinity music superstars such as
Rihanna
and Rita Ora both retained their feminine side when snapped in these fashion classics.
Of course there are more options to the company's range, including knee-highs and normal shoes.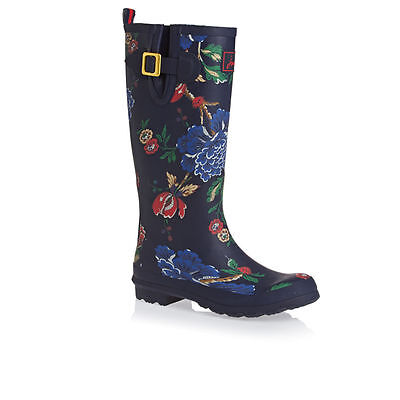 4. Joules
From the leather
Chelsea
boot to the 'muck boot', these exquisite items of footwear are known for their high level of craftsmanship.
And Joules' realm of wellington boots are a joy to behold, with a combination of colours and complexity that will thrill minimalists and anarchists alike.
Hares? Check. Patterns suitable for Chelsea Flower Show? Check. Doggies? Check. Giant bouncy bows and more stripes than a pack of humbugs? Check.
The joy of Joules boots is that they look just as good on a country landowner as an eight-year-old girl with a touch of chic.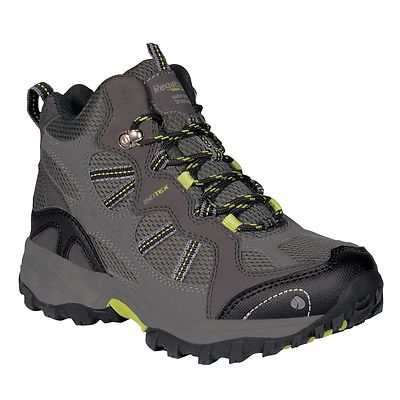 3. Regatta
These rugged boots are suitable for all the
family
. The company produces every style from the
trainer
-type shoe to the traditional wellington type (such as the resplendent sounding Lady Bainbridge and Lady Banbury) to the breathable mid-boots.
Known for their excellent comfort with deep-padded collar and tongue and breathable mesh, Regatta boots are available in colours such as tulip pink, gala green and even the warm-sounding Roasted.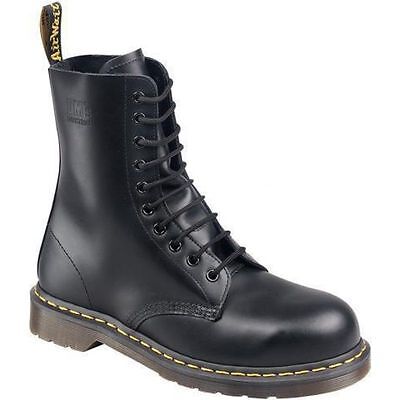 2. Dr Martens
We've put them into the women's section, but of course these
British
bruisers are suitable for all feet from the smooth and dainty to the wizened and cracked, and available in a range of names such as Bryony, Teresa or Kathleena and leather that's plain or patterned (sometimes stunningly so).
There's a huge
vegan collection
and the company's official website even boasts its own customisable design section where you can upload your own pictures to create the boot exterior – from your child's face to a cartoon kitten to
fireworks
to a photograph of Venice – and therefore a pair of boots that are completely unique.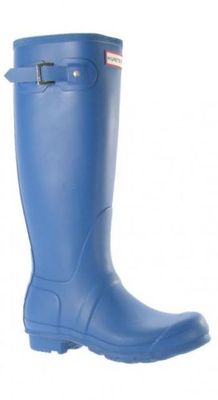 1. Hunter
Not the cheapest, but as good as it gets, with both style and substance in one boot to show off to the world.
Part of the reason that the company is still thriving at the ripe old age of 158 is that it knows what it is, and does it well – tough, usually one colour, but with a host of options including a high gloss finish and neoprene or shearling lining.
Celebs spotted rocking
Hunter boots
include Alexa Chung and Ellie Goulding, both at Glastonbury. We liked the nautically-themed scuba eyelet boot, Chelsea boots with the distinctive neon soles and 9cm heels, and the original contrast wellingtons. That level of diversity makes it a clear choice for the number-one spot.
Add a pair of Hunter wellie socks to complete the look. Don't forget the men's boots are pretty funky as well.