The subject of which are the best courses is always a contentious one, and there are many lists produced by various publications. Yorkshire Golf (yorkshire-golf.com) have partnered with top100golfcourses.co.uk who we believe have the definitive list as they compile their list by amalgamating the top 100 courses lists from all publications over the last few years.
Top100golfcourses have now extended their list well beyond the top 100 and Yorkshire Golf have referenced the full list to provide the top seven courses in Yorkshire and three further courses regarded as 'gems'.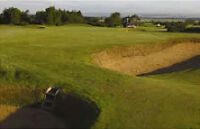 Ganton Golf Club
Yorkshire ranking: 1
Top 100 England ranking: 7
Surely one of the few inland courses in the British Isles good enough to hold an Open Championship, a perfect place to play golf.
View the top 10 courses in Yorkshire at yorkshire-golf.com. Is your favourite course in the list?
Remember, any list of top courses is subjective, this is just Yorkshire Golf's start point.
Coming soon, we will be asking for your favourites and compiling our own top 50, as voted by Yorkshire golfers. Watch this space!