Wonderful and wacky are the order of the day with our top 10 kooky shoes. If you want your shoes to do the walking and the talking then invest in a pair of quirky heels or unusual flats.
Laura Weston who has over 10 years fashion and lifestyle experience writing for many leading websites, including Red magazine and the Sun online treads lightly f
rom gravity-defying wedges to holographic sandals with her
10 shoes guaranteed to step up your look.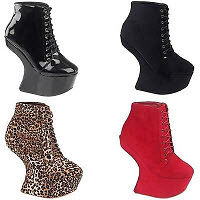 eBay recommends: Heel-less platform
Price: £8.95

These gravity-defying wedges are a miracle of modern shoe design, and surprisingly easy to walk in.
---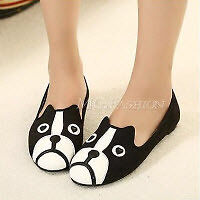 eBay recommends: Pup pumps
Price: £4.61

Go for walkies in these adorable pup pumps. Perfect paired with skinny jeans and a tee for relaxed weekend style.

---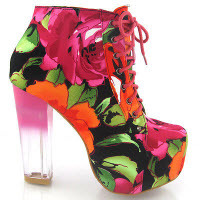 eBay recommends: Floral Perspex heel
Price: £20.69

Bring flower power to your footwear in these bold floral, lace-up boots with a unique Perspex heel.

---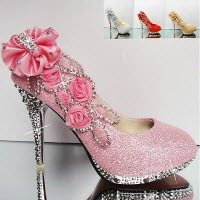 eBay recommends: Crystal heels
Price: £18.99

Sparkle the night away in these highly embellished crystal stillys. Indulge your inner princess and pair them with a dreamy prom dress.

---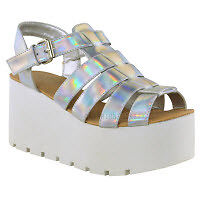 ---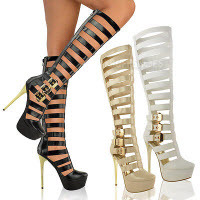 eBay recommends: Strappy knee boots
Price: £29.99

There's strappy shoes, and there's killer heels with 13 straps (yes, we counted). Party shoes with attitude.
---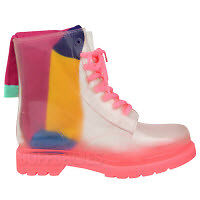 eBay recommends: Jelly welly boots
Price: £12.99

You've got to love a pair of see-through boots that come with a free pair of snazzy socks. Festival footwear sorted.

---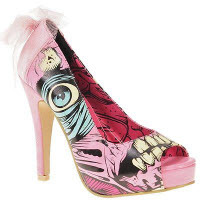 eBay recommends: Iron Fist heels
Price: £35

These not-so-pretty-pink peep-toes are decorated with a zombie print. Subversive slip-ons for the footwear rebel.

---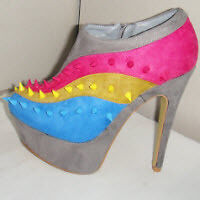 eBay recommends: Chelise boot
Price: £74.99

Earn your style stripes with these colourful, customised ankle boots. Kill it with an understated party dress.
---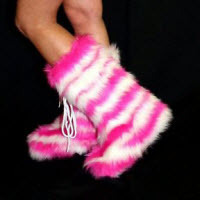 eBay recommends: Yeti boots
Price: £39.99

Nothing can match a Yeti boot in the kooky footwear department, but these Bagpuss stripes take it one step further. Après ski style just got interesting.