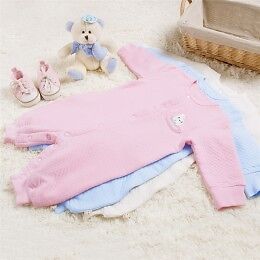 Bigger is always better
1) Always go a size bigger. Sleeves and trousers can always be rolled up. Babies tend to grow so quickly and it would be a shame if your baby wears an outfit for only a couple of times.
Be savvy
2) Never pay full. Wait for seasonal sales, half-term sales, and online flash sales.
Brand brands brands
3) If you love brands and designer clothes, then shop at ex-catalogue stores.
To collar or not to collar
4) Avoid clothing with collars. Many of the collars cause babies a rash on their necks. Stick to simple t-shirts instead.
Envelopes
5) Better still, stick to envelope collar tops. They're easy to pop on, and can be pulled all the way down baby's waist if they throw up without having to get any vomit on baby's hair.
Comfort comes first
6) Dress baby up in onsies during the first 3 months to give baby's umbilical area a chance to heal properly.
Nappy duty
7) Trousers and outfits with poppers at the bottom are always helpful when having to change baby's nappy specially when out and about.
As dangerous as a button
8) Cute clothings with plenty of buttons should be avoided. Buttons are a chocking hazard if pulled off by baby.
4 seasons
9) Shop baby sizes according to seasons. No point buying summer outfits for winter or vice versa.
Hold your horses
10) Finally, only shop for what baby will need for the first couple of months. You'll be surprised by how many items of clothing you'll receive as gifts once baby is born.