Grab a slice of naval history wrapped up with a modern twist. Pea coats were the traditional jacket of choice for European and American sailors. They ooze style, so here are a dozen essential tailored favourites for men and women.
12. Deep trench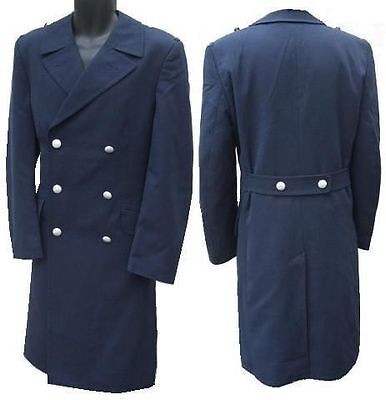 Wear it long with this men's double breasted vintage trench-style pea coat. Go smart or casual, but stand out in this deep blue number with eye-catching white buttons.

Retro seventies vibe with a half back belt. Characteristic broad lapels and vertical pockets - a style you find on many genuine navy surplus pea coats - gives this real authenticity. Makes a strong fashion statement.
---
11. Steam punk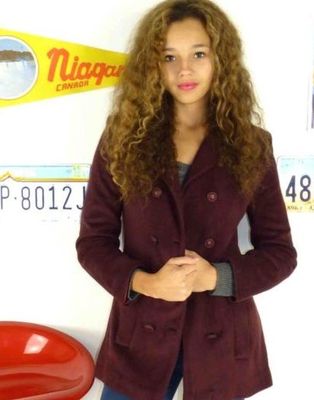 This women's faux suede deep maroon velvet jacket is a casual champ. Astute fashionistas will note its straight padded shoulders and classic lines as a good fit with the 'steam punk' movement - gothic fashion modernised.

In winter this coat is a go-to to keep out the chill and in autumn it is a stand-out, with its purple-red blending with the burnished golds and reds of falling leaves. A certain retro styling that gives the wearer outer confidence.
---
10. Hooked up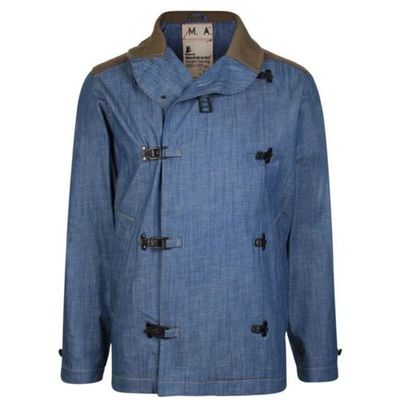 Twisting the tradition is this fashionable modern take on the men's naval pea coat. Features three front pockets and a contrasting panel on the shoulders, back and collar.

Hook and eye fastenings give this a unique look. Made from 100 per cent cotton so it is lightweight and casual wear for all seasons. Slash style side pockets are deep to store those essentials when you are out and about and to keep your hands warm when the air is chill. An alternative winner.
---
9. Slim-fit grace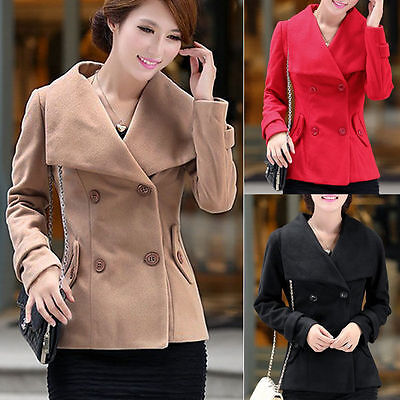 Grace and beauty combine in this women's slim-fit wool pea coat designed as a bold fashion item for the 'it girls'. Large lapels, figure hugging waist and then curving out slightly at the hips to give a clean and classy look for professional or casual wear.

Wool blend ensures warmth but the strength of this jacket is not its all-weather rating, simply its lack of extravagance, its pure refinement and good looks.
---
8. Vintage camel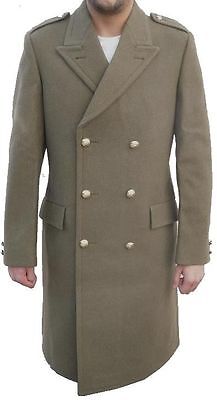 Long camel-coloured men's trench style pea coat with classic military overtones. Sports brass buttons bearing a lion motif down the front of the jacket and decorative buttons on each cuff, as well as shoulder epaulettes for those all important stripes.

Storage galore with two exterior hip and two interior chest pockets. Genuine military issue great coats in unused condition are the pick of the bunch for anyone who wants to wear a bit of military history.
---
7. Army green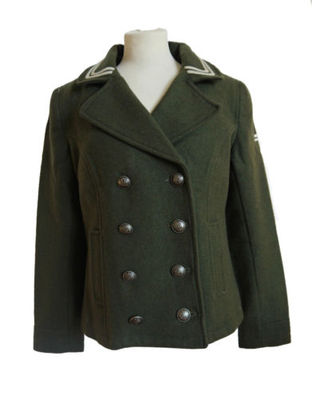 Go green with envy for this women's retro pea coat. Stylish in a sixties fashion, this jacket has a deep emerald finish with a classic double button front and great collar line white detail. Features two outer side pockets plus two inner pockets, fully lined with a rear vent for breathability.

Looks great with skinny jeans or if you are feeling adventurous then couple it with shorts for casual cool. Imagine sixties TV character Emma Peel from the 'Avengers' series gliding about in this number.
---
6. Heavy quality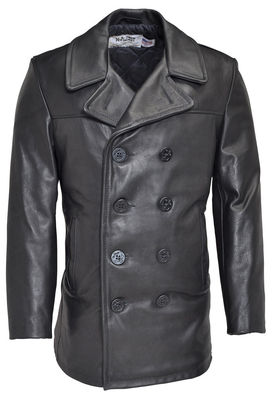 Put on some heavy leather with this genuine classic hide men's pea coat jacket. Sporting anchor buttons and beautiful clean stitching, the quilted lining makes this a pure-bred winter warmer for extreme cold weather.

Style and quality combined in classic fashion. Has two front and two inside pockets. Timeless appeal that looks a little retro, but you will appreciate the work that has gone into the design in icy weather.

Looks good and feels great.
---
5. Cashmere luxury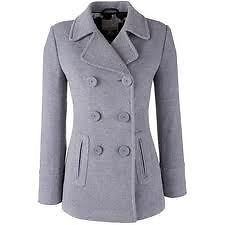 Luxuriate with this women's wool and cashmere mix pea coat for the trend setter. Smart fitted shape that purrs quality. Two side slip pockets that nod to the original naval design.

Clean lines with a timeless quality, nothing retro just classical. Sure to fit as a top coat with a dress or skirt, makes it with jeans or trousers too. A little gem.
---
4. National velvet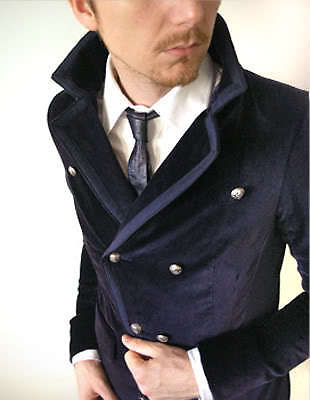 Kick it Carnaby Street style in London's swinging sixties with this cool and sleek Mod vintage men's pea coat blazer. When the beat generation merged into flower power it turned classic military style blazers psychedelic.

London's fashion scene kitted out Mods with items like this sharp slim-fitting velvet number to fit in with the northern soul scene and the alternative hipster crowd. Chic and turned on.
---
3. Casual urban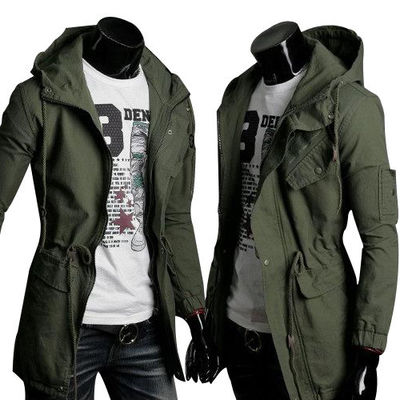 Upgraded and altered modern twist on the pea coat design. Functions as a light jacket for the outdoors type but really has true urban style for those autumn and winter days in the city. Two deep side pockets plus a chest and side arm pocket.

Drawstring belt, wide lapels and hood make this an all-weather jacket to keep out the best the British climate can throw at you. A nod to the Mod parka jacket that should keep the scooter crew interested.
2. Merchant seafarer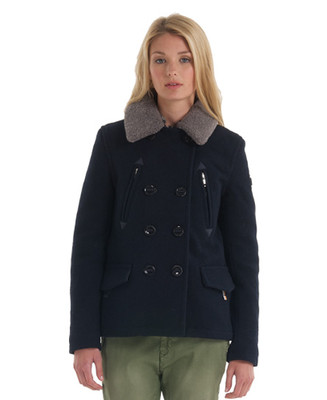 This women's merchant navy pea coat in blue is an unfussy urban chic classic. It has a removable faux fleece lined double collar, four external pockets and the typical double breasted button fastening that pea coat wearers know and love.

Finished in seafarer blue with a rear vent for breathability and wool mix fibres for cosy warmth. Fantastic looks, ready for anything.
---
1. US Navy classic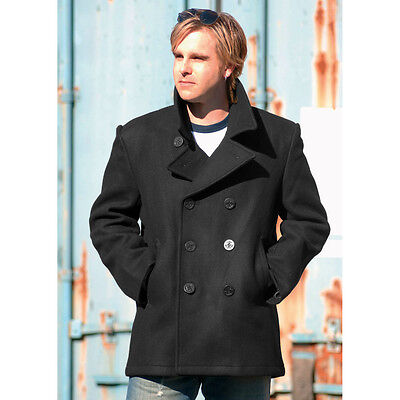 Hard to argue with a comfortable classic navy pea coat. Protects against icy wind and chill factor. Convertible collar and wide lapels, six button double breasted closure and a warm quilted lining. Like the US navy meant it to look.

Flip the collar to stand it up and feel that Robert Redford or Paul Newman cool vibe. Light enough to wear as a casual jacket but comes into its own in autumn and winter. A contemporary alternative to original navy surplus that will turn heads.