The French vehicle manufacturer Citroen was founded in the early 1900's and continues to produce cars, vans and accessories for those vehicles. Top accessories include parking sensors, dashboard GPS devices, and other gadgets designed to make city driving a bit less hectic and costly. The Citroen C1 can even support a roof rack for a bicycle, providing an easy transition from a city car to navigating the concrete jungle by bicycle.
Citroen C1 Parking Sensors
It's a common occurrence: pulling too far forward when parallel parking or failing to see an unfortunately short pole. You can minimise the odds of this happening to you by investing in parking sensors. These ultrasonic sensors are installed on the front or back bumpers of the vehicle, blending in with the car's colour. The sensors alert the driver whenever he or she is too close to an object. Parking sensors are weatherproof and usually come with an adjustable volume. They are also removable without causing damage to the car. Sophisticated parking sensors have few to no false alarms from sun glare or other disturbances. Investing in this ingenious invention can save you hundreds of pounds in repair. Parking sensors for the C1 come in sets of four.
Citroen C1 Tom Tom Navigation Systems
Most people have a GPS on their smartphones, but with the tightening of laws on where mobile phone usage is allowed, a standalone GPS can be useful. Tom Tom navigation systems also have large touchscreens, resembling a tablet more than a small phone. There are several GPS devices that fit Citroen C1 dashboards, including the Tom Tom Go 6000, Tom Tom Start 25 UK & Ireland, and the Tom Tom VIA Businesss. Keep in mind that it is potentially dangerous and also unlawful to operate a GPS while in motion. Start your GPS and give it an address before you set out. Fortunately, even if you forget to set up your GPS beforehand, Tom Tom systems often remind the driver not to drive distracted.
Steel-framed Single Bicycle Roof Carrier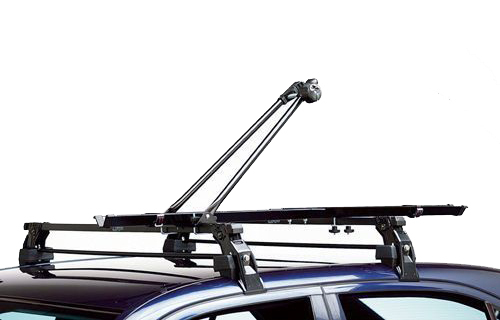 The Citroen C1 can still fit a bicycle roof carrier despite its small size. Whether you're going mountain biking or you simply don't like navigating the city in a car, the steel-framed bicycle carrier is a sturdy and semi-permanent solution. Once installed, you can quickly mount and unmount a bike on the roof without damaging the car or bike. Consider driving to the city and then using the bike to navigate the crowds rather than wasting petrol in stop and go traffic. Unlike some bike racks, you do not have to disassemble the bike to rack it, saving both time and energy.