Selecting the perfect airbrush compressor or airbrush compressor kit for the task to hand is essential for both amateur and professional artists. Finding and using the best airbrush compressor, whether you are in the airbrush art business, a model builder, or home hobbyist, is key to the completion of a professional looking job. With the right new or previously owned airbrush compressor and imagination, you can focus on your art.
Iwata-Medea Studio Series Power Jet Pro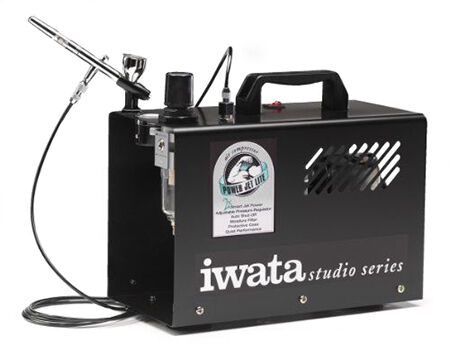 For the artist who needs a full sized, rather than a mini air compressor, the Iwata-Medea Studio Series power jet pro also doubles as a piston air compressor. The manufacturer designed the unit to allow dual airbrushing at different settings. Quiet while functioning but packing a 1/6 horsepower, the device effectively controls both airbrushes by the inclusion of double pressure gauges with double regulators, which allows for precise air-measurements. With double air regulators controlling the flow at different pressure levels, the unit features increased efficiency and precision. The sturdy construction allows the unit to perform effortlessly, allowing the artist to focus on meeting project goals.
Paasche H-100D Single Action Airbrush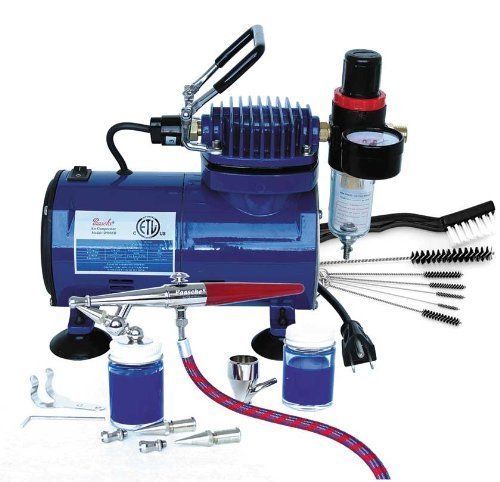 For the consumer interested in starting in arts and crafts, or who is already involved in model building, the Paasche H-100D single action airbrush and compressor is a good choice. The design, build, and streamlined operation of this unit works well for the beginning as well as the established professional artist who requires an airbrush compressor and tank. With a single action airbrush and compressor unit, the machine allows new artists to achieve a professional looking product while developing fine skills. The quiet compressor provides 20 to 30 psi of air pressure, making it a strong machine that can hold up to the most complex of jobs. A bit too powerful for nail art, this is a good all-around machine.
Aztec A480 Airbrush Set A7778W
The Aztec A480 Airbrush Set A7778W incorporates different airbrushes and owners can use it for any airbrushing need. Appropriate for professional artists as well as amateur hobbyists, this is a versatile unit. With triple chrome-plated bodies, the airbrushes and compressor are set to provide many years of dependable service. With a 1/8 horsepower air compressor featuring enough power for continued high-demand consistent air pressure, the Aztec A480 is a unit suitable for even the busiest professional. This unit is so well presented it is a work of art in itself. With a shift from contemporary nozzle systems that increases its efficiency and style, this is a workhorse in the studio.