A baby's first walk is an exciting event the whole family enjoys. Special baby walkers help infants start to walk more easily, for longer periods. These walkers often feature toys and activities that occupy the child as they walk behind it. The top 3 baby walkers feature interactive activity centres that stimulate the mind and help children develop valuable motor skills at an earlier age.
Fisher Price Bright Beginnings Activity Walker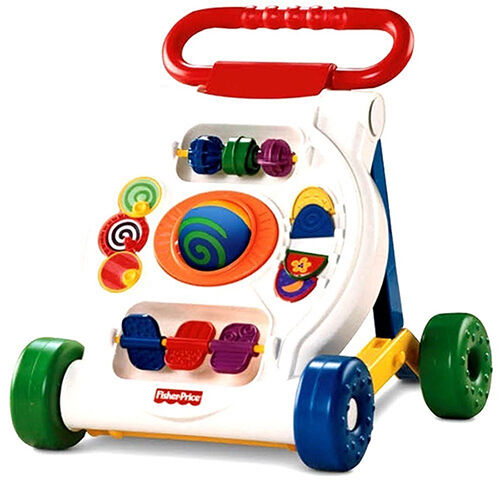 With an abundance of classic baby activities, this activity walker an infant's first steps. Infants can flip doors and slide beads on the activity centre. The multi-sensory stimulation makes it easier for baby to develop walking skills. In addition to its compact size, it folds up for easy transport. Panels that spin feature attractive artwork to captivates the infant's attention, and a spinning ball in the middle provides more motor skill development fun. The gears on the front turn as soon as the infant pushes the walker and provide an additional source of stimulation that helps develop motor skills. Perfect for children six months to three years, the Bright Beginnings Fisher Price walker weighs less than 1 kg.
VTech Baby First Steps Baby Walker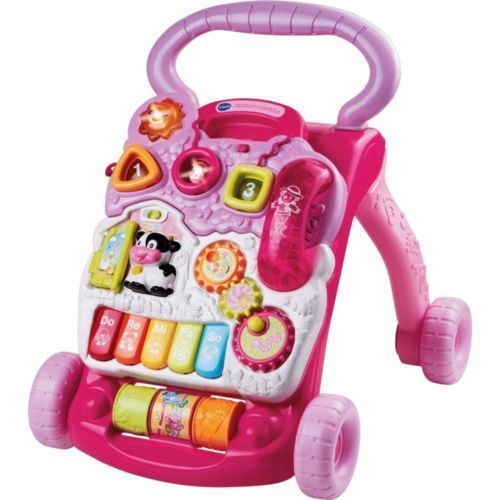 Suitable for both boys and girls, the VTech First Steps baby walker features a baby activity centre parents can detach for additional use. The centre expands the infant's mind with an introduction to letters, words, numbers, animals, shapes, and colours. A mobile phone on the front is an interactive feature that provides sustainable fun, and a sun that lights up catches the child's attention. Infants develop their ability to manipulate objects when they play with the walker's shape sorters, moving gears, rollers, and barn doors. When infants push the walker with its right-height handle, they develop their motor skills and hand-eye coordination. At just 2.5 kg, the VTech baby walker is best for infants six months and up.
LeapFrog Scout and Friends Baby Walker
In addition to interesting cat and dog shaped characters, the LeapFrog activity centre on the Scout and Friends walker features interactive sounds that speak to the infant on command. When the infant turns the spinner, it spins a bundle of balls and plays the alphabet song. The variety of activities stimulates the infant's young mind and helps develop their motor skills. The right side of this LeapFrog walker includes educational buttons that play piano sounds or name a letter when the infant pushes them. At 56 cm tall, the push handle is an ideal height for infants. The handle also folds down, so new walkers can play with it on the floor. The wheels lock in place - and include a grip texture - to give the infant additional stability.