Serve flavourful and hot meals while on the road away from home using your portable camping stove to prepare sumptuous dishes without enduring a lot of hassle. Instead of deciding between a wood burning camping stove, electric camping stove, multi-fuel camping stove, or gas camping stove, look over the attributes of top sellers and purchase the most suitable stove for your needs.
Campingaz Camping Chef Stove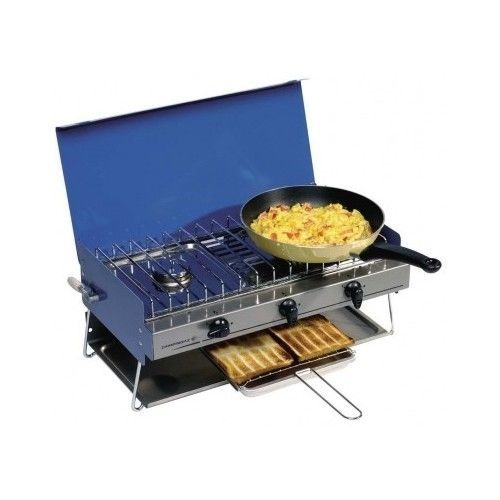 The two-burner Campingaz Camping Chef stove accommodates large pots and easily sits atop a picnic table or folding table which is part of your camping equipment. The unit is both a stove and a grill that heats using the manufacturer's brand or other butane cylinders. A third burner is under the unit to toast bread, fry bacon, or grill other food. The Vario model has a piezo ignition and a shell surrounding the stove that folds up into a carrying case. Shields fold up on both sides to slow down any wind gusts that may come along. Boil water in as little as seven minutes to make hot beverages, boil eggs, or create other culinary treats. Users need a different regulator if using a fuel source other than from Campingaz.
MSR DragonFly Multi-Fuel Stove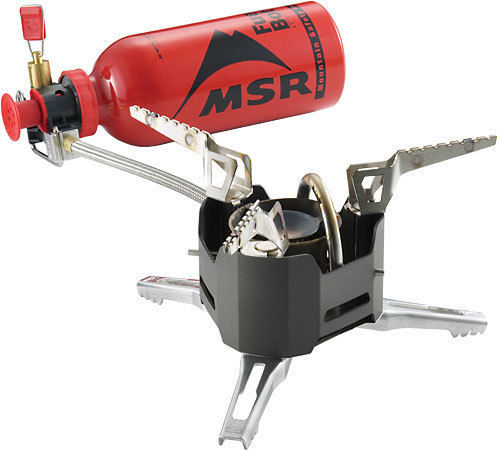 You can simmer or boil by controlling the flame of the DragonFly stove which burns gas, kerosene, unleaded auto fuel, diesel, and jet fuel. Go from regular fare to gourmet in no time when cooking in pots or frying pans up to 25 cm wide to accommodate bigger portions for larger crowds. The stove folds to one third of its original size fitting into a backpack or other travel container. Your purchase should include a fuel pump, windscreen, heat reflector, instructions, and small-parts kit. In most instances, you need to buy fuel separately that lasts anywhere from 125 to 150 minutes, depending on the type of fuel used.
Cadac Carri Chef Stove
Take a versatile cooking stove with you like the Cadac Carri Chef that has interchangeable cooking surfaces. The unit includes a barbecue grid, Chinese wok, and traditional flat grill. The dome lid locks in the heat, stops wind in its tracks, and serves as a splatter protector. Users have control over the flame using the piezo ignition system, and the stove has a convenient tray for keeping utensils sequestered and nearby. Purchasers need to buy the hose and regulator separately that connect to the refillable gas cylinder.